Book a luxury villa with Wandermelon and let us take care of the complete experience from celebrated chefs, to unforgettable massages for your friends and family. We select only the best villas in the country - relax we've done all the scrolling and filtering for you. Create that special moment that is forever reminisced with joy. Email kristina@wandermelon.com and lets start planning the #dreamtrip.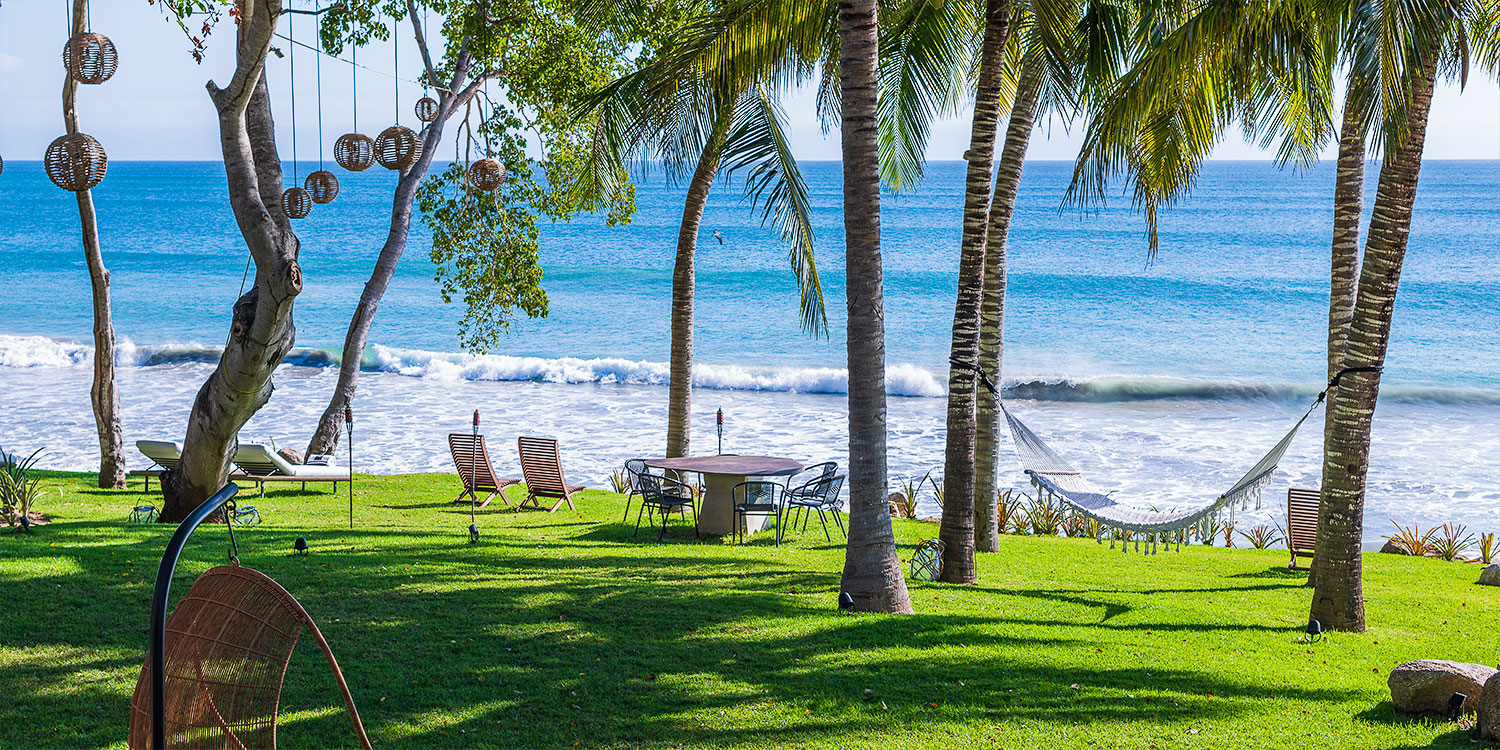 CASA TAU - PUNTA MITA MEXICO
Located on the sandy beachfront of the prestigious Punta Mita Community in Los Ranchos, Mexico, Casa Tau is a collection of five separate villas, which collectively include 12 guest rooms, three oceanfront king suites and one double room.
Barefoot casual meets luxury at this beach villa set atop two artfully landscaped acres. The elegant villa, enveloped in jungle foliage, sits on an enviable stretch of private beach in exclusive Punta Mita. You are pampered from the moment you arrive by the seasoned staff mastered the art of attentive yet discreet service. The bilingual staff includes an estate manager, four butlers, sous chefs, and 12 full-time room attendants.
Prices start at $15,000 per night for 16 rooms (up to 27 guests).
This villa, with gorgeous ocean views and an endless array of activities, is situated in the gated and exclusive enclave of Porta Fortuna. No detail of the perfect vacation has been overlooked in this stunning and polished property. Living your dream is easy with open and welcoming indoor/outdoor spaces and five-star amenities. Take advantage of the access to the beach clubs and world-class golf that is provided, or simply relax in private luxury. Four bedrooms and a salt water pool complete this home.
Prices start at $3000 per night for up to 12 people.
Paradise Lodge is an exclusive gated sanctuary graced with a private beach and dock.  Sleeping 30 guests, within one main Estate and 6 Cabanas. The pristine beauty that lay just behind those magic gates takes you to a special place. Privacy and luxury. Your only guests may be the wild flock of ibis or a passing dolphin. This is an eco-friendly retreat, fully dedicated to sustainability and protecting the environment. 
The private beach, with it's calf-deep white sands imported from Florida's West Coast lead you out to the coral lagoon for paddle boarding and kayaking. This villa has access to spa services on site at your beck and call.
This four bedroom/bathroom farmhouse is only a few minutes' scenic drive from the storied wine and food adventures that await you.
Wake up to the sun streaming over the vines and laze by one of the fireplaces or outdoor patios in the crisp morning air. Dive into the pool or head out for a walk/jog/run/ride along the hills and vineyards of the neighborhood before heading out for the day  for a stroll into St. Helena to eat, enjoy the art, take in a movie or shop. Schedule a massage or facial . Get creative in the fully appointed chef's kitchen with fresh finds from the Farmer's Market. Rates start at $3800 a night with a 3 -5 night minimum.
This 6 bedroom 6.5 bath estate has incredible mountain views and is within in an exclusive gated enclave on a rare 70 acre property with uninterrupted 360 degree views of mountain ranges and over 600 acres in vineyards and a perpetual blue sky. The residence boasts over 8,000 sqft of immaculate entertaining space, with 6 bedrooms, 6.5 baths, a theatre, wine room, game room, and separate family and formal living rooms. Every room in the house has access to extraordinary views and/or access to the breathtaking exterior living space. Prices start at $3900 per night.
GREYCAPE BY JAMES PERSE, CABO SAN LUCAS, MEXICO
James Perse is widely known for his brand of West Coast-inspired clothing. With the Greycape, his private estate, the fashion designer has applied that same laid-back sophistication to a private resort. The full-service residence is the first Perse-designed home to open south of the border. Situated along a private beach, the palapa-style shelter offers a minimalist surf sanctuary complete with jacuzzi and infinity pool. Its interior features five suites along with an open-air fitness studio for anything from yoga sessions to massages. A dedicated butler and chef are available around the clock and If you don't feel like packing, the on-site James Perse store can fit you with a new wardrobe to complement your stay. The pinnacle of stylish luxury. Prices start at $8000 per night and the villa can accomodate 8 adults and 4 children.
SEDONA VILLA, SEDONA ARIZONA
Experience the mysterious cosmic forces that are said to emanate from the red rocks of Sedona at this extremely private villa. This special escape has is half a mile from Red Rock and Court House Butte. It has unparalleled views of Castle Rock and Bell Rock. Bell Rock is considered to be one of the most powerful vortices in the area - swirling centers of energy conducive to healing, meditation and self-exploration. A place where the earth seems especially alive.
The villa has 6 bedrooms and 5.5 bathrooms, 3 gas fireplaces, 30 x 18 unground heated pool and in-ground heated hot tub.
We can arrange a crystalline ceremony, local healers, meditation leaders, massage and yoga if desired.
Priced from $2200 per night. 6 bedrooms and sleeps up to 25 people. 3-night minimum. New Years Eve priced $2300-$2800 per night (stay more than 3 nights for a discounted rate).
OAK CREEK CABINS, ARIZONA
A collection of ten individual luxury suites that are tucked into the red rocks of Oak Creek Canyon, Sedona, AZ with magical views in every direction. Located south of Slide Rock State Park nearby the Sedona vortex hikes, you can enjoy gorgeous views and private strolls with a pretty creek right on the property.  Hike the mysterious cosmic forces that are said to emanate from the nearby red rocks of Sedona  - swirling centers of energy conducive to healing, meditation and self-exploration. Perfect for large groups to each have their own space after a long day hiking.
We can arrange a crystalline ceremony, local healers, meditation leaders, massage and yoga if desired for the group.
Priced from $2700 per night for all 10 cabins.
DILLON BEACH HOUSE, MARIN CALIFORNIA
Featured in Architectural Digest and Casa Vogue, this designer villa is your own private boutique hotel, art gallery, and wellness retreat.
Located an hour from San Francisco with a fully-stocked chef's kitchen & liquor cabinet  it's time for fine food, friends & cocktails.
A cinema room, ping pong and foosball table will entertain the fam.
After a workout on the Peloton, step into the cedar steam sauna where you'll feel the stress melt away. Then rinse off under the powerful rain shower before enjoying the hydrotherapy spa.
Prices start at $2600 per night. 5 Bedrooms and sleeps 10.
RANCHO SANTA FE, CALIFORNIA
No expense has been spared in the ultimate dream vacation resort for adults and children. With modern decor, well-appointed bedrooms, video/audiophile movie theater, full gym (w/ Peloton Spin Bike & Tread), tennis court, and a 65-foot pool with 30-foot waterslide, rope swing, and massive pirate ship waterpark. The kids will go crazy for this Cali wonderland. Located just miles from the famous Del Mar beaches, a short drive to the well known Safari Park, everything is within reach from this central location. Prices start at $2500 per night for 5 bedrooms (sleeps 15).
COLLINI VILLAS, MYKONOS GREEK ISLANDS
Glamorous airy suites and villas come with their own infinity pools or hot tubs.  Designed by a Milan based fashion label, this stylish hotel is set on rugged hills overlooking the sea. There's also a gourmet restaurant and a beautiful spa. Contact us for exclusive rates and a wandermelon wellness gift bag. Rates start at $320/night.
MEADS BAY BEACH HOUSE, ANGUILLA
This is considered the luxury private villa in Anguilla. An award-winning iconic beach-front villa that opens out on to the white sands and turquoise waters.
8 spacious ensuite bedrooms, 10 bathrooms and 2 powder rooms, 44ft infinity pool, outdoor Jacuzzi, full gym, full-size tennis court and 12-seat private cinema. This is the top pick for celebrities to CEO's.
Prices start at $12,500 a night. Sleeps 16.
VILLA BLUE, ANGUILLA
This luxe 10 suite villa is set in 2.5 acres of private gardens with views out to the Caribbean. Feauturing a private beach and gazebo, tennis court, cinema, games room and 2 swimming pools. Ideal for large groups and weddings in Anguilla. Prices start at $10,000 a night.
VILLA AMARILLA, ANGUILLA
This 5 bedroom, 6 bathroom luxe pad was designed by acclaimed architect Carl Richards. Villa Amarilla is Caribbean with an Italian influence and offers ample room for up to 10 people group in 9,000 gorgeous square feet. Located on Anguilla's Leeward north side, on the Sea Rocks of Island Harbour overlooking some of Anguilla's most beautiful reefs, you will never tire of the mesmerizing view. Rates start at $2100 a night.
GRAND VILLA NOI, PHUKET
A beachfront holiday home nestled amongst towering Casuarina trees and featuring sweeping views of the Andaman Sea, the contemporary Grand Villa Noi is an architectural masterpiece. The sleek, modern villa offers the utmost privacy in a lush, tropical setting. The luxurious five-bedroom villa is the perfect holiday retreat for families and friends. With a private chef, personal butler, driver and on-site 24-hour security. Floor-to-ceiling glass sliding doors provide exceptional sea views. Grand Villa Noi has direct access to the soft sands of Natai Beach, an expansive stretch of beach with turquoise waters and a tranquil setting. Prices start at $1500/night.
VILLA CHADA, PHUKET
Commanding prime position on the peaceful hillside of Millionaire's Mile around Kamala Bay, where the views of the magnificent Andaman Sea are pure perfection, sits stunning Villa Chada. This ocean-front Thai-style villa, offers complete privacy, an expansive garden with an infinity pool and first-class service in a natural, tropical setting.
With six-bedrooms, a charming mix of tradition and comfort, exceptional hospitality from a great team, including a villa manager, 24-hour security and a private chef ready to create delectable dishes. The villa follows a classic Thai design with four stand-alone pavilions, a mix of open-plan living spaces and private bedrooms, each one embracing the sea views. Brimming with character, it features pitched-roofs, floor-to-ceiling windows, and polished hardwood floors, making it a spectacular paradise retreat. The villa is decorated throughout with a unique collection of beautiful antique furniture, Asian art and artefacts, and intricate wood carvings. The spectacular 16-metre free-form infinity pool is framed by a timber terrace furnished with double sunbeds.
Villa Chada is hidden away on the headland within the exclusive Laemson Estate, yet just outside there's plenty to explore. Less than a kilometre away is a private beach cove where you can snorkel or try your hand at local fishing, there's also direct walking access to a secret beach through the estate. Prices start at $1600/night.
VILLA RIVA, KOH SAMUI
Koh Samui's mesmerising waters can be viewed from everywhere in this cliffside abode. The villa itself is designed over multiple pavilions, a social clubhouse that houses all the entertainment facilities, the master villa and two separate guest pavilions. This allows guests privacy and makes it convenient for families to stay together.
With pitched, Thai-style roofs and a dreamy infinity pool and access to a semi-private beach, a floodlit tennis court, 32-metre pool, private cinema for 10, fitted wine cellar, barbeque sala, gym, sauna, and a massage room.
Sleeping 14 adults and two children in its seven enormous bedrooms, including one designed for those with reduced mobility, there's plenty of space for everyone. You will have a professional, friendly team of staff looking after your every need, including an experienced, multi-lingual Villa Manager, and a private chef.
Villa Riva is also a fabulous venue for weddings, celebrations and corporate events as it features a specially designed, covered events platform with a marriage gazebo and a purpose-built food and beverage service area, DJ podium, dedicated bar and guest bathrooms. Plan your dream wedding here and combine it easily with a wonderful vacation in one of the  country's most plush private villas. Prices start at $2700/night.
SAFFRON AND BLUE, SRI LANKA
This 4-bedroom haven in Kosgoda, Bentota is a reflection of its owner's exquisite taste and wealth of experience. Ranil de Silva, founder of Leo Burnett Sri Lanka  expressed his inspirations and his creativity through the personal handpicking of every single piece of furniture in his holiday home. This complemented the villa design of Channa Daswatte, a leading renowned Sri Lankan architect whose work extends to the sub-continent. He is a protégé of the late Geoffrey Bawa, the world-famous architect himself. The villa boasts huge spaces, modern facilities, jacuzzi and outdoor pool, mezzanine area and a fine art collection. In-villa staff provides for every guest's needs, from housekeeping services to special dietary requirements! At Saffron & Blue, food is very important. The resident chef and his assistant were personally trained by celebrity Chef Koluu. Planning meals is extremely thrilling knowing that an amazing chef is there to fix one's cravings. Prices start at $340/night.
UKIYO CHALET, NISEKO
On the foothills of Mt. Annupuri, surrounded by a beautiful silver birch forest lies Ukiyo Chalet, a stylish private retreat where modern cubist design meets chic interiors. Located in peaceful Soga, close to Niseko's famed ski slopes yet blissfully cocooned in a tranquil location. With three bedrooms, the house can accommodate up to eight guests. Rates start at $450 a night.
VILLA SEASCAPE, BALI
The sublime Villa Seascape on Nusa Lembongan, a small island off the southeast coast of Bali is a fabulous fully staffed five-bedroom villa with absolute beachfront. Contemporary interiors ad chic minimalist furniture. With the exception of the master bedroom pavilion privately tucked away in the garden, every room in the villa enjoys spectacular ocean views. Prices start at $1000/night.
VILLA CHAMELEON, BALI
Villa Chameleon, as the name suggests, is built into the natural terrain near serene Tanah Lot and Canggu immersed in luscious and dense greenery. Built with natural materials to incorporate a more sustainable and cool ambiance, the holiday villa is contemporary, luxurious, and provides unparalleled views of the river framed by natural magnificence. The holiday home is designed with 4/5 bedrooms built over two storeys that also offer open-plan living. A private swimming pool overlooks the serene river while you relax on the pool deck under a parasol. The villa strives to offer guests a memorable stay amid opulent nature. Prices start at $1100 per night and can accomodate 10 people.