BELIZE: Exploring Caves, Ruins and Cuisine at Ka'ana Resort
Travel writer and "Top Chef Masters" judge Krista Simmons explores the wild side of Belize through the luxe lens of Ka'ana Resort.
I'll come right out with it: I'm not a resort-type traveler. Don't get me wrong, I love a hot stone massage as much as the next girl, but it's always been my contention that there's an element of authenticity that's lost when you wall yourself off in five star accommodations, especially in developing countries. The pampering is great, of course, but being completely confined from the sights, smells, and people of the streets seems counterintuitive. Why not just splurge for a trip to the spa at home and save yourself the airfare?
But a recent journey to the Cayo district of Belize upended my backpacker beliefs, showing me that there are, in fact, some resorts that can deliver genuine cultural experiences while sustaining the pampering touch and creature comforts of a luxury property – all the while contributing to the community. The Ka'ana Resort, located in San Ignacio, is one of those places.
Located in San Ignacio, the Ka'ana Resort is situated about 80 miles West of Belize City, far away from the country's extensive reef system and Blue Hole dive site that attracts underwater enthusiasts for its world class sea-life and picturesque beaches featured on "The Bachelor." Because most people come seeking that beach lifestyle, they may never experience the lush green jungles of the West. That's a shame, because the opportunity for adventure, eco-tourism, and yes, even a bit of pampering, abound, particularly at Ka'ana's boutique digs.
Ka'ana, which means "heavenly place" in Maya, the original culture of this region, lives up to its name. The resort was opened in 2007 by Colin and Ronan Hannan, two Irish travelers who saw an opportunity to showcase local artisanship with first-rate service. The boutique property is home to lush tropical gardens, 5 airy suites, 10 rooms, and two brand new, ultra-swanky villas with private pools. It embodies experiential travel, offering all sorts of off-the-wall adventures, from spelunking in ancient Maya sacrificial sites to zip-lining through the area's lush jungle terrain. For the Hannans, travel is not just about seeing, it's about doing.
"It's really exciting to be the only people in the area offering a luxury sleepover on a Maya ruin, or having a shaman conduct a marital blessing on an ancient temple," says Colin. "We want to appeal to travelers who are curious and hungry for inspiration, who want those unique experiences and are looking for something interesting and new, something cultural or adventurous." The Hannans delivered on day one. After finding out our group of twenty-and thirty-something ladies were in to yoga, the team at the resort set us up for a private yoga lesson at Xunatunich, an ancient Mayan archeological site that's less than a mile from the Guatemalan border. We had the sprawling grass area in front of the Mayan ruin to ourselves for our morning practice – save for the howler monkeys, whose echoing bellows sounded remarkably similar to that of the "Lost" smoke monster. After a good hour-long stretch, we hiked hundreds of feet to the top of the temple, where ancient royalty used to address their subjects gathered below. Seeing the remains of such an ancient city in such solitude and serenity was a majestic experience. If we had been in Tulum or Chichen Itza, hordes of tourists would have been traipsing the steps, lining up for staged photographs. But perched high atop Xunatunich, breathing in the tropical Belizean air, there was a sense of humbling beauty and connectedness to the past. Each inhale contained thousands of years of history, and every exhale gave back to the many more to come.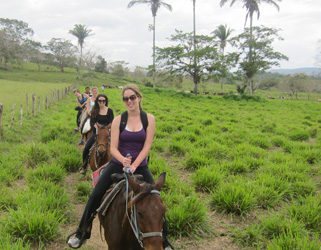 After taking in the sweeping views from atop the temple, the resort organized for a pick-up via horseback. We hopped on our caballos and were led by a professional jockey-cum-sustainable farmer, who guided us through his pastures to a beautiful riverside picnic. He explained to us the varying crops that Belize exports – from sugar cane to pineapples and bananas – all in the most pristine English. (Because the country was once a British colony, almost everyone speaks the language as well as Creole and Spanish, making it an easier for US-based travelers to communicate).
When our ride ended, were met by members of the Ka'ana staff who had prepared a sprawling Belizean feast, complete with champagne, ceviche, fried plantains, and local tropical fruit. A tropical storm hit mid-picnic, so we hopped back on our horses and headed home. When it came time for some poolside relaxation and post-horseback riding massage, I began to understand the whole resort thing. Consider me a convert.
Those moments of relaxation were necessary, because the following day proved to be incredibly challenging. The mission was to explore Actun Tunichil Muknal (ATM), a cave system that was formerly used by Mayan shamans as a human sacrificial site. In order to enter, travelers must swim, boulder, and wade through caverns wearing nothing more than bathing suits, shoes, hard hats, and head lamps. Experiencing ATM is worth the challenge though: Inside are skeletons, ceramics, and stoneware that date back to pre-Columbian times. Our cave guide Eddie stopped periodically to tell us chilling Mayan ghost stories, making us turn our lamps off in the pitch-black caves.
Our group of girls squealed and held hands like it was a sixth grade slumber party, attempting to brush off the fact that we were in the middle of an ancient sacrificial site. Whether you're a believer in the paranormal or not, there is history there, and not only can you feel it, you can see it. Blood letting bowls, ceremonial ceramics, and human remains are scattered amongst the ominous stalactites and stalagmites in ATM, which make the Carlsbad Caverns look like childsplay.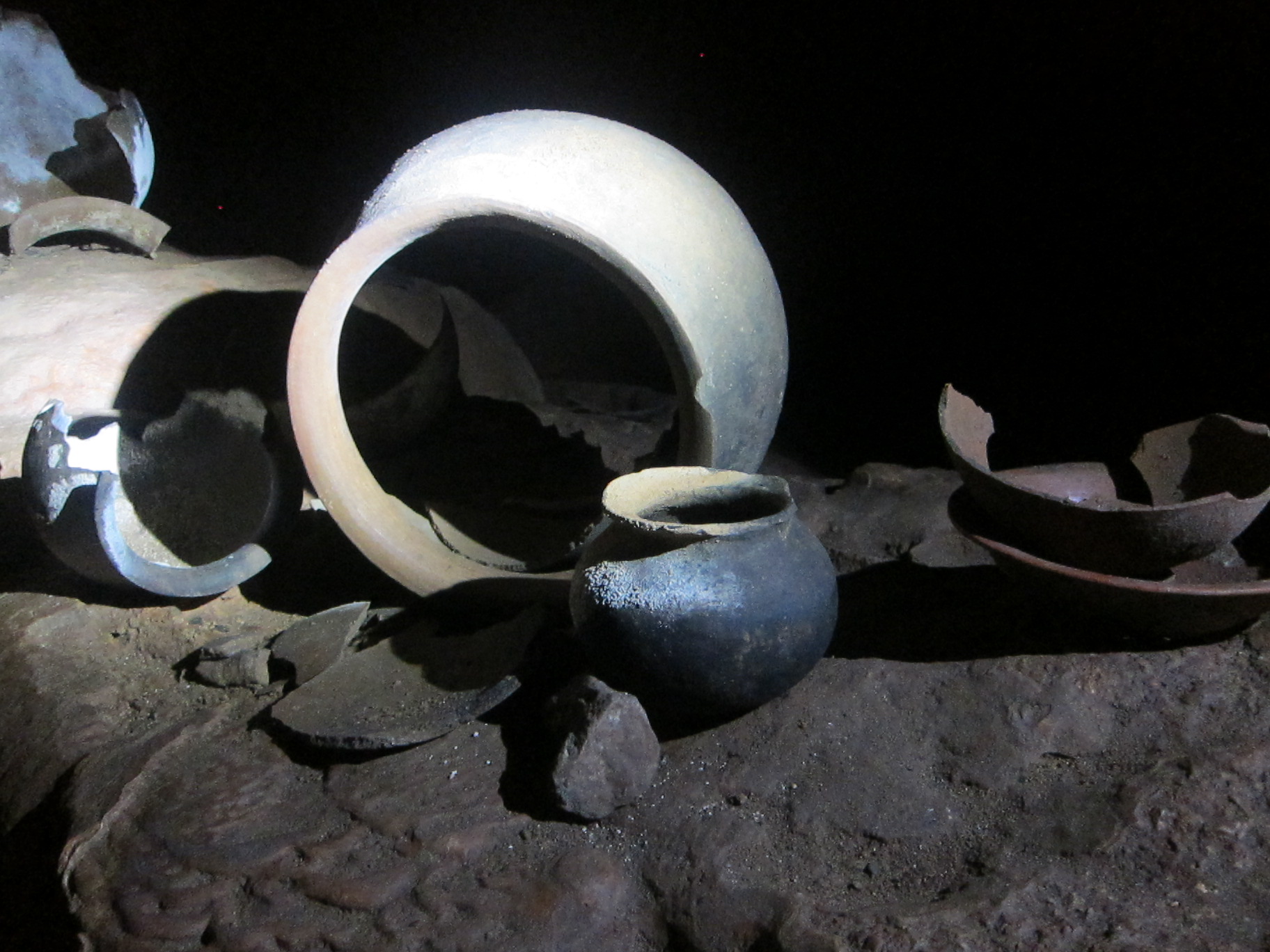 Six hours of solid hiking, swimming, and otherwise serious physical activity later, we were ready for a feast. Thankfully Ka'ana provides some excellent dining options at their restaurant, La Cieba, which draws on the varied regional cuisines of the area. Belize has ties to both Latin America and the Caribbean, making it a melting pot in terms of cuisine and culture. The main influences in Belizean cuisine are the Maya and their mixed descendants, also known as mestizos; the Creoles; and the Garifunas – decendants of West Africa living in Central America. There is also a sizable Mennonite colony in Belize who produce incredible sausages, which Ka'ana offers on their menu. A favorite dish is Garifunas sere, a coconut milk-based stew with shrimp, plantains, sweet potatoes, and white fish that's served with a white rice pilaf. Add a dash of Marie Sharp's hot sauce, and it's a tropical comfort food that soothes the soul after a long day of adventure travel. And all of the ingredients on La Cieba's menu are sourced locally. So local, in fact, that Ka'ana has its own farm on the property that provides organic produce to the kitchens.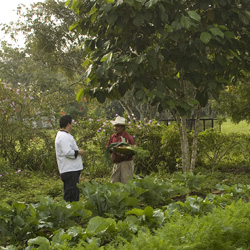 But this gourmet lifestyle isn't just held within the property; the Hannans are currently building a garden on the nearby Succotz school grounds so the children can learn about sustainable and healthy eating. They've also helped build restroom facilities, a luxury that many in more developed countries take for granted. These initiatives are part of the resort's everyday connection with the community. During the summer months, Ka'ana is offering a fourth night for just $20 for every three night booking, and that $20 goes towards creating and maintaining the garden. There are also cocktail programs wherein the entire price of the drink goes to the Succotz school programs.
"We would be nothing without the locals, from the three carpentry workshops that custom-built every door, table, bed and chair at the resort, to our local farmers who supply our kitchen, to our team of 51 staff who are all from Belize," says Colin. "We are our community." And after a trip to Ka'ana, you'll feel that you're connected to the community as well.
Reservations: Visit Ka'ana Resort, mile 69¼ Benque Viejo Road, San Ignacio, Belize. Ph: 877 522 6221
Email kristina@wandermelon.com to APPLY for our next retreat in Belize.
* Photos by Krista Simmons and Ka'ana Resort
Check out the Ka'ana video:

Latest posts by Krista Simmons