Robert Ellsworth hits the Top 5 Haunted Haunts in Virginia City.
Ever had the feeling that someone was following you, only to discover upon turning around that you're all alone? Sensed a sinister presence that made the hairs on the back of your neck stand up? Well, if you're visiting Virginia City, Nevada these experiences can easily be explained, as this former gold and silver mining town is perhaps the most haunted city in the United States. With a past blacker than an infernal night, what better place to visit for some spooky fun as Halloween draws near.
Twenty-five miles from Reno, the eerie streets of Virginia City are steeped in the history of the Gold Rush where the once silver- and gold-lined mines lured thousands of fortune seekers, including American writer Mark Twain, to its promise of riches. The treasures have long since elapsed, but this tourist town preserves its eminent past with restored historical architecture, commemorative events and, not to mention, some of the best ghost hunting tours in the West.
For fans of spectral phenomenon and other-worldly odysseys, this bygone town abounds in haunted tales of visitors who feel hands reaching out to touch their shoulders or hear the thunder of invisible horses. On a recent trip I discovered five of my favorite Virginia City haunts. Each experience will make your spine tingle at the slightest rustle in the breeze.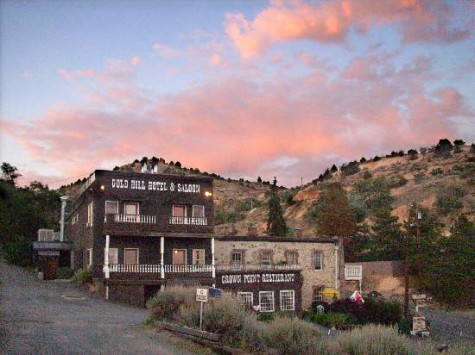 The oldest known hotel in Nevada today, the Gold Hill Hotel, has been reporting hauntings for over a century. "We're curious and try to find explanations for phenomena we can't comprehend," explains Clayton Mitchell, marketing manager of the Gold Hill Hotel. The scenic hotel sits adjacent to the Yellowjacket Claim, a section of the Comstock Lode where dozens of trapped miners burned to death in a tragic 1869 inferno. One of the lost, a former owner-turned-spirit named "William," prefers to hang out in Room 5, leaving the wafting stench of tobacco to mark his territory. Local lore has it that a gaggle of giggling ghost kids skitter around the halls all night, longing for fresh baked cookies. Another specter lingers in the hotel, a former housekeeper named Rosie, who leaves behind the lingering odor of rose water.
One of the scariest occurrences at this hotel happened to food server, Victor Kangas, who can attest to the nocturnal spirited shenanigans. On a night not long ago, he heard a snapping noise while at the waiter station and, suddenly, a glass or two came zipping through the air. "It's all pretty harmless stuff," he adds, accrediting the incident to the hijinks of a little boy with a Buster Brown haircut, often seen hovering around the stairs. Where are the Ghostbusters when you need them?  1540 S Main St  Virginia City; 775-847-0111

Once home to the legendary Millionaire's Club of the Washoe, this watering hole catered to well-heeled mining magnates. Over the decades, it has gained a reputation as a haunted location with several reported paranormal incidents, including that of a demonic attack. Whilst it looks undamaged from the outside, inside, a staircase, several rooms and entire floors are missing, which adds to its macabre vibe. Now the empty upper floors, once bustling with poker, pipes and prostitution, are reported to be haunted by the spirits of swingers. Supposed deaths include a murdered hooker on the third floor and a suicide on the second. A possible child murder and a mysterious "Blue Lady" add to the lore.
A slew of spirits and orbs have been photographed by various visitors, including the cast of Ghost Hunters in Season 4, Episode 408. The Ghost Adventures crew poked around and found some of the most convincing pieces of paranormal evidence to date. Some visitors of the mansion have been confronted by entities and others have collapsed in fear, whilst women who have been to the bathroom have reported seeing a floating head!
If you're in search of specters and spirits, the former home of the "Millionaires Club" is now available for overnight investigations, with the money going to The Washoe Club restoration project. Debbie Bender and other members of the Northern Nevada Ghost Hunters club are happy to bring their EVM meters and ghost-hunting equipment to help out.  112 S. C Street, Virginia City; 775-847-GHOST (4467)
This historic spot is best known for a celebrity ghost encounter—here, Johnny Depp was awoken by a ghostly girl. A stroll through the quiet halls of the mansion is both unnerving and goose-bump inducing, and its historic past makes it worth a visit. Mark Twain, Buffalo Bill, and Al Jolson all visited this Italianate-style mansion, built in 1860 by George Hearst, father of mogul William Randolph Hearst. Named after John Mackay, an Irish-born immigrant, who became the richest man in Virginia City, the mansion's ownership has changed hands numerous times.
Strange ambient noises and the appearance of orbs have been reported for decades. While filming the movie "Dead Man," Depp slept in Mackay's old bedroom and was startled by a ghostly apparition in the form of a creepy little girl, who many have since claimed to see in the house.
Famed local psychic and medium, Janet Jones, author of Haunted Carson, often runs into this prepubescent apparition named Emma. "I've been in here at night and I can hear her feet upstairs running back and forth across a wooden hall," she says. "I was standing in the master bedroom and kept catching something out of the corner of my eye. I would see shadows dart by. When a visiting journalist downloaded the video, there were many orbs flying around me. As a psychic I have had many of these experiences at locations throughout Virginia City."
The mansion's other dead denizens include an elderly lady in the living room, a sad servant who walks up and down the stairs, and a white-haired spirit dubbed "The Colonel" who likes to hang around the kitchen. The mansion is open to the public for tours daily from 10 a.m. to 6 p.m. Winter hours, which begin around November 1, are to be determined. Private, exclusive tours can be customized. 291 S D St  Virginia City; 775-847-0373.
4.    The Silver Queen Hotel

If rustic haunted hotels are your thing, there's no better place to stay than the 134-year-old Silver Queen Hotel & Wedding Chapel. Over the years, the three-story hotel has had its share of stories of ghosts and the supernatural. Quite a few phantoms have been spotted in and around the hotel and bar, including Rosie, a suicidal escort turned banshee with a misogynistic streak who haunts room No. 11. There's also a lady ghost lurking around who killed her kid, then took her own life in a bathtub.
Despite its dramatic denizens, this cozy and comfortable establishment features 28 meticulously restored rooms, some with authentic claw tubs. The hotel prides itself in having no modern amenities except for electricity and plumbing, so don't expect to Instagram or to check in on Facebook—there's also no cell phone reception. Being unplugged allows one to truly absorb the history and old-world ambiance, circa 1870s. If you get bored, take the steep staircase down to the Silver Queen saloon and count the 3,261 "Morgan" silver dollars that make up the gown of the original Silver Queen, a15-ft. tall and 8-ft. wide painting. Her belt is fashioned from 28 twenty-dollar gold pieces, and her choker and bracelets are made from dimes. When you check in at the bar, ask for a von Mausheim "Blackthorn Cocktail", as the Silver Queen is one of three places on the West Coast that will prepare this most original of Martinis. Ghost tours run Thursday to Saturday, starting at 8:30 p.m. at the Silver Queen Saloon. Call (775) 847-0440 for more details.  28 N C Street  Virginia City; 775-847-0440.

Echoes of the past haunt this imposing four-story, gabled-and-red brick National Historic Landmark with Doric columns. Disembodied footsteps echo along the corridors, spectral hands knock on doors and the apparitions of a Nun in white often appears in this functioning Arts Center. Nowadays, the former Catholic hospital holds classes in this stately brick building and offers dormitories to its students if they don't mind the strange and eerie presences felt in the hallways.
Executive director Rita Wheeler has seen full body apparitions inside and on the lawn. She relishes expounding on St. Mary's  resident ghost brothers—10-year-old Henry and his older brother John, who froze to death in December of 1876. "Because they'd spent a lot of time here visiting a sick parent, their energy returns again and again to play in the halls," she says. "People also claim they've heard them laughing with a 12-year-old ghost named Patricia. The playful child ghosts are known to move or hide things all the time."
Wheeler also relays that the rambunctious kids like to hide her tiny tea set on different shelves and that the spirits will often play with a ball that she places in the middle of the floor. "After a few minutes, the ball rolls across the floor. The floor is perfectly even so what would cause it to suddenly move?" she asks.
Be sure to inquire about the creepy puppets left behind by a strange puppeteer who disappeared decades ago. And if you really like to get spooked, see if they'll show you the upstairs psych ward with iron bars on the window. It's rumored that a patient burned to death while locked in. 2013 Winter open hours Thursday- Sunday 11am – 4pm.
55 R Street, Virginia City; 775-847-7774
Author takes a coffee break from ghost hunting in Virgina City, Nevada.
Latest posts by Robert Ellsworth