Gone Glamping in VENTURA, California
Why ziplining, a resort-style pool and luxe cabins make KOA Ventura Ranch a stand-out property.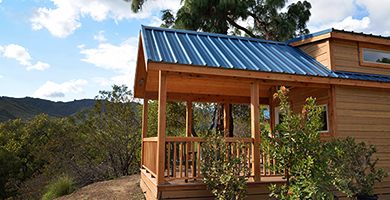 As a young camper, I loved cooking macaroni and cheese under the shade of pine trees and roasting s'mores late into the evening with my family. But the quintessential childhood camping trip was never all fun and games. I adored being in the woods and eating out of enamel dishware, sure. But I didn't love waking up in a tent sagging with morning dew; trekking to the bathroom at midnight, flashlight in hand; or feeling dirty despite having showered in the campground's shared facilities.
Today's expanding travel options now allow people like me to camp more comfortably, while still pleasing traditionalists. A recent trip to KOA Ventura Ranch with my family demonstrated the point.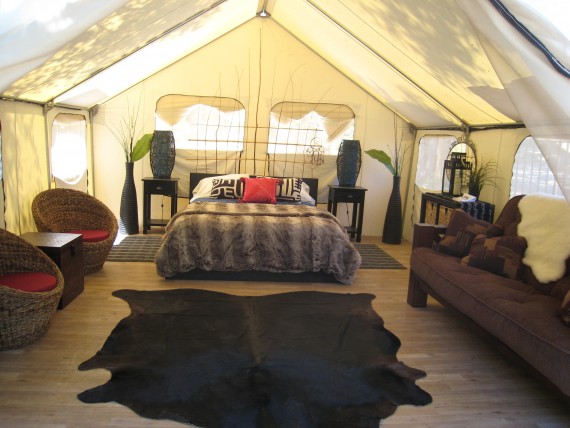 Situated on 76 acres of land at the base of the Topatopa Mountains near Ojai, Calif., the Kampgrounds of America property stands out for its range of accommodation options. It offers dozens of RV spaces and standard tent sites with fire pits and picnic tables. Towering, eye-catching teepees are a crowd favorite, furnished with wicker chairs and floor mats — don't forget your sleeping bags, pillows and lanterns. The next step up are the ranch's "glamour tents," safari-like tents complete with actual furniture, linens, electricity and more. Modular deluxe cabins, which have stocked kitchens, lofted sleeping areas, and dining and living rooms, round out the menu of abodes. And no matter which tent/teepee/cabin you hang your hat in, you've got Wi-Fi access, which is bound to please the tech or social media fiend in your group.
On a visit this past September, my family and I were fortunate enough to test out the Penthouse Suites, Ventura Ranch's newest lodging option. Open for public reservation come early 2016, this trio of bluff-top cabins is ideal for those looking for luxury lodging in scenic surroundings. Built as part of NBC's reality television show "American Dream Builders," each of the bungalows features its own unique decorative scheme selected by KOA Ventura Ranch owner Scott Cory. Flat-screen televisions, modern appliances, tremendous windows and beautiful bathrooms complete the package.
When we weren't relaxing inside, we enjoyed birdwatching on our deck or on the shared lawn (which aptly doubles as an outdoor wedding venue with mountain views). My daughter, Olivia, was especially keen on following around the wild peacocks that regularly strutted across the grass. Our family friends with similar-aged daughters stayed in the suite next to us; the girls picked flowers and wandered from cabin to cabin the entire weekend, as if they were neighbors in a small town — a luxury that Olivia isn't afforded often living in Los Angeles.
If it's outdoor fun or adventure you seek, the ranch has plenty up its sleeve. The sparkling pool, built just last year and reminiscent of some I've seen at high-end resorts, is an easy place to while away a few hours. Hot-pink floaties strapped on, our girls splashed and kicked in the shallow areas while the older, rowdier crowd hit beach balls and drank beverages from their personal coolers. The pool is open from May 1 to November 1, and a twirling waterslide will be added before next summer's opening date — a perfect reason for us to plan a second visit.
The ranch's dual zip-line, open Saturdays only, is another must-do. Even little ones can fly down the first line, so long as they're riding tandem with an adult. Guests must be at least 8 years old to try the second line, which doesn't allow tandem riders. There's little wait-time involved, as groups book a time slot in advance. Part of the fun is taking ridiculous photos in your harness to helmet. Zip lining costs $15 for one line and $25 for both.
As great as it was to soar through the air on the zip-line, I think our grins stretched even wider when we tried out the ranch's jumping pillow, a giant, inflated pad that allows even grown-ups to catch some serious air. Be sure to watch your kids closely, as collisions are the worst that can happen. We avoided major crowds by going right at 10 a.m. when it opened.
Other seasonal entertainment options include the site's guided Bigfoot Adventure Walk (June through October), which takes place by the light of the moon and your flashlight. Daytime nature walks and summertime movies under the stars are among other complimentary programming.
On our final night at the ranch, we called reception, ordered firewood (which was delivered minutes later via golf cart), and managed to make a fire in our suite's patio fire pit. Marshmallows, chocolate squares and graham crackers were piled high on a chair, and our  daughters tested their roasting skills as we watched them with a tinge of nostalgia. The stars shone brightly. The darkened outline of trees surrounded us. And we munched away on our treats until it was time to retire to our luxe 4-poster beds. It wasn't the camping experience of my dreams — it was better.
Latest posts by Chelsee Lowe