Foraging for Mushrooms in MENDOCINO, California
Northern California's Mendocino County celebrates the mushroom season with a round-up of fungi adventures this fall. 
As the flavors of fall arrive in Mendocino, the annual crop of coveted candy cap, chanterelle and porcini mushrooms are plum for picking. Straddling Highways 1 and 101 with nearly 2,500 sq. miles of live oak, pygmy forests and stately redwood groves, the region is a natural hotspot for some 3,000 mushroom varieties. The annual haul is nurturing nirvana for local mycologists, chefs and fungi foragers alike. Adding to the mix is a cache of artisanal chefs, 95+ wineries and a formidable craft beer/hard cider scene, all joining the savory celebration in November.
During the week, visitors can tap into a variety of activities and workshops. Adventures range from mushroom hunts by horseback, foraging excursions, Pinot and porcini menus, educational seminars and art exhibits. Several Mendocino County hotel properties and restaurants are offering special menus and packages throughout the month of November.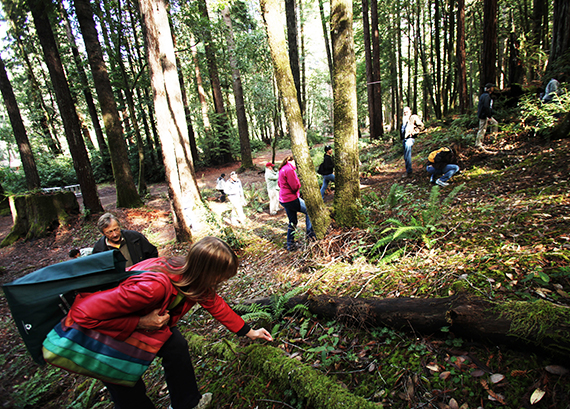 Top excursions include:
Ride with the Hunt – Mushroom Sightings at Ricochet Ridge Ranch – "Mushroom Hunt" horseback rides every day during the festival. Equine, wine & hotel packages also available.  $55 and up. Ricochet Ridge Ranch, Fort Bragg (707.964.7669).
Mushrooms at the Mendocino Coast Botanical Gardens – Join staff mycologist Mario Abreu for a series of mushroom workshops and walks at the Botanical Gardens. Guided mushroom walks Mondays at 1:30 p.m., (Nov. 16-Dec. 21); $20. Fort Bragg (707.964.4352 x16).
Pygmy Forest Ecological Staircase Hike & Educational Hunt – Daily self-guided tours from beach to bluffs traversing 100,000 years in geology on each of the five terraces. Forage for fungi enroute. Free. Jug Handle State Reserve, Caspar (707.937.5804).
Mushroom Exploration Tours – Join local mycologist Adrienne Long for all things mushroom at the Stanford Inn before heading out to the forests and meadows for a full immersion. Daily, $35.  Stanford Inn by the Sea, Mendocino (707.937.5615).
Mushroom Foraging Workshop – Learn basic mushroom identification, tips and tricks on foraging, cooking and drying mushrooms at the Emerald Earth Sanctuary; $50-$75.  December 6, Boonville (707.972.3096).
Walk on the Wild Side – The ultimate walk on the wild side begins with a mushroom hunt on 39 acres of native gardens, forest and meadows with a mushroom expert, culminating with wine and canapés from the Mushroom Cookbook authors Alison Gardner and Merry Winslow.  November 15, $22; Jug Handle Creek Farm, Caspar (707.937.3498).
In addition, special tours are available during the week at Catch-a-Canoe and Bicycles Too, Liquid Fusion Kayak Tours, Unbeaten Path Tours and B. Bryan Preserve, a unique outpost featuring some of the world's most endangered hoof stock.
Nearly 40 restaurants are participating with mushroom-infused menus and special repasts. Key events include the new Bewildered Pig Restaurant's Winemaker Dinner with Maple Creek Winery (Nov. 5), 16th Annual Wild Mushroom and Winemaker Dinner at Mendocino's MacCallum House Inn & Restaurant (Nov. 6), Harvest Dinner at Jaxon Keys Winery & Distillery (Nov. 7), BARRA of Mendocino Winemaker Dinner at Crush Restaurant (Nov. 7) and Stanford Inn's Ravens Restaurant Medicinal Mushroom Breakfast (Nov. 8).
For all things sea and land, Wild Fish steps up with a multiple-course tasting menu and Winemaker Dinner with Yorkville Cellars (Nov. 12) and Mendocino's new outpost – Trillium – is offering a winemaker dinner, partnering with Signal Ridge and Drew Winery (Nov. 12).  For a more serene setting, Afternoon Tea at Glendeven Inn is the place to sip with mushroom-focused tea sandwiches (Nov. 12). The Symbiosis Social at Lichen Estate kicks things up with live music and mushroom fare paired with wine (Nov. 13). The week wraps with the annual Food & Wine tasting at McNab Ridge (Nov. 14), Mushroom Forage and Organic Lunch at Frey Winery (Nov. 14) and From Vineyard and Forest to Table pairing at Panthea Winery and Stanford Inn's Ravens Restaurant (Nov. 14).
Visitors looking to catch some fungi action on the fly can tap into seasonal specials throughout the county during November. Key stops include Ukiah's new Chop Chop, Hopland Tap House, Ledford House, Patrona Restaurant, Saucy, The Peg House and The Q in Fort Bragg.  Mendo Burgers offers a lineup of crimini, portobello and wild golden chanterelles on any burger of choice and Cowlick's tops things off with a sinfully sweet Candy-Cap Mushroom Ice Cream.
A bounty of local hotel deals round out the seasonal celebration, including Glendeven Inn's "Mushroom Special" with a third night free; Little River Inn's "Mushroom Mania" ocean-view guestroom package ($159.00/dbl) and Elk Cove Inn and Spa's "Lodging & Wine Dinner Package" including a three-course French feast and daily sparkling wine breakfast. Nearby, the Surf & Sand Lodge steps up with prime Pacific views and 50% off the third night's stay, while the Inn at Cobbler's Walk in Little River offers a third night free with its "Mushroom Special."
Mendocino's AAA-Four Diamond Brewery Gulch Inn celebrates the season with a 15% savings (two-night minimum) and infusion of locally-sourced mushrooms showcased in the daily made-to-order gourmet breakfast. Other deals include a 15% savings at the MacCallum House, "Mushroom Madness Special" with a "two night for the price of one" at the seaside Beachcomber Motel & Spa, or Albion River Inn's generous 30% savings on any ocean view guestrooms.  Blackout periods and restrictions apply. See complete listing of local deals.

Liz has been a freelance travel writer for nearly a decade, writing for multiple outlets such as Mothering, US Airways, Alaska Airlines, CBS Los Angeles, MadeMan and wandermelon, to name a few. Growing up in New Mexico, Liz also traveled to Japan and Europe, including touring with a modern dance troupe throughout France. She's now also added photography and web design to her talents, but her greatest accomplishment has been raising her four wonderful kids, who have already been bitten by the travel bug.

Latest posts by Liz Laing