MEXICO City's Urban Vitality Attracts Visitors
Just back from Mexico City, Michael Webb says the city can be exhausting, given its vast extent and horrendous traffic, but it's also inexhaustible – guaranteed to surprise and delight the traveler who loves urban vitality. 
I recently returned to explore the Mexico City's latest offerings and a few classics. Last time I visited in 2010, I stayed in international hotels; this time I picked the Red Tree House, a B&B of extraordinary charm in the Condesa neighborhood. That's my favorite part of the city for its leafy streets and Art Deco buildings, and it's a safe place to walk at night.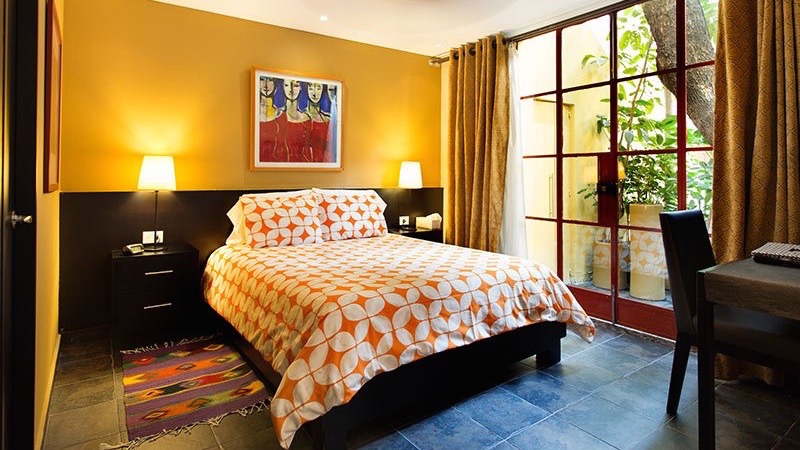 Of the new buildings, a standout is the Cuatro Caminos Foto Museo, a brilliant adaptation of an old factory. Within the white walls is a black steel and glass structure, stacked and layered to create wonderful plays of shadow and reflection. It's simple, frugal and hugely effective as a showcase of contemporary photography. The Chopo Museum is an even more impressive example of adaptive reuse; a century-old cast iron market hall with insertions of wood, steel and acrylic beneath a Gothic vault that evokes a cathedral. It presents changing art exhibitions. The National (Vasconcellos) Library is another dazzling architectural achievement, and a invaluable resource for the local population.
The showiest of the new buildings is the Soumaya Museum in Polanco, which resembles a  cooling tower clad in metal scales. Entirely funded by Carlos Sim, the world's richest man, it's a vanity project jammed up against a shopping center with glaring signs and a glass office tower. As an art museum it's a resounding flop. The interior with its vortex of space chopped into seven levels makes no sense volumetrically, for the scattered artworks on the first level are dwarfed and the canted walls cannot be used. At the top, a massive assembly of structural trusses obscures the skylight and overpowers a jam-packed collection of Rodin sculptures–more storehouse than display. A clumsily mounted Rembrandt is flanked by a fire extinguisher.
I fled from this folly to explore the work of Luis Barragán, Mexico's greatest modern architect. Several of his buildings, including his own house, can be visited by appointment. Driving north on the Periferico–a heavily trafficked ring road–you spy a cluster of five triangular concrete obelisks, painted in primary colors and set at a high point on the median. In the early 1960s, Barragán collaborated with sculptor Mathias Goeritz on this public art work—a symbolic marker for Satellite City, which was to be built on farmland beyond the city limits. A few miles on is the Cuadra San Cristobal, a country estate in the gated community of Los Clubes.  Commissioned by a Swedish family who loved horses it is celebrated for its immense yard enclosed by pink stucco walls and a row of stables. A water spout gushes into a shallow pool, and a similar fountain serves the neighbors.
At the edge of Chapultepec Park is the Gilardi House, where you can wander though a succession of rooms and patios that immerse you in fields of color. A gallery with yellow-lined openings leads to an indoor pool with blue walls and an intense red column. Floors of richly grained stone open onto a courtyard, which was built around a jacaranda tree, with a blue wall merging into the sky. At every turn, shutters open to reveal another color field and the rough stucco walls add texture.
 Barragán's chapel for the Capucinas convent in the colonial settlement of Tlatlan is all about silence and emptiness. Light filters into a lofty white cube through a wood grill set high on the back wall. A wedge separates the nave from a side chapel in which irregular panes of yellow glass light salmon pink walls and a standing cross. A gold-leafed triptyque of panels behind the altar catch the late evening light. Another grille separates a side chapel to the right, and a yellow grid encloses a passage and is reflected by a basin of water in the courtyard. It's a magical place, serene and mysterious; an abstraction of space, light and color.
Recommended Restaurants
Pujol is helmed by Enrique Olvera, a star chef who plays brilliant variations on traditional Mexican recipes and ingredients, and has just moved to an equally impressive new location in Mexico City. The tasting menu includes his mole madre, constantly renewed over three years, along with one that has been freshly made. Tennyson 133, Polanco;  5545 4111
Dulce Patria serves a timbale of duck with a wonderful mole negro is a must-have in this sophisticated, justly popular place. Anatole France 100, Polanco; 3300 3999
Quintonil offers delicious small plates in an intimate dining room. Newton 55, Polanco; 5280 1660
Biko is an elegant setting for inventive cuisine. May soon be moving to a new location. Masaryk 407, Polanco; 5211 7987
Contramar has some of the best seafood in the city, but is open only for weekday lunch. A large dining room opens onto the street and waiters race around giving fantastic service. Durango 200, Col Roma; 5514 9217
Mercado Roma is an inexpensive farm-to-table casual eatery with a garden patio in back ,dining areas and a rooftop beer garden. Querétaro 225, Cuathtemoc; 5207 6253
The San Angel Inn, across the street from the Rivera-Kahlo house and conveniently close to the Capucinas, is a historic hacienda that was once home to Carmelite monks with a lush flowery courtyard surrounded by a portico. Diego Rivera 50, San Angel; 5616 1402

Michael grew up in London and now lives in a classic modern apartment in Los Angeles. His twin passions are architecture and travel, and he indulges both as often as he can, exploring every continent in search of material and inspiration. His travel memoir, Moving Around: a Lifetime of Wandering (ORO Books, October) recalls memorable experiences of people and places over seven decades. Michael is the author of 28 other books, most recently Architects' Houses. He has written on travel and design for The New York Times, Travel & Leisure, Virtuoso Life, Monocle, Architectural Digest and other publications
around the world.

Latest posts by Michael Webb