The Maria Island Walk, TASMANIA
Take a four-day luxury guided walk through one of the regions most beautiful and unspoiled nature reserves on the Maria Island Walk.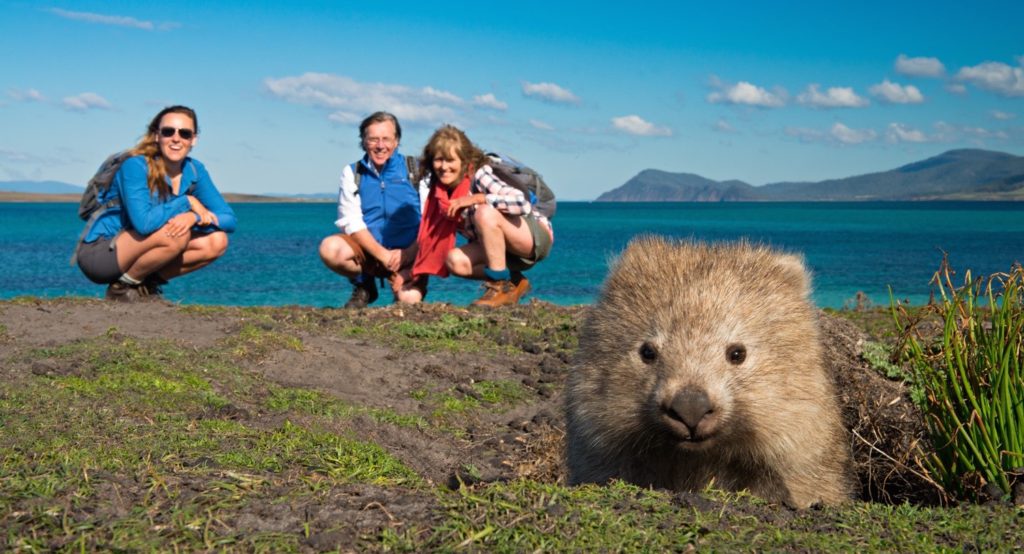 "Possum! Wallaby! Wombat!" They're all here as we march our way though one of the region's most beautiful and unspoiled nature reserves. Located just a few kilometers off Tasmania's east coast, Maria Island offers sanctuary to some of the world's rarest wildlife, including the endangered Tasmanian Devil and tiny Forty-Spotted Pardalote (a beautiful yellow and black bird). Not much has changed since the French explorers first arrived on the island in 1802 so the award-winning Maria Island Walk offers an interesting window into Tasmania's past over a four-day period that promises 'to last a lifetime' and doesn't disappoint. Over the decades, the island has hosted aborigines, convicts, sealers, whalers, farmers, an eccentric wealthy Italian entrepreneur, a cement factory, a vineyard, and even a grand hotel that turned out not to be so grand. Today the remnants of one man's hopeful vision stand scattered and broken next to another man's hopeless plight. As we're about to find out, it's a place full of ghosts and stories that defy belief from the land that time forgot.
Day 1 – McRae's Isthmus (8km)
Our journey began in Hobart where our group gathered at the Maria Island Walk headquarters for a debrief and general introduction to what lies ahead by our two charming young guides. Supplies checked, questions answered, backpacks packed, and boots laced, we all pile into the van for a 90-minute drive to the fishing village of Triabunna where we took a 40-minute boat ride to our final destination.
Our arrival is shrouded in cloud and a light rain, which just adds to the mystery of the place, but as the boat pulls into a secluded shallow bay with pristine waters, we gladly kick off our shoes and wade into shore like true pioneers. The white sand is so soft we all decide to go barefoot, which turns out not to be such a good call for some who only twenty minutes in cut their feet on razor sharp oyster shells. A quick demonstration of our trusty guides first aid skills has us back on track again, albeit booted up this time and a little wiser.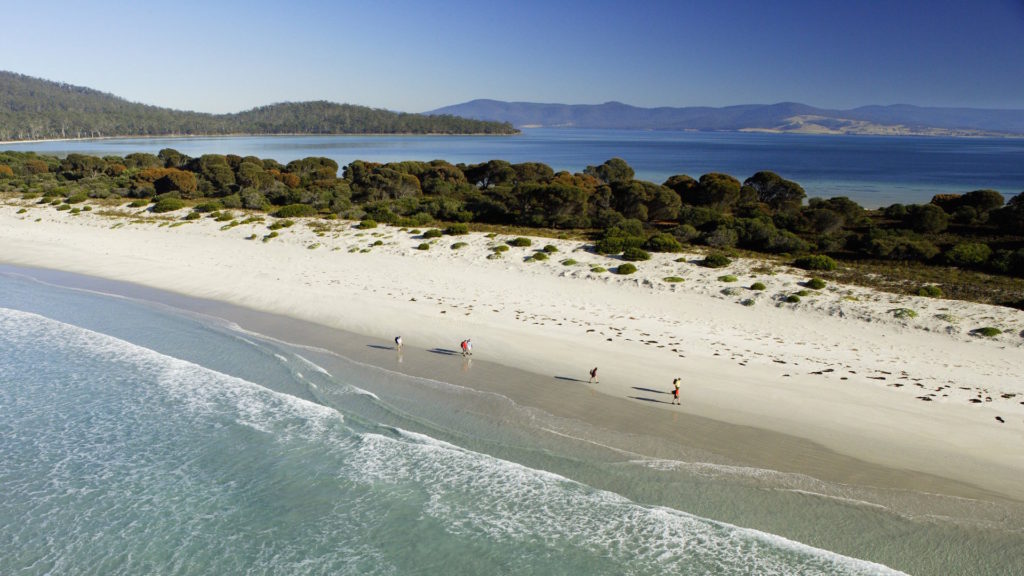 The walk starts on Shoal Bay and crosses McRae's Isthmus – a narrow neck of sand with sweeping beaches on either side – to Reidle Bay where we set up camp at the 'Casuarina Beach Camp' for our first night. Humble but sturdy timber huts covered in thick tarpaulin provide comfortable shelter and warmth with raised beds and mosquito nets. The camps are environmentally sensitive; with water tanks collecting rain from some of the world's cleanest air, wash rooms, warm outdoor bush showers and composting toilets. All the huts are spread out in the bush and interconnected by wooden walkways that converge at the communal dining/kitchen space where drinks, canapés and meals are served at the end of the day en famille. For dinner our multi-talented guides dish up a beautiful saffron and scallop risotto washed down with a delicious local chardonnay from Cape Bernier, just across the bay.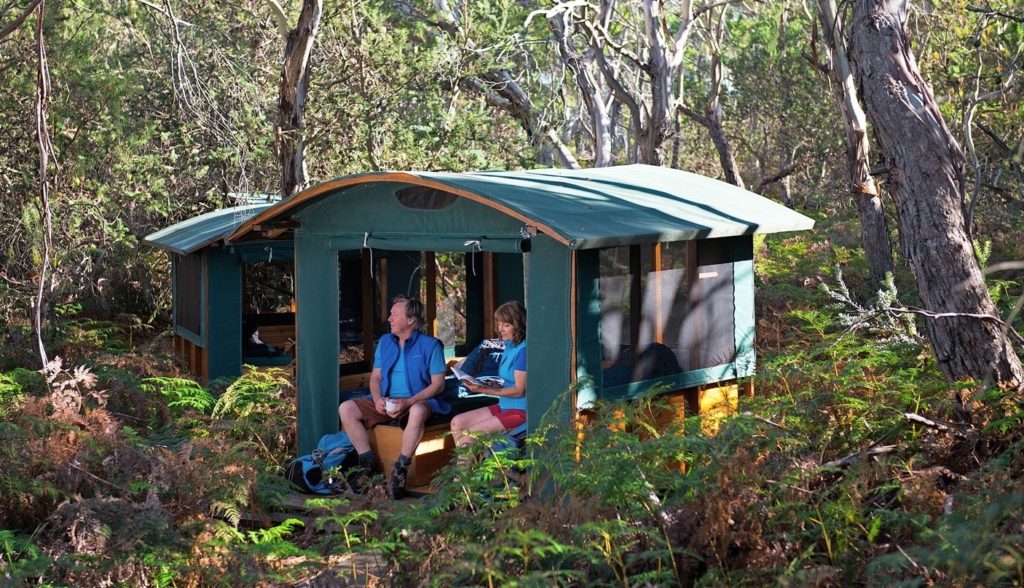 We get stuck into the wine and stories straight away, excited by our first day… some went to check out the penguin colony at Haunted Bay while others headed to Robey's Farm to hear about a love struck young couple from completely different countries and backgrounds who moved to this remote island on the far side of the world after the Great War and lived happily ever after in complete isolation until death did they part. The simple home that they built and lived in for forty years remains untouched, a spooky memorial to their strange union. According to Kathy Gatenby, author of Viv and Hilda: Meeting the Robey's of Maria Island, "their story invites us to reflect upon the resourceful, inventive and resilient nature of those who shaped Australia's cultural landscape, and to ponder the possibilities of where love can take you"… it certainly makes a for a good bedtime story before lights out.
Day 2 – 5 Beautiful Beaches (13km)
The sun is shining bright when we wake up the next day and a light breeze beckons us to the sparkling Ocean Beach for a refreshing early morning dip. Only four more to go! From Chinaman's Bay to Bloodstone Beach, Soldier's Beach and finally Four Mile Beach – we hike 13km in a strong head-on wind, which keeps us cool in the 28-degree heat. By the time we reach camp at 'White Gums Camp', we're both exhausted and exhilarated – we've seen pods of dolphins, pademelons, Forester Kangaroos, echidnas, Cape Barren geese and visited the remains of one of the first penal settlements in Australia at Point Lesueur – a creepy, barren, beautiful place that must have bewildered the 336 convicts who found themselves marooned here between 1845 and 1850. The ruins once made up the Long Point Probation Station established by the British. (They renamed it Long Point but it has since reverted back to its French name as originally christened by the explorer Nicholas Baudin.)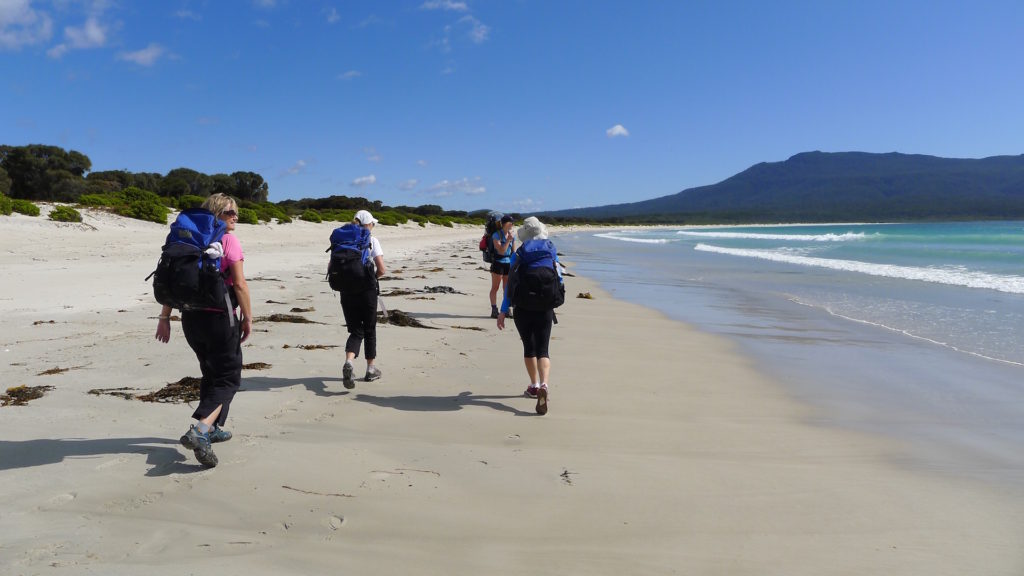 Back at the camp over cold beer and a bush BBQ, a robust debate takes place between our rag-tag group of European and British descendent Australians on current immigration and citizenship policies, which raises interesting questions when one considers where we all started. The day's tangible remnants of history add poignancy to the conversation but don't dampen our spirits as we look towards the future, or at least tomorrow.
Day 3 – Top to Bottom (9-17km)
From the coast to the forests, today we get to push our limits and summit either Mount Maria (at 710m) or Bishop and Clerk (at 630m) – both of which offer stunning 360-degree views of the island and the mainland on a clear day, which thankfully it is. The climb is challenging but worth the effort for those who don't mind heights. But if you suffer from vertigo, a visit to the painted cliffs offers a gentle alternative while passing through giant forests of Tasmanian blue gums. One of nature's masterpieces, the painted rocks feature beautifully colored and patterned sandstone, carved and molded by the sea into living sculptures, bordered by rock pools teeming with marine life.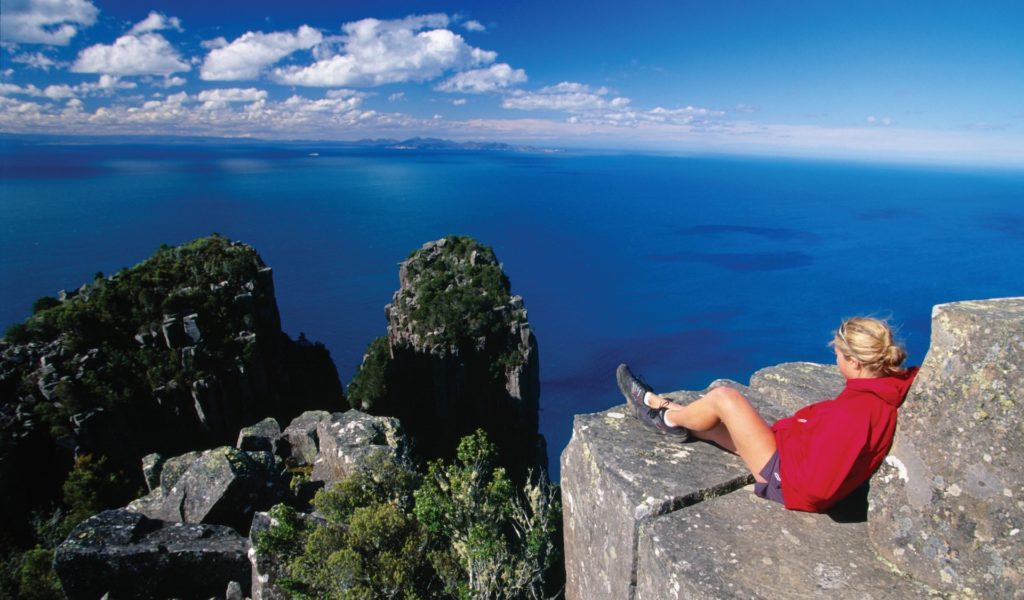 For those with an interest in geology, the fossil cliffs are also worth visiting. The rocks showcase brilliantly preserved shell and coral fossils dating over 240 million years old and are considered one of the most impressive examples of this kind of fossil layering in the world. From here, it's only an hour's walk across an open bluff with spectacular views to the world heritage settlement of Darlington. Along the way, walkers can see the architectural remains of the old windmill and cottage, graveyard and convict built barn dating back to the second more agriculturally focused convict settlement period (1842-1850).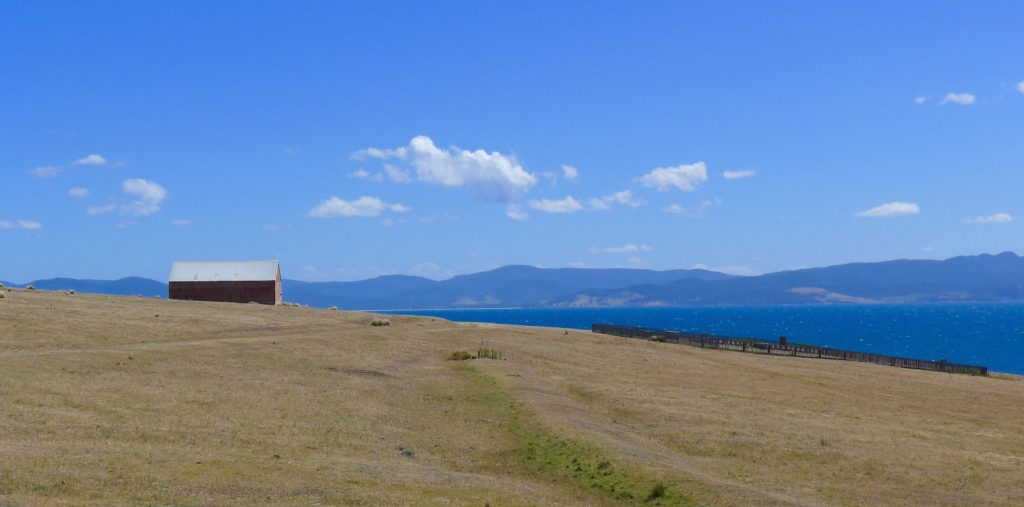 For our last night, we take up residence at Bernacchi House (built in 1888), originally home to Diego Bernacchi – an eccentric Italian entrepreneur who became infatuated with the island and had all kinds of visions for the place from a cement factory to a vineyard and grand hotel. Perhaps he was ahead of his time – if he only knew what his guests paid to sleep in a tent here today! Hot water, clean sheets and a proper bed are a real treat for our last night, but it feels like a privilege to be staying in this unique heritage-listed home, tastefully restored with much of its original features and details still in tact, including a fireplace and piano just begging to be played.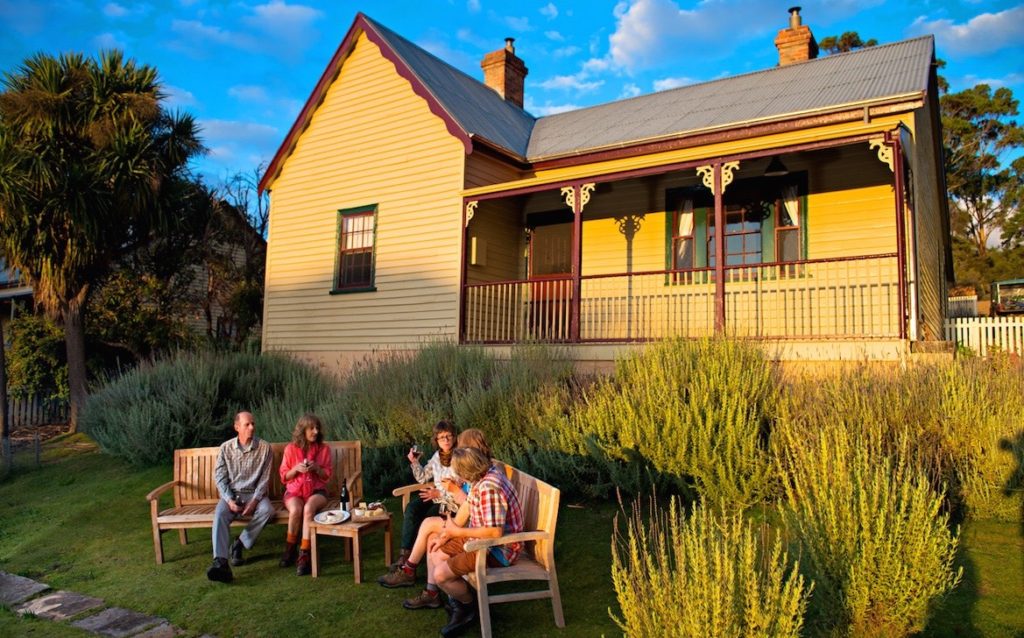 Our guides prepare a beautiful banquet for us in the candlelit formal dining room where we toast one another to new friendships and great memories. It's a good time for a sing-along, but I sneak off to bed to finish the book I started reading in camp one: The River Wife by Heather Rose (a local Tasmanian author) who spins a mesmerizing adult fairy tale about rivers, time and the mystery of love.
Day 4 – Darlington (4km)
Strolling through this historic UNESCO world heritage listed site on our last day is like stepping back in time. One can't help but be struck by the incongruous cross-section of ideas and values over a relatively short period of time from the early convict settlements to the agricultural and industrial age. It is a living museum now overrun by more wombats and devils than people.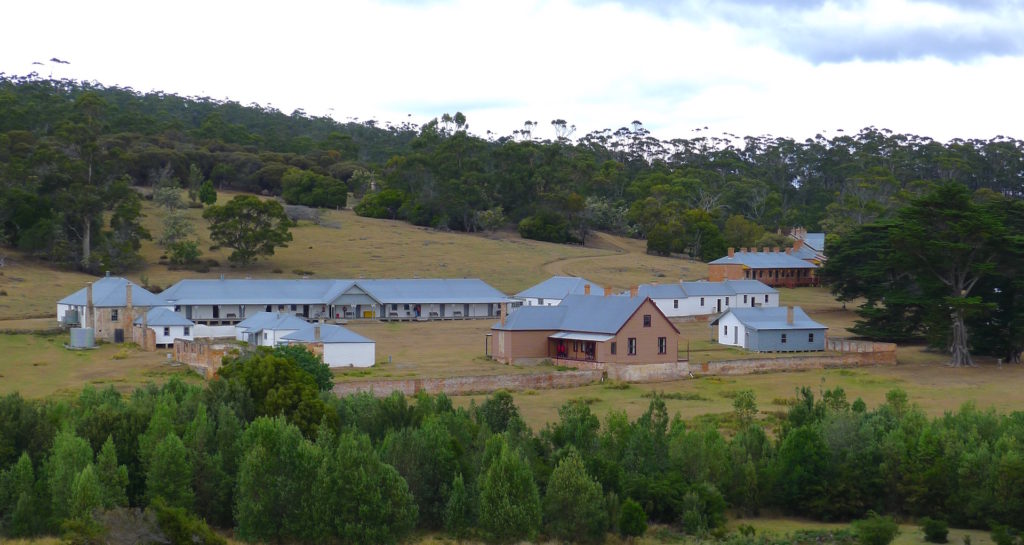 We gather in the old penitentiary for our farewell meal and feast on local oysters, champagne and a ploughman's lunch. It seems a little inappropriate given the slops that the convicts would have had to eat, but then nothing about Maria Island really is appropriate – it's a mash up of nature, history, cultures and industries – where winners, dreamers and losers have all come and gone leaving their mark. For our little group, the only mark we leave is in the visitor's book where we promise to return, grateful for all we have seen and learned on our brief journey to this little pocket of Australian history.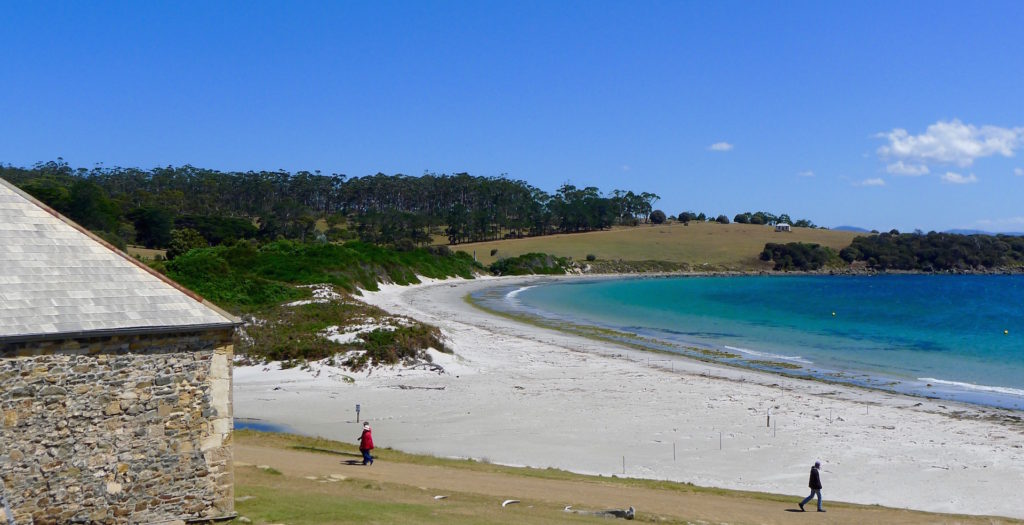 To Book
Guided walks depart daily from October – May subject to availability. Price is AU$2,400 per/person and includes all transport between Hobart and Maria Island, park entry fees, 3-nights accommodation, food and wine, backpacks, raincoats and 2 guides. (Maximum of 10 guests only.) For more information visit www.mariaislandwalkcom.au or contact +61 (0)3 6234 2999 or bookings@mariaislandwalk.com.au. Consider donating to the Save The Tasmanian Devil program.
Photos by Kate Ayrton and courtesy Maria Island Walk.

Kate was one of the first founding members of WanderMelon and is now based in Sydney where she works as a transmedia digital producer and freelance travel writer. Her stories have been published in California Home & Design, Condé Nast Traveller, Eating, New Zealand House & Garden, NZH&G On Holiday, Vogue Entertaining & Travel and Vogue.

Latest posts by Kate Ayrton