Sailing The Marlborough Sounds, NEW ZEALAND
An intricate network of peaks and sea-drowned valleys make the Marlborough Sounds a playground for the Gods and nature-lovers.
Located on the Northern tip of New Zealand's South Island, the Marlborough Sounds is a remote pristine maritime oasis unmarred by tourist development. In fact, it's one of New Zealand's best kept secrets and where the locals go to vacation. This intricate labyrinth of waterways consists of four Sounds–the Queen Charlotte Sound, the Kenepuru Sound, the Pelorus Sound and the Mahau Sound set in a mountainous landscape. Maori legend tells of Kupe's struggle with a giant octopus, and how he grabbed onto the South Island for support, carving out the inlets with his fingers. (Kupe was the first Polynesian to discover the islands of New Zealand, while hunting down a troublesome giant octopus.) Another local legend describes the entire South Island as Maui's waka (canoe), wrecked on a reef during a fishing expedition, and how the shattered bow of the canoe became the splintered Sounds.
Surrounding this watery maze is a vast native forest ranging from towering 800 year-old Rimu trees, lush Punga tree ferns and beautiful native orchids, all along the famous Queen Charlotte Track and cascading down to the waters edge. The myriad bays, coves and bights are perfect for exploring by boat, as evidenced by Captain Cook who first landed the Endeavor in New Zealand in 1770, anchoring in a 'very snug cove' – today known as Ship Cove – which would become the base for his Pacific exploration. To hoist the Union Jack, Cook climbed high and looked out for the first time on the gusty waters, which to this day bear his name: Cook Strait. He promptly claimed the South Island for King George Ill and named the Queen Charlotte Sound in honor of Her Majesty. The next century saw the area develop into a significant whaling and European farming community. Today, seafaring pursuits continue to abound with endless sailing, fishing, sea kayaking, and diving opportunities for visitors to observe fish, seals, dolphins, birds, and flora along the beautiful coastline. Naturalists will delight in the activities, which allow man to interact with the elements in a quiet and remote setting far from the madding crowd–a landmark of purity and majesty.
The main channels of the Marlborough Sounds have calm water, however, the notorious Cook Strait is infamous for its strong currents and rough waters, especially when the wind is coming from the south or north. The weather can change quickly and dramatically so visitors should be prepared for anything. Surprisingly, you don't need a license to sail or drive a boat here, but it's worth hiring someone who knows the waters well as they can be treacherous. For those who prefer to plant their feet on land, there are some excellent spots to pull up anchor and bed down for a night, a week or a month. In the land of the long white cloud, it's easy to lose track of time and there is plenty of good shelter.
BOATS & BEDS
Sennen House / Picton
Built in 1886 and registered under the New Zealand Historic Places Trust, this magnificent two-story villa oozes Victorian charm and is one of Picton's original colonial homesteads. Set in five acres of Queen Elizabeth II National Trust protected native forest and grounds, native birds and birdsong abound. Only a short 1 km stroll to Picton's restaurants, shops, ferries, and foreshore, the Inn is an ideal spot to begin your voyage into the Sounds as it is the main port of entry. Rates range from NZ$325-475 p/night. Phone: + 64 (0)3 573 5216 or email: enquiries@sennenhouse.co.nz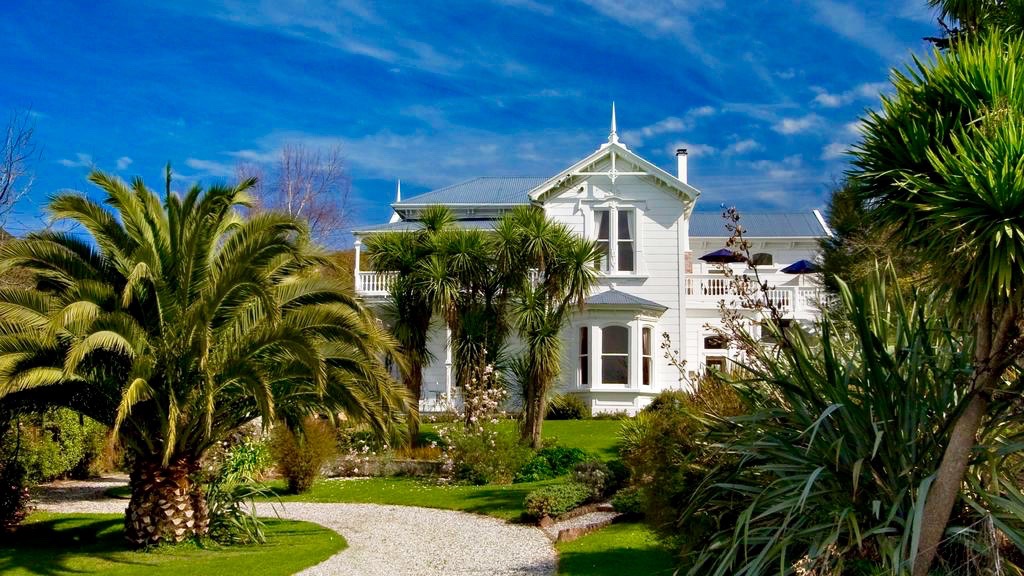 Beviamo is a 42-foot, fully surveyed yacht based out of Picton, available for hire complete with its own qualified skipper. The skipper has been sailing in the Marlborough Sounds for over 45 years. Overnight accommodation is limited to four people, with two luxury cabins available. With a selection of great music to choose from, you can cruise the Sounds in style and comfort. Food is not provided in the hire fee, but there is a galley (kitchen) onboard for guests to prepare their own food, or alternatively there are several quality restaurants within a comfortable cruising range. Boat hire is NZ$950 per day (up to 10 persons), includes skipper and complimentary tea / coffee / cold drinks. A weekend charter special of NZ$1500 is available, with the charter starting on Friday evening and finishing on Sunday. Phone: + 64 21 709 579 or email: info@beviamo.co.nz
For a deluxe sailing experience, Pacific Eagle is an elegant 102-foot, luxury yacht that can be charted by the day or weeks to suit any individual requirements. Moored in the Sounds it is available to go anywhere in New Zealand including Fiordland, bottom of the South Island, Bay of Islands, top of the North Island, Pacific Islands Tonga, Fiji, Vanuatu and New Caledonia. The yacht sleeps 6 guests in 1 Master State Room, 1 double, 1 twin–all with en-suites, and comes with 3 experienced local crew members. State-of-the-art facilities include Sky digital TV, DVD, VCR, Bose Sound system, Internet, dive gear, kayaks, water skis, body boards, and fishing gear. Charters run at NZ$47,000 p/week. Phone: + 64 274 320 049 or email: enquiry@pacificeagle.co.nz
Bay of Many Coves Resort / Queen Charlotte Sound
Only 30 minutes from Picton by boat, this award-winning luxury retreat is noted for its sleek contemporary architectural design and secluded position overlooking the Queen Charlotte Sounds. Perched on a hillside on the shores of a picturesque aqua-blue bay, the contemporary bungalow apartments peek through surrounding lush native bush and offer stunning views from their own private deck. The rooms, just a stone's throw from the water, are composed of warm wood, sand and stone elements making them both cozy and stylish. Amenities include flat screen TV, stereo entertainment system, and contemporary kitchenette with all appliances, phone and Internet. The resort also offers exclusive dining at the Kumutage and Foredeck Restaurant as well as the Bright Café, which is open to visitors. There are no roads to or from the resort, so access is only possible by boat. Guests may also make use of the pool, kayaks, dinghies, and spa while in residence, as well as a range of activities, which can be arranged by the resort. Day cruises are also available aboard the Faith or the Lady Karen–a 43' Kauri twin engine launch built in 1957, perfect for fishing (cod, snapper and terakihi) or sight seeing the many inlets and coves. Rates start at NZ$500 p/night for a 1 bedroom suite and NZ$950 for a 3 bedroom suite. Phone: +64 3 5799 771 or Email: enquiries@bayofmanycovesresort.co.nz
Double Cove Retreat / Queen Charlotte Sound
Nestled in the calm waters of Queen Charlotte Sound, Double Cove Retreat provides luxury accommodation for up to 12 guests and allows you to live like a local in the privacy of your own home. Ideally suited for several couples, family getaways, team building retreats, or intimate weddings with fully landscaped grounds and first class facilities. Access is by boat only or direct to a private helipad. The lodge is 10 minutes by boat from Picton and 25 minutes by helicopter from Wellington.
Rental of this house includes the use of a Picton based luxury 4WD vehicle and helipad. Speedboats, sailing cat, equipment for waterskiing, fishing, and kayaking are available, with tuition if required. There is a gourmet kitchen, outdoor oven, and two gas-fired barbeque grills. Fully qualified chefs can be hired. Full office facilities with high-speed Internet are on site, as well as Plasma TV, Sky Digital, Playstation, DVD and CD library. There is also a games room and BOSE indoor-outdoor sound system. Luxury motor yacht options are also available. Rates run NZ$950-$1200 p/night. Phone: 027 484 5101 or email: info@360luxury.com
Ngaio Bay B&B / French Pass
Located about 2½ hours drive from Picton, this charming B&B is run by a local couple whom have lived there for 30 years and who support and practice sustainability and environmental awareness. Ngaio Bay is 5 km before beautiful French Pass, and looks NW to D'Urville Island just across the water, ocean, mountains, and sunsets. Guests will feel right at home in the lush waterfront gardens manned by three gorgeous Labradors who are always ready, able and willing to take visitors on long walks along the surrounding coastline. Guests can swim, dive, fish or just laze on the beach or verandas with a good book. On cool evenings, the owners light a huge open fireplace or a bonfire on the beach, which makes for good storytelling. And an outdoor, fire-heated bath overlooking the beach is a sunset, moonlight, storm-tossed or starlit treat. Meals are served family style or room service is available on request. Guests can be as sociable or as private as they wish. But the sourdough pancakes, a special family Sunday tradition, are sure to lure you out. And if not, then the dolphins will. Where else can you spontaneously swim with a pod frolicking right outside your window, as seen here. Rates for Dinner, Bed & Breakfast are NZ$165 p/night for a single and NZ$250 for a double. (Add $70 for 3-12 year-olds.) Lunch: $20 p/p or $7.50 p/child. 2 years and under $30 all inclusive. Minimum 2 nights stay (negotiable in special circumstances.)Phone: +64 3 576 5287 or email: welcome@ngaiobay.co.nz
ACTIVITIES
Windhawk Helicopters
Explore the Marlborough sounds by chopper for the ultimate scenic tour. Phone: + 64 3 572 9132 or email: info@windhawkhelicopters.com
Picton Horse Treks
For a land-based adventure, explore the Sounds on horseback. NZ$80 p/person for 1.5 hr ride. Phone: 0800 023 529 or 021 227 7860
Marlborough Sounds Adventure Company
A local outfit that can arrange hiking, kayaking and biking adventures.
Dive Marlborough
Go deep into the Sounds and explore reefs, wrecks and reserves underwater. Check out the Mikhail Lermontov, one of the biggest diveable shipwrecks in the world. Phone: 0800 GO DIVE (0800 463 483) or email: godive@xtra.co.nz
Walk The Queen Charlotte Track
Stretching between the Queen Charlotte and Keneperu Sound is the Queen Charlotte Track: a 71km track renowned for its stunning views and contrasting landscape, historical landmarks and wonderful variety of native bush and wildlife, ideal for both walkers and bikers.
Myths & Legends Eco Tours
Run by a local Maori family, guests can experience a personalized tour of the area aboard a 75 year-old Kauri planked classic launch called "Tutanekai", and learn about Maori culture, history and the Maori world view regarding the environment. Their kaupapa is to keep the lost art of storytelling alive–the old people say that stories stimulate dreams and if we lose the ability to dream our spirits will die, so don't miss out on this unique opportunity to interact with the local Maori culture. To learn more about local Maori culture, click here.

Outward Bound
For a more challenging experience in the Sounds, Outward Bound is based at the western end of the Queen Charlotte Track at Anakiwa. It offers courses designed to inspire personal and social development through value based experience learning in an outdoor environment. Its sailing boats known as 'Cutters' can often be seen sailing within the waters of the Queen Charlotte Sound.
GETTING THERE
Air New Zealand and Virgin Pacific Blue offer regular flights to Wellington, where you can take the Interislander Ferry (NZ$58-73 return) to Picton or fly Sounds Air direct to Bleinhem or Picton. Sounds Air is a locally owned and operated airline based at Picton Airport, and links the North and South Islands between Wellington, Picton, Blenheim and Nelson. Prices start at NZ$79 one-way.

Kate was one of the first founding members of WanderMelon and is now based in Sydney where she works as a transmedia digital producer and freelance travel writer. Her stories have been published in California Home & Design, Condé Nast Traveller, Eating, New Zealand House & Garden, NZH&G On Holiday, Vogue Entertaining & Travel and Vogue.

Latest posts by Kate Ayrton