The Rajasthani desert flat lands of the ancient Hindu Rajput warriors were once defended by imposing strategic forts that still loom from the surrounding plains where subsistence farming families toil in defiant bright saris and turbans.
This vast region of contrasts stretches from Jaipur to Jodhpur to Udaipur (and beyond to Jaisalmer), a triangle (or 1000km circuit) that harbors the essence of Indian civilization, brushes with nobility – and the unexpected. Jane Adams traveled with her driver Raj for a taste of this 'Land of Kings', an adventure that included the daily lassi.
There is a famous lassi-wallah in Jaipur noted for his creamy foam-topped lassis – terracotta beakers filled with nurturing cardamom-flavored yogurt, and within an hour of my arrival Raj had fetched me one. Surely a sign this was going to be a happy journey.
NIMAJ
Off into the looming dusk we set, dodging cows, bullock carts and errant cars that make multi-lane freeways like fun-park dodgem rides. We were headed to Chhatra Sagar luxury-tented camp near the village of Nimaj operated by brothers Harsh and Nandi Singh and their wives. Elaborate all-amenity safari tents with comfy beds, pretty Mughal friezes and hot water bottles, stretch across a 19th century dam wall built by Thakur Chhatra Singh to harvest monsoon rains for the district's farmers, and to nurture a private bird and wildlife sanctuary that we explore in cousin Raj Singh's jeep. He takes us to meet local farmers growing okra, aniseed, cumin and coriander, and the village silversmith whose creations adorn the ankles of village women. Better than money in the bank.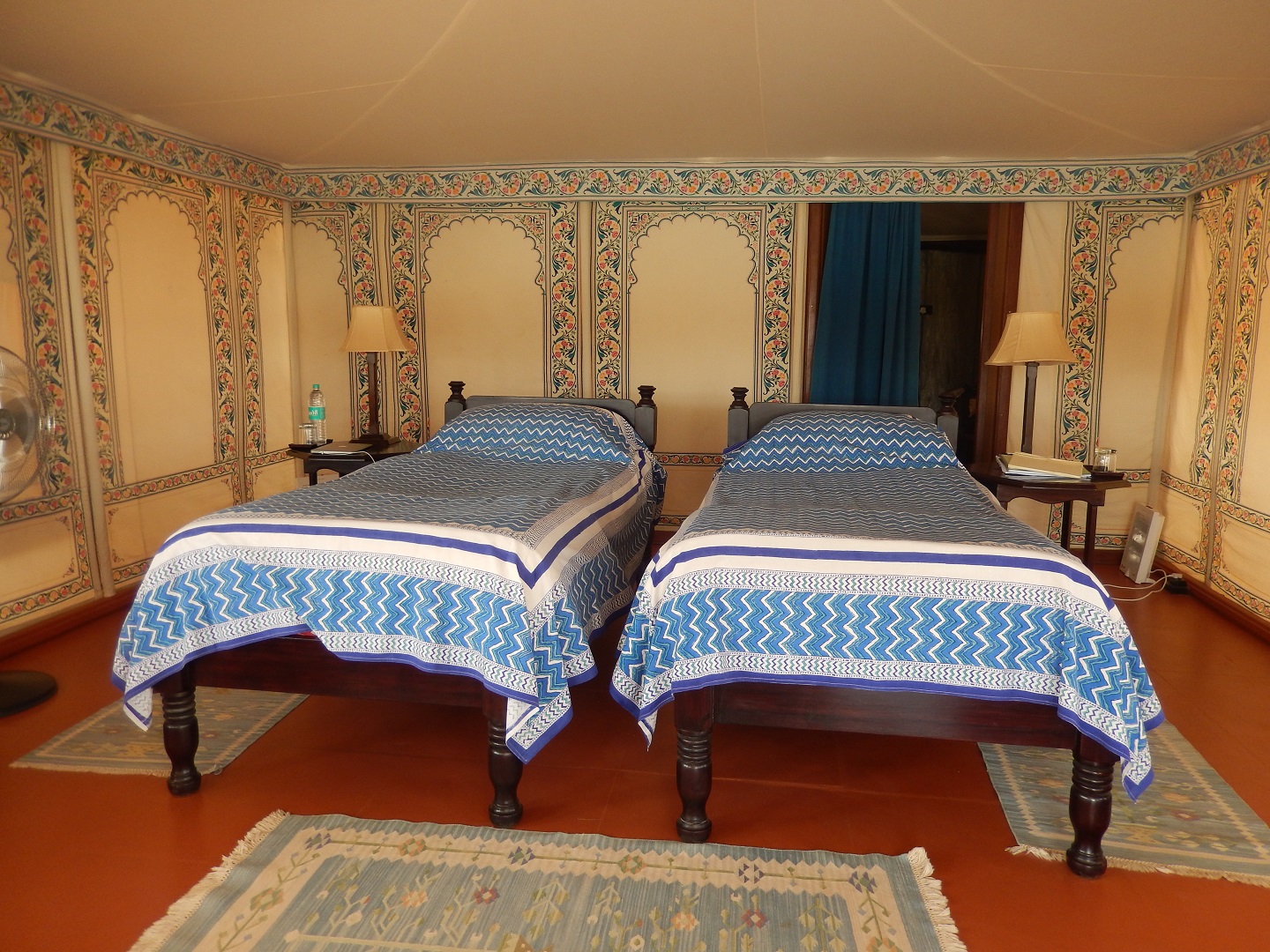 Chhatra Sagar's other allures are its hilltop suites and mealtimes. Placid lake waters, feathered friends and sumptuous spicy dishes from the Singh family repertoire prepared by wives Shrinidri and Vasundhara designate this off-the-track posh camp worthy a detour. At lunch farm-grown coriander and chicken combine deliciously, served with braised ker sangri made from beans that grow on a desert tree, velvety tamarind eggplant, millet and corn flat breads and indelible red tomato chutney –exemplary local dishes served while pelicans glide across the lake.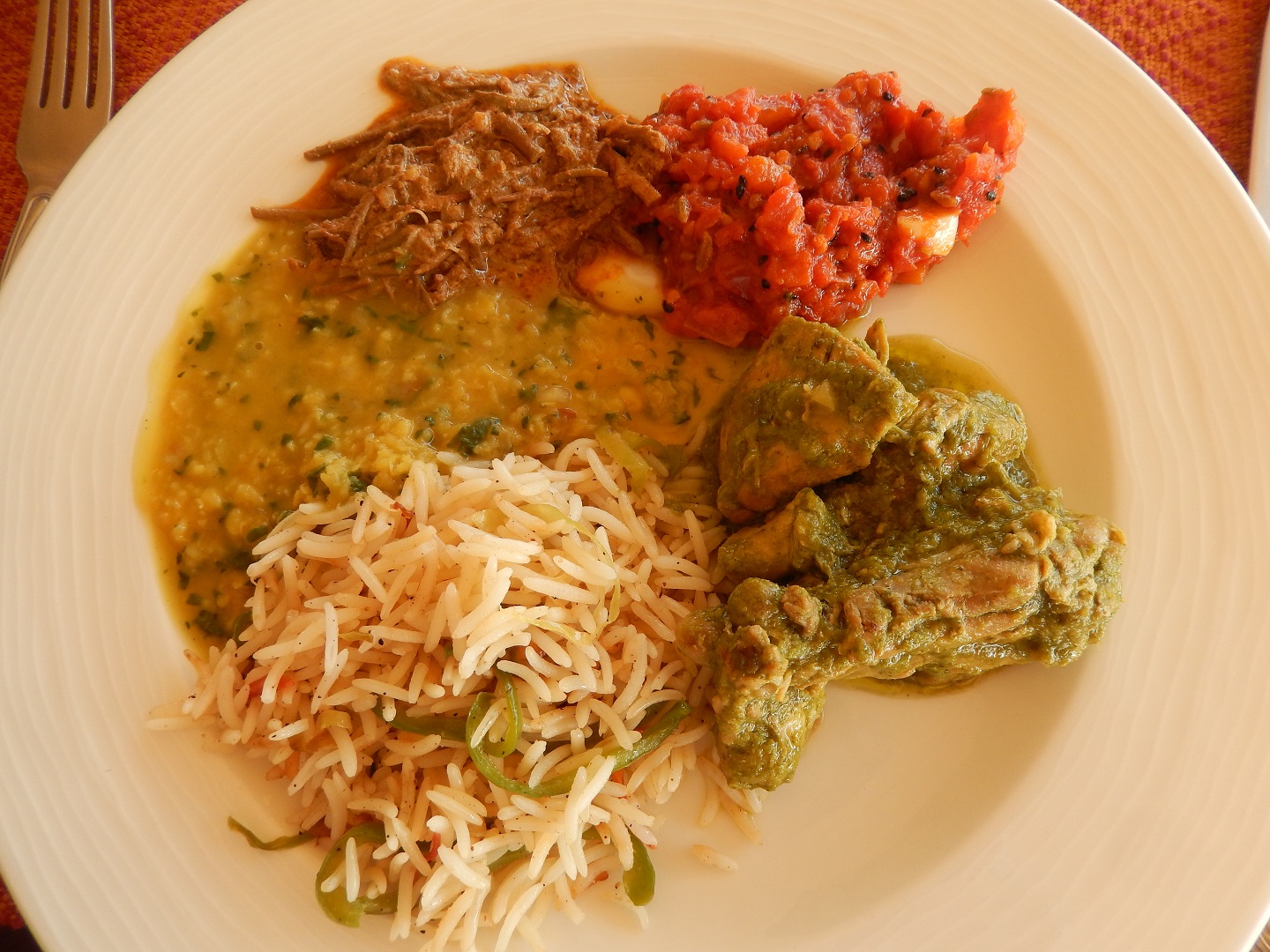 Later by the brazier, tales of 12th century aristocratic Rajputs were told unfolding a deeper understanding of the lineage of Rajasthan's contemporary noble families (many of whom carry the name Singh) some whom today open their hereditary palace gates (and tent flaps) to Rajasthani travelers.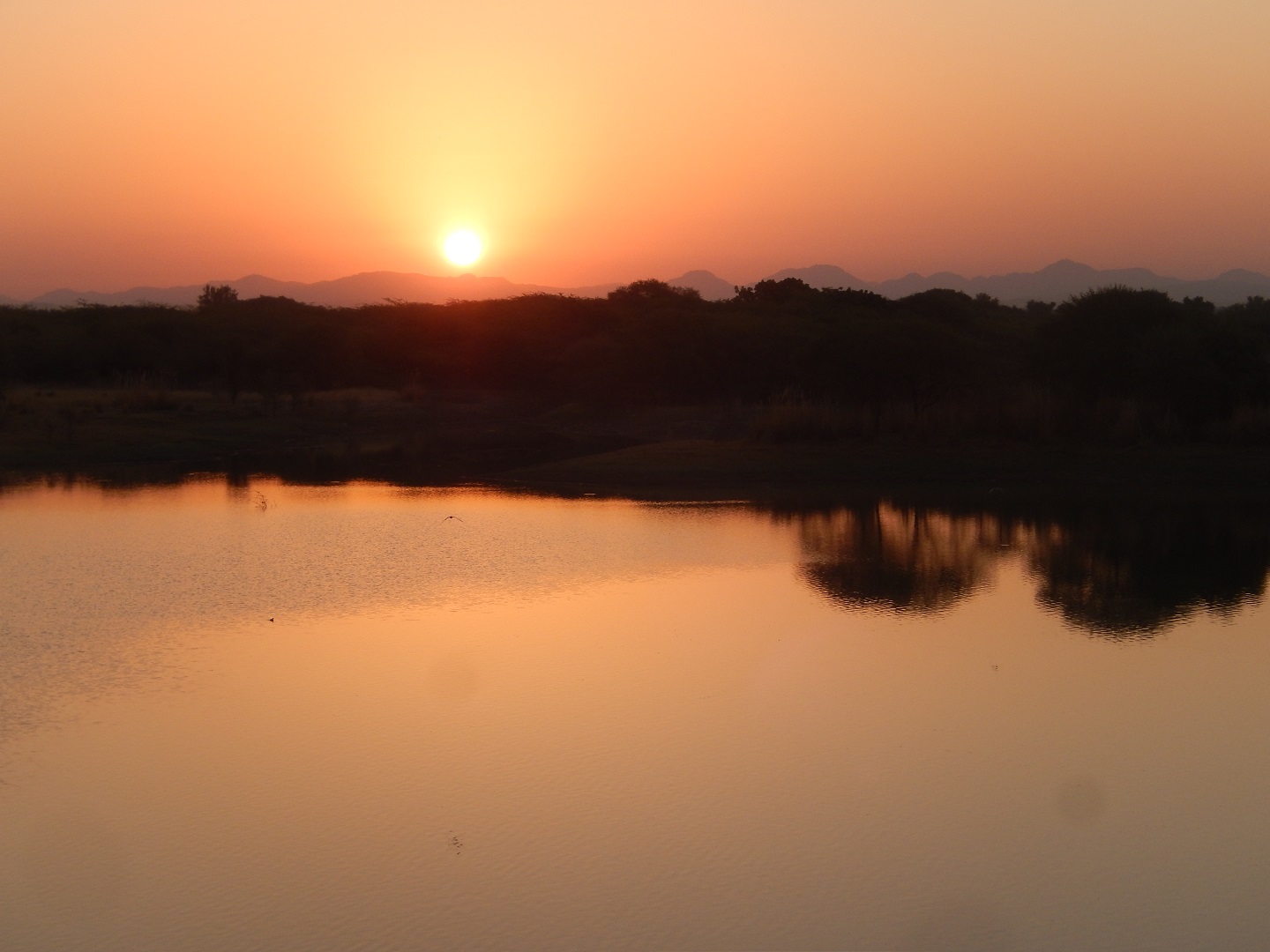 Watching the pink lavender sky dawn at Chhatra Sagar was but a prelude to our magic carpet ride across Rajasthan, best commenced after an homage stop at the Om Banna motorcycle shrine near Pali, en route Jodhpur. Legend tells that Om Banna died in 1991 when his Royal Enfield 'Bullet' bike crashed into a ditch. Police retrieved and impounded the bike in evidence. Twice it miraculously returned to the site of the accident, enough for the local people to consider this fatal bike had special powers. It is now in a glass case at the shrine, where virtually every passing motorist stops, rings a bell and prays for safe transit.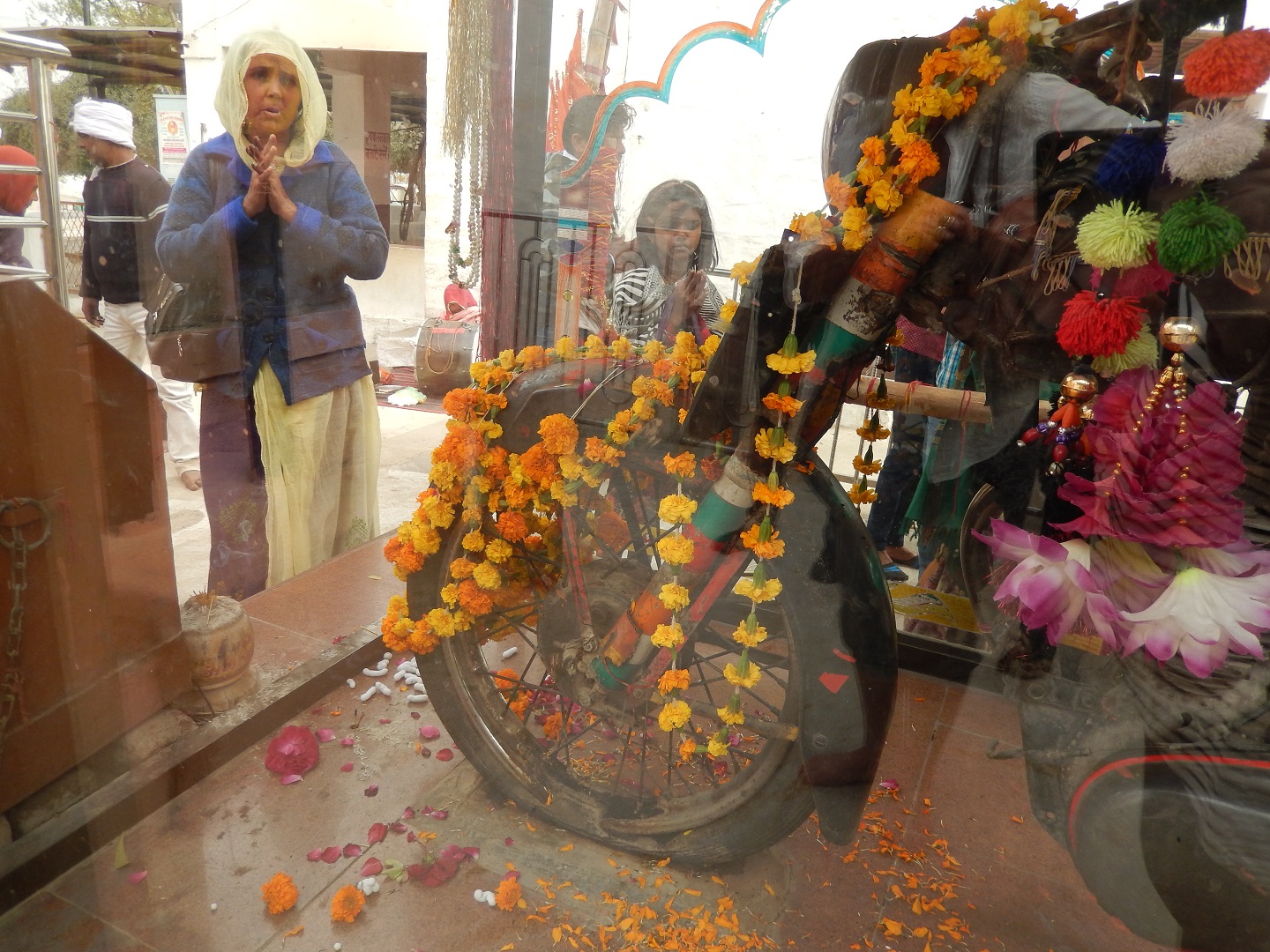 JODHPUR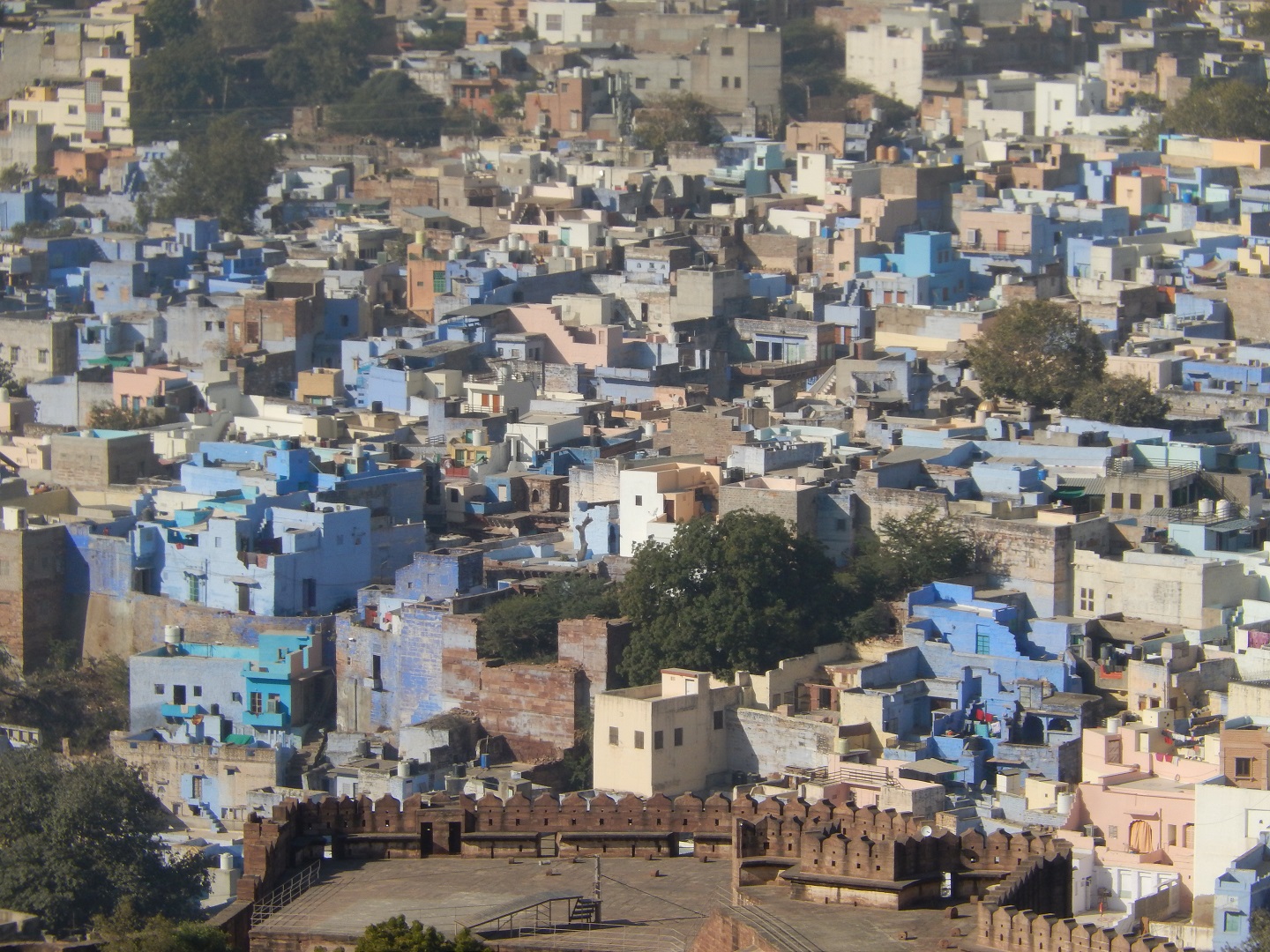 The next (safe of course) stop on the triangle-tour was the medieval 'Blue City' Jodhpur, so named for its scattered indigo-painted Brahmin houses. One of Rajasthan's imperial cities on the edge of the Thar desert, it is totally dominated by the massive rock-chiselled Mehrangarh Fort (1459; 120m high) described by Rudyard Kipling as 'the work of giants.'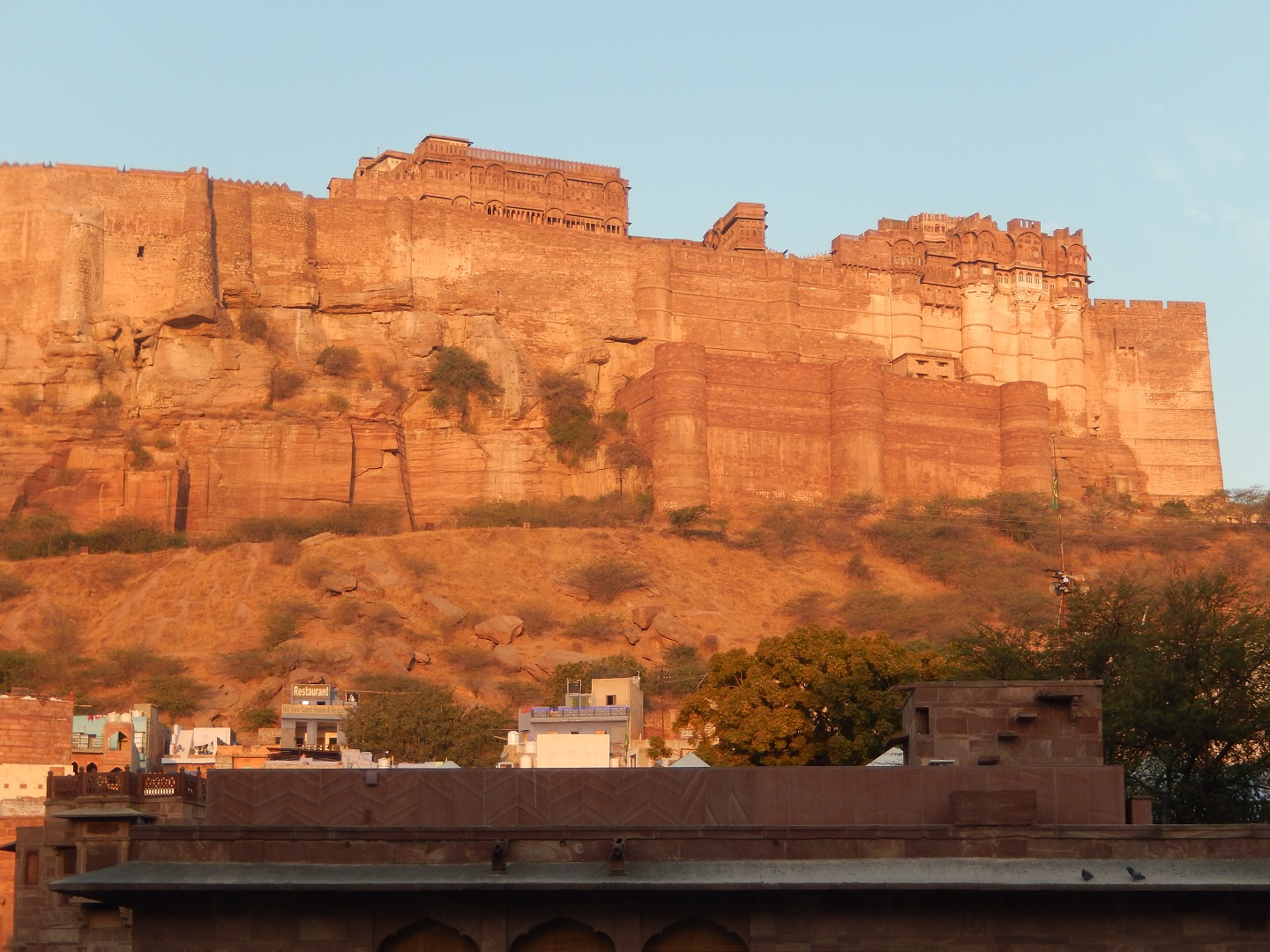 Sitting at the rooftop bar of the elegant boutique Raas Hotel (or at its al fresco Darikhana restaurant) sipping margaritas at the foot of this son et lumiere lit massive sandstone edifice unequivocally reinforces Kipling. It's unlikely though he would have approved the cacophonous call to prayer from the next-door mosque, nor the competing hillside hip-gyrator Bollywood disco-blare that really winds up during the 'wedding season'. Earplugs are thoughtfully provided with the Raas turndown service. The view from nearby Indique restaurant at the Pal Haveli hotel is almost on par and the thali is great value.
Also a short stroll from the hotel is the Stepwell Café overlooking the centuries-old stepwell (Tunwarji ka Jhaira) a large, deep open well for contemplation rather than laundry. Opposite look out for the Good Earth shop and other tempting homewares.

Strolling Jodhpur's narrow Old Town tangled streets and the Clock Tower bazaar heightens all your senses, including the fear of being sideswiped by reckless motorbikes. Step carefully and revel in jumbled stores selling old silver and amber, bangles galore, old wooden frames and battered teapots, trinkets, vibrant textiles and if you lash out, vicuna scarves, and gloriously aromatic spices. Daily foodstuffs at the Sadar market vegetable section feature myriad pulses, pomegranates, turmeric and other aromatic roots, shiny eggplant and the makings of a fine vegetable korma. Be sure to try local specialty mawa kachori, small fried dough balls filled with sweetened milk, cardamom and sometimes rose petals. Naughty and nice.
And in case you are wondering, you can buy jodhpurs in the Blue City. These polo player breeches are said to have been designed by another of the Raj Singhs – Sir Pratap Singh – for an 1897 tournament in England. They are available at Monarch Garments.
DEOGARH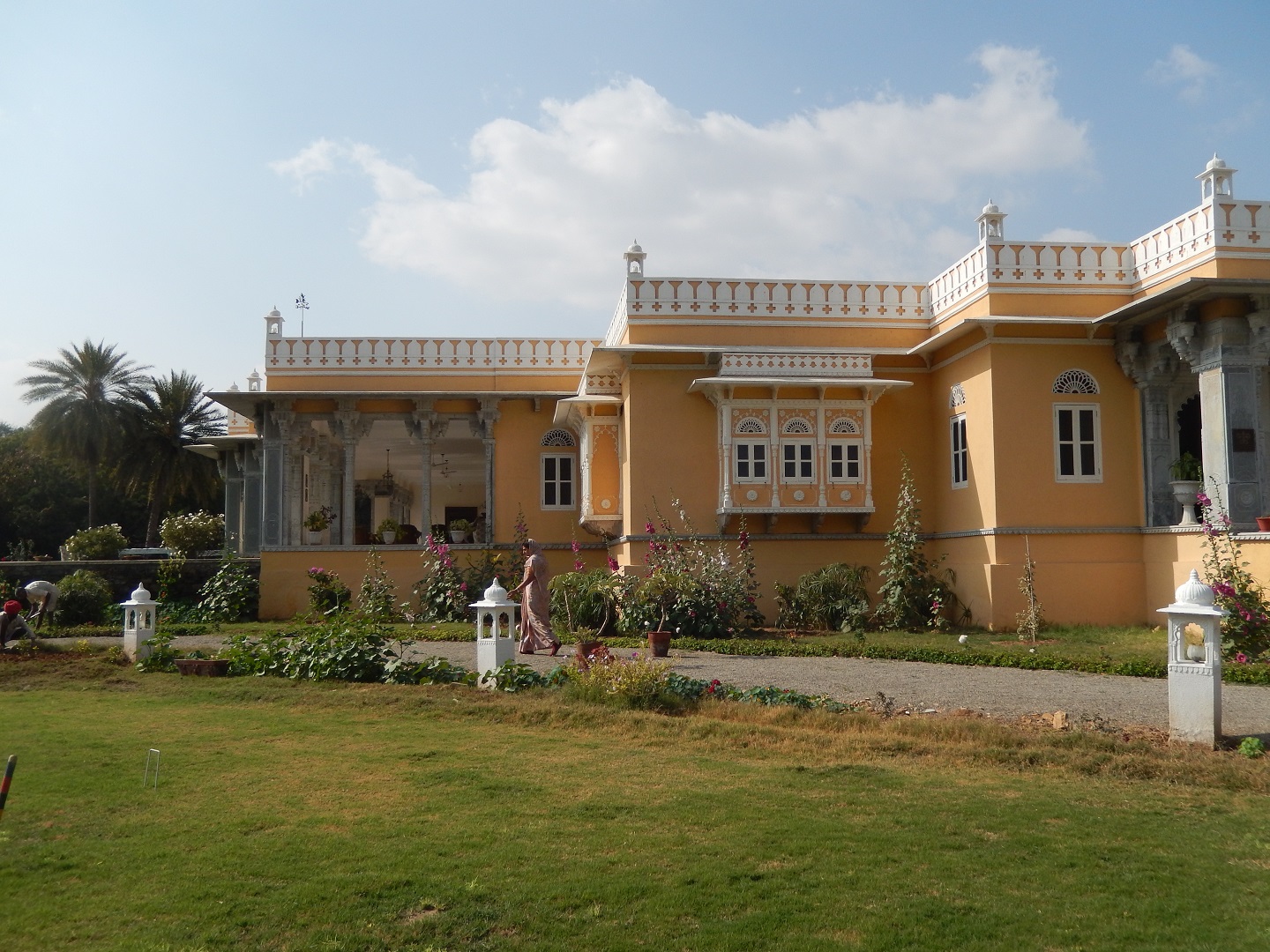 En route Udaipur the tour takes a slight diversion to a small town called Deogarh dominated by the Deogarh Mahal Palace once home to noble Rawat Sahib but it's to the less imposing and newly-built Relais & Chateaux property Dev Shree that Raj drives. The gates open slowly revealing a low-slung Rajput inspired mansion by its lake. This is the gracious home to the Rawat's second son Shatrunjai Singh Deogarh and his wife Bhavna Kumari who clearly enjoy entertaining their guests. Mention tomato chutney and an instant pre-dinner demonstration is arranged, at breakfast Bhavna's fluffy masala omelettes impress. So too does the town walk where children still find novelty in photo moments, and cows stroll up to lick you.
Dev Shree is an ideal location when visiting one of India's finest Jain temples – Ranakpur – a 15th century ethereal, ornately carved milk-white marble pilgrimage site with 1444 individually carved pillars, and curious monkeys.
Closer to Udaipur (and to Ranakpur) is the hotel Rawla Narlai tucked away in the Aravalli Hills at Elephant Rock where you are greeted by a tall, smiling, grandly moustached sentry. Built in the 17th century this retreat was once a hunting lodge for the Maharaja of Jodhpur and you'll feel like one after the first night. Safaris can be arranged.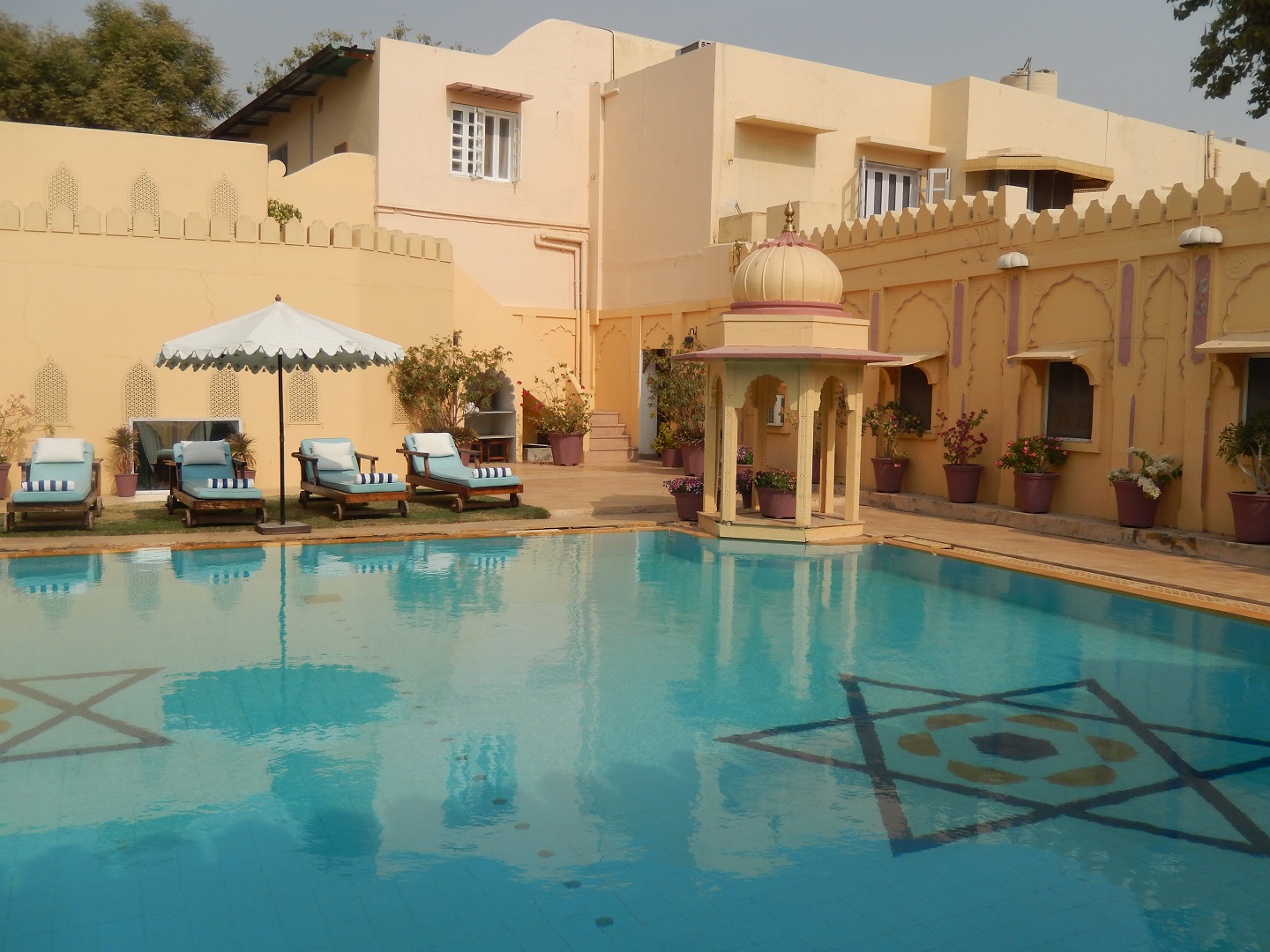 Another recommended heritage property is Rohet Garh a gracious family hotel with restful gardens and pool, presided over by the serene Rashmi Singh. She is passionate about retaining culinary traditions, especially those of her late mother-in-law Jayendra. A memorable lunch featured anokhi handi aka fragrant turmeric ginger chicken curry; exceptional frilly layered lachha parathas and exquisite tangy chartreuse green tomato chutney. Its luxury sister property is the fort-like Mihir Garh.
UDAIPUR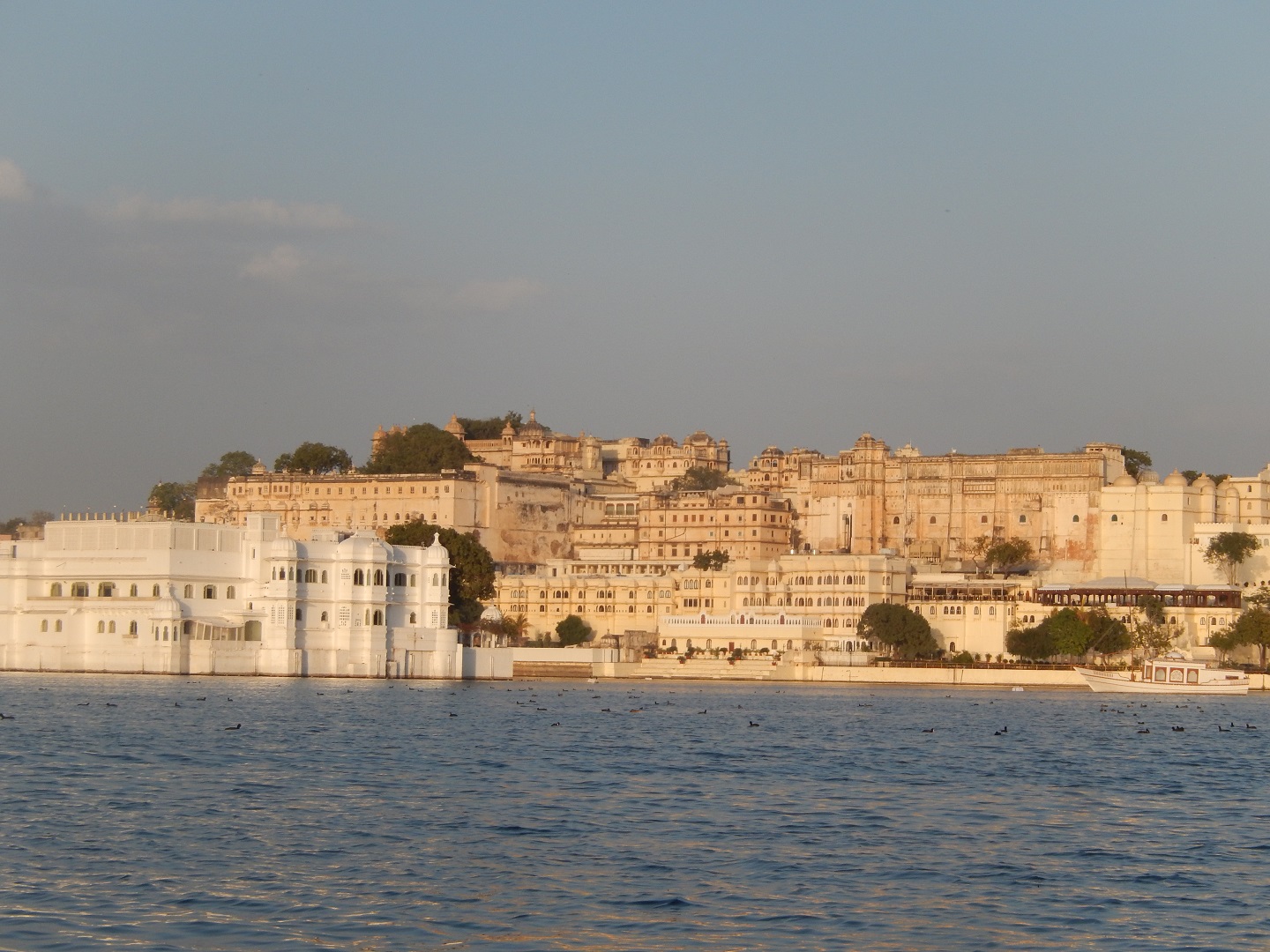 And then it's on to the southern Rajasthani belle – Udaipur – the lake city predominantly built from shimmering local white marble. Beautiful by day, the lakeside sprawling Udaipur City Palace takes on a fantasy feel and glows golden at sundown. Later it is lit and glimmers majestically in the placid lake waters. Take a boat trip at sunset and then retire for a Pimms under the trees at the Ambrai restaurant of the lauded lakeside Amet Haveli for one of the city's most idyllic views.
A recent addition to the Amet's allure is the rooftop pop-up Royal Ambrai Rasovda serving delicious royal Rajasthani dishes researched, cooked and presented by the passionate Prem Singh Rathore. The degustation menu changes daily but the view remains stunning. Blankets are provided on cool nights.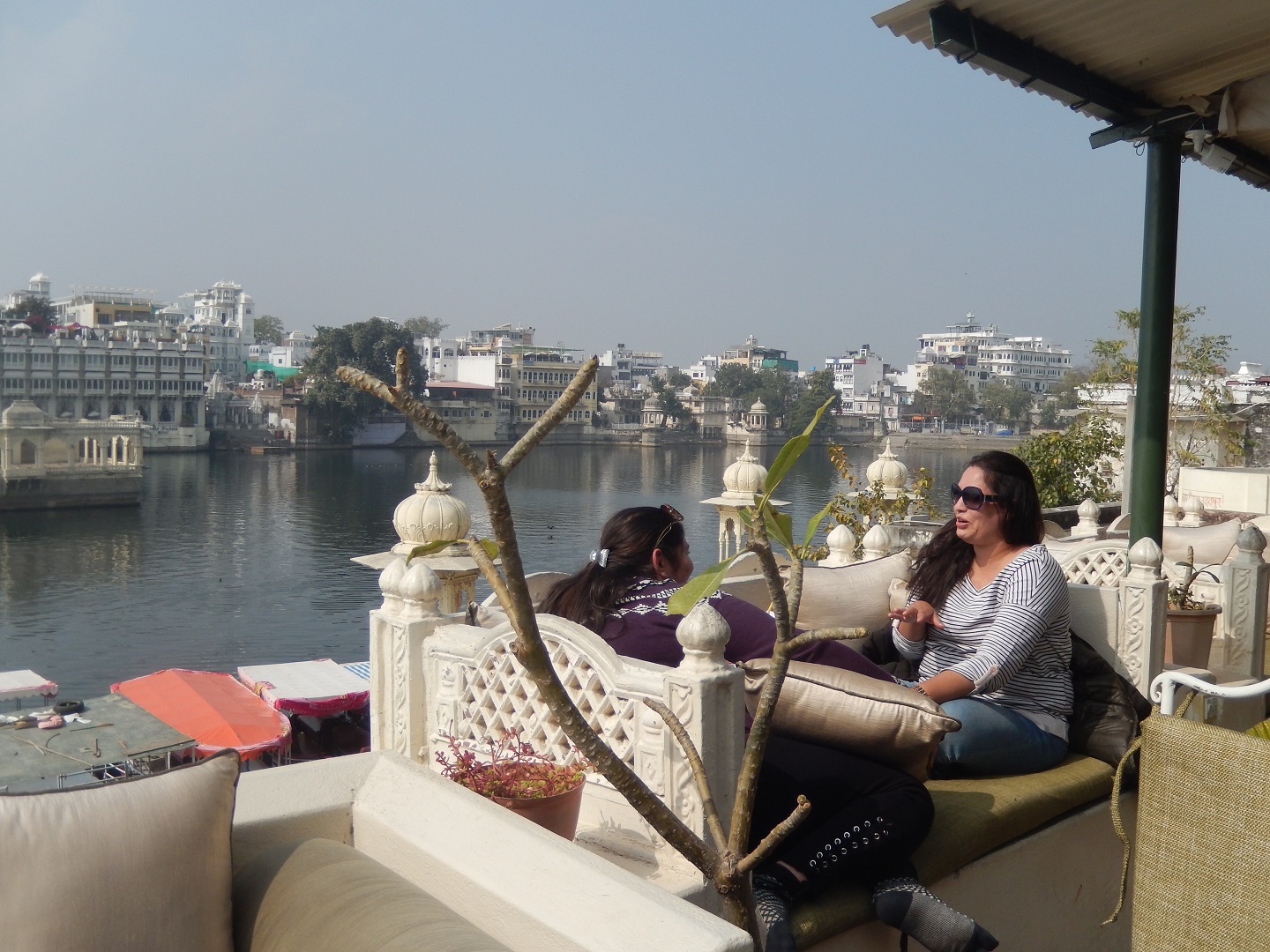 Udaipur, founded in 1567 and once the capital of Mewar, is intertwined with shimmering Lake Pichola and surrounded by the rolling Aravalli Hills, a romantic city of narrow, interlaced streets remarkably free of touts. The Jagdish Temple (1651) Lal Ghat area offers alluring shopping, especially classic Rajput miniature paintings, 'antiques' and silver jewelry. Saffron lassis, local specialty laal maas (lamb curry) and lake views are served at the nearby Rainbow Café.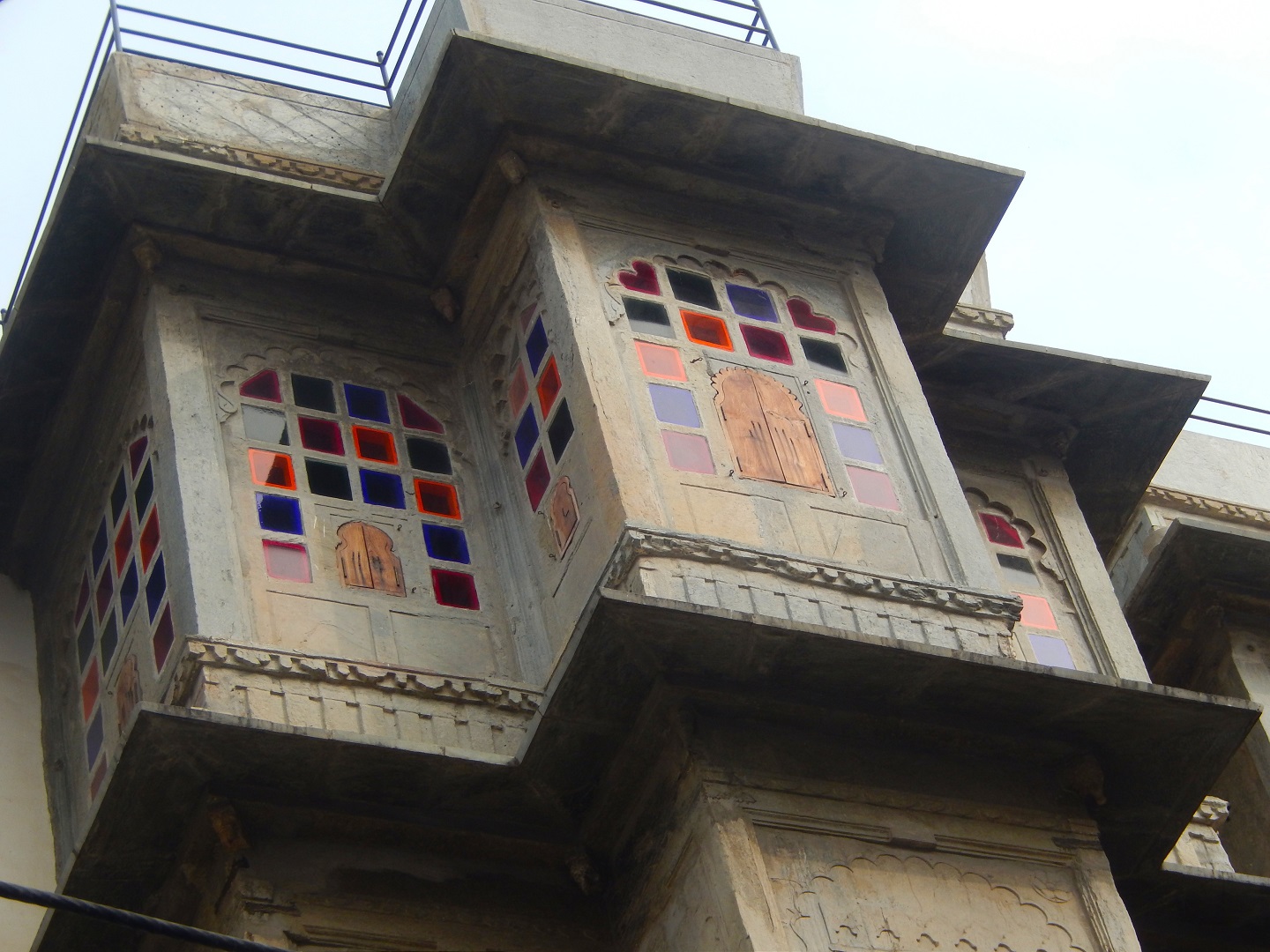 Most of the major hotels hug the lake shore, aside from the famous Lake Palace Hotel that requires a boat shuttle, but if arresting interior design rates as highly as views, then head for Madri Haveli. This Old Town 300-year-old mansion is owned by a Belgian designer who converted it into a 14-room boutique hotel with rooftop terrace for all-day dining. Colored glass window nooks and Rajasthani textiles set the tone.
Colour is Rajasthan's signature – vermilion, pink, red, chartreuse, orange, buttercup, turquoise and magenta – the vibrant palette for saris, turbans, scarves, quilts, cushions and more. It also designates its major cities – Jaipur pink, Jodhpur blue and Udaipur white, so it's probably no wonder that the one-hour air shuttle back to Jaipur is called IndiGo.
JAIPUR
The Pink City is a thriving metropolis, Rajasthan's gateway and largest fortified city that now boasts a metro. Its major monuments include the beehive-inspired Palace of the Winds (Hawa Mahal) and dominant Amber Fort, but it is down in the terracotta facaded old centre that Jaipur throbs.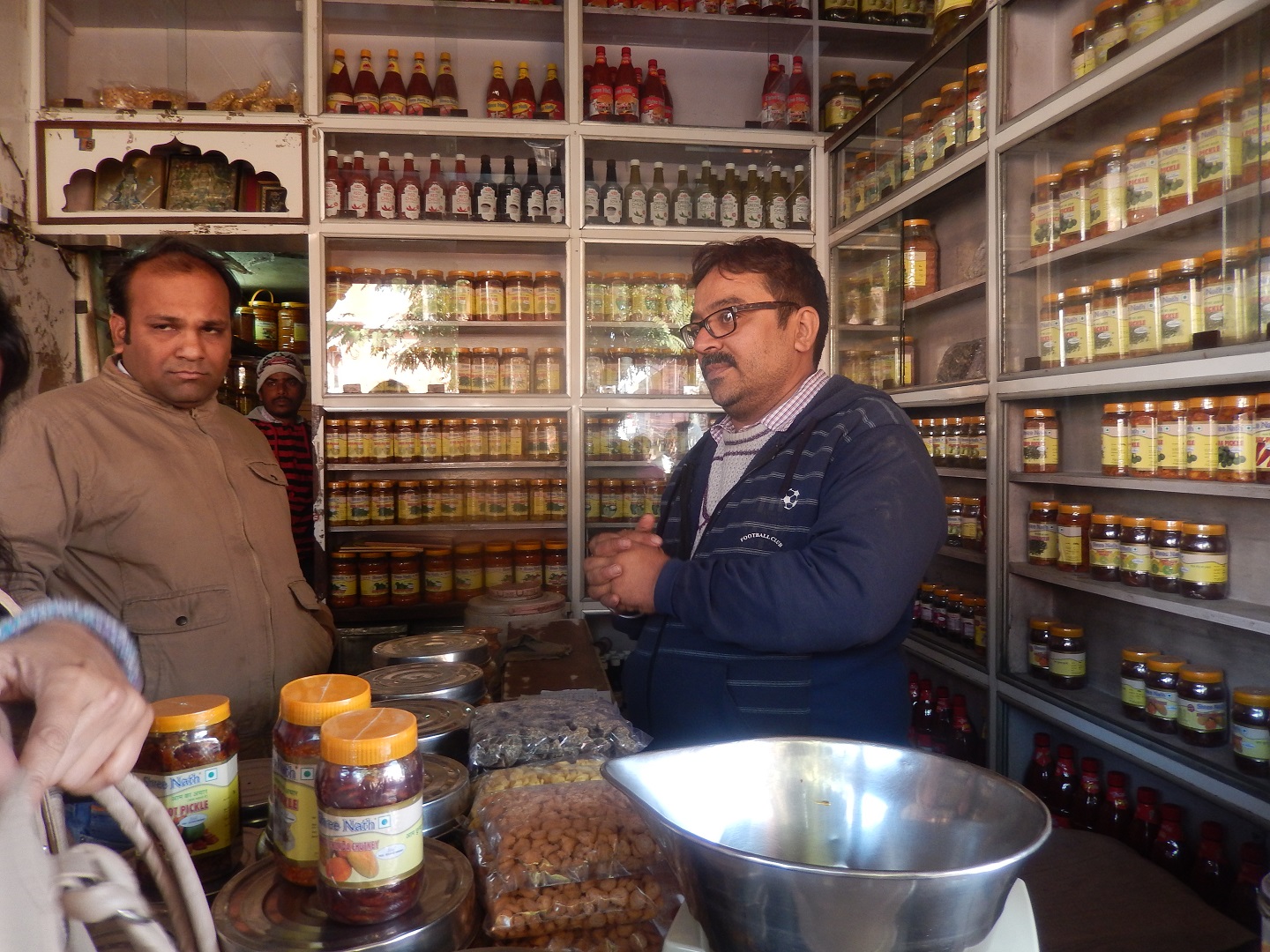 Join Vineet Sharma on a delve-down guided tour of the Johari bazaar area to discover artisans – copper, marble, ceramics, ivory, fabrics – and street food vendors. Sample traditional sweets, pickles, kachoris, dal bati churmas, pakoras and finish with chai at the famous chai-wallah known to make his restorative brew with a daily secret 'pick-me-up' ingredient. Take Vineet's tour early in your stay for valuable insights into this intricately woven, sensory city that cajoles and delights.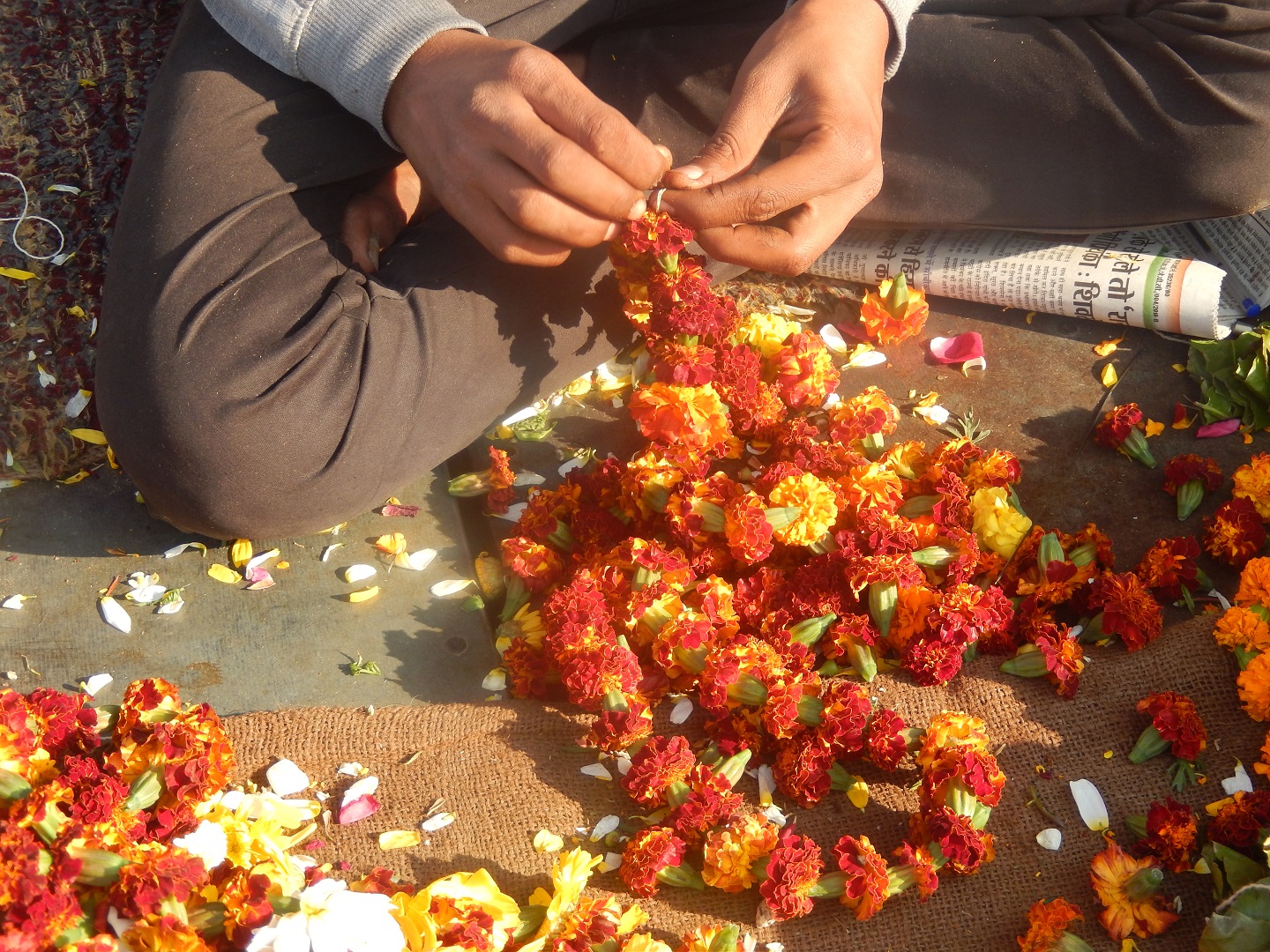 Jaipur a city of four million offers myriad dining opportunities. Recommended is the Samode Haveli with its garden terrace and tip-top thali; LMB (Laxmi Misthan Bhandar) a deco diner and sweet shop in the Johari Bazaar for snacks; and Bar Palladio at the elegant Narain Niwas Palace Hotel for a culture change – excellent Italian food served in several ornately painted Mughal-inspired rooms. Another non-trad fuel stop is the friendly vegetarian Anokhi Café popular with expats.
Choosing your Jaipur base depends largely on your primary passions. This Golden Triangle tour dovetailed with the annual Jaipur Literature Festival at the endearing shabby chic sprawling Hotel Diggi Palace. Other recommendations include the gracious Samode Haveli with its restful gardens; the intimate haveli Dera Mandawa and the discreetly elegant boutique family-run Hotel 47 Jobner Bagh with views of the Tiger Fort. It's just the place to tuck up in bed with a copy of Kipling's poems and dream of maharajas past.
IN THE KNOW
Flights
The standard well-trodden Indian Golden Triangle route is Delhi, Agra and Jaipur now made less appealing by Delhi's appalling air quality that closes its airport on severe smog days. Jaipur boasts fuss-free direct international entry with flights from Muscat (Oman Air) Bangkok (Thai Airways) and Kuala Lumpur (Air Asia). IndiGo and Spice Jet operate flights from Udaipur to Jaipur and other regional cities.
Bespoke Touring
Only the brave would self-drive in India. Far more relaxing is to set your own itinerary and secure an exemplary driver like Raj. Banyan Tours offer an all-frills go-the-extra-mile service tailored to your whims and dreams.
Background Briefing
Compulsory references include:
A Personal Guide to India by Christine Manfield (Penguin Lantern)
Love Jaipur by Fiona Caulfield (lovetravelguides.com)

Jane is an award-winning food and travel writer based in Sydney, and chair of the Australian Farmers' Markets Association. Her perambulations of plate and place have appeared for over 20 years in publications including Gourmet Traveller, Cuisine, Qantas magazine and Selector. She has a passion for farmers' markets, local food and old Asian teapots.

Latest posts by Jane Adams