Review your bucket list. Does it include Jaipur, capital of Rajasthan? This is one list entry considered mandatory by Jane Adams, a recent delegate at the world's largest writers' festival held every year in the 'Pink City'of the Rajputs.
It was the sci-fi writer Stephen King who wrote, "Books are a uniquely portable magic." The inference, of course, being that stay-at-home readers can take magic carpet rides to explore places, meet people, be beguiled and ponder…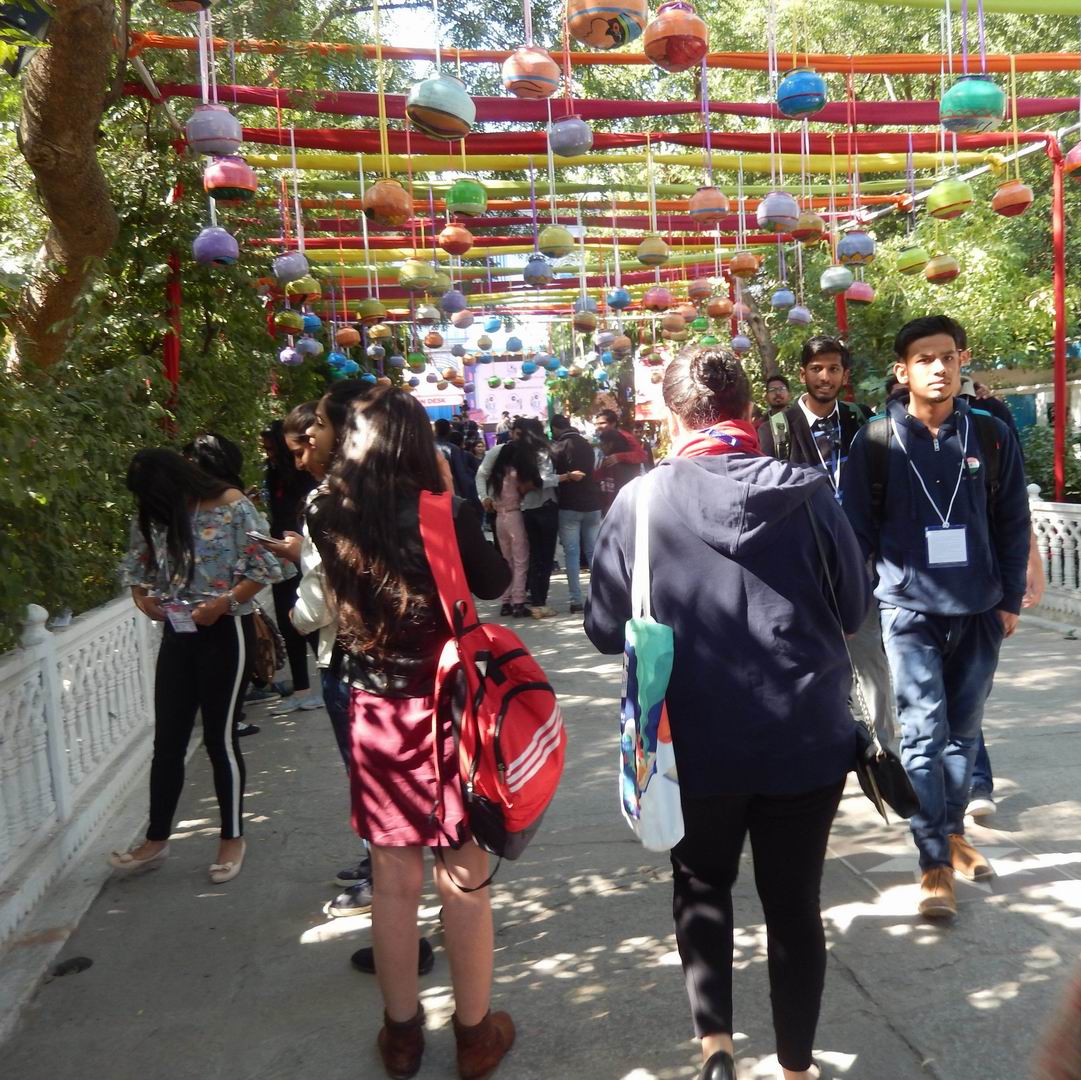 But there is another and better option. A flight to Jaipur to seek out books and inspiring authors in a magical place, at the world's behemoth annual writers and readers gathering – the Jaipur Literature Festival, regularly cited as "the greatest literary show on earth."

Undisputed nirvana for any bookworm, this global literature gathering founded in 2006 has to date attracted nearly 2000 published authors and welcomed over a million book lovers, pilgrims of the written and spoken word. And entry is free.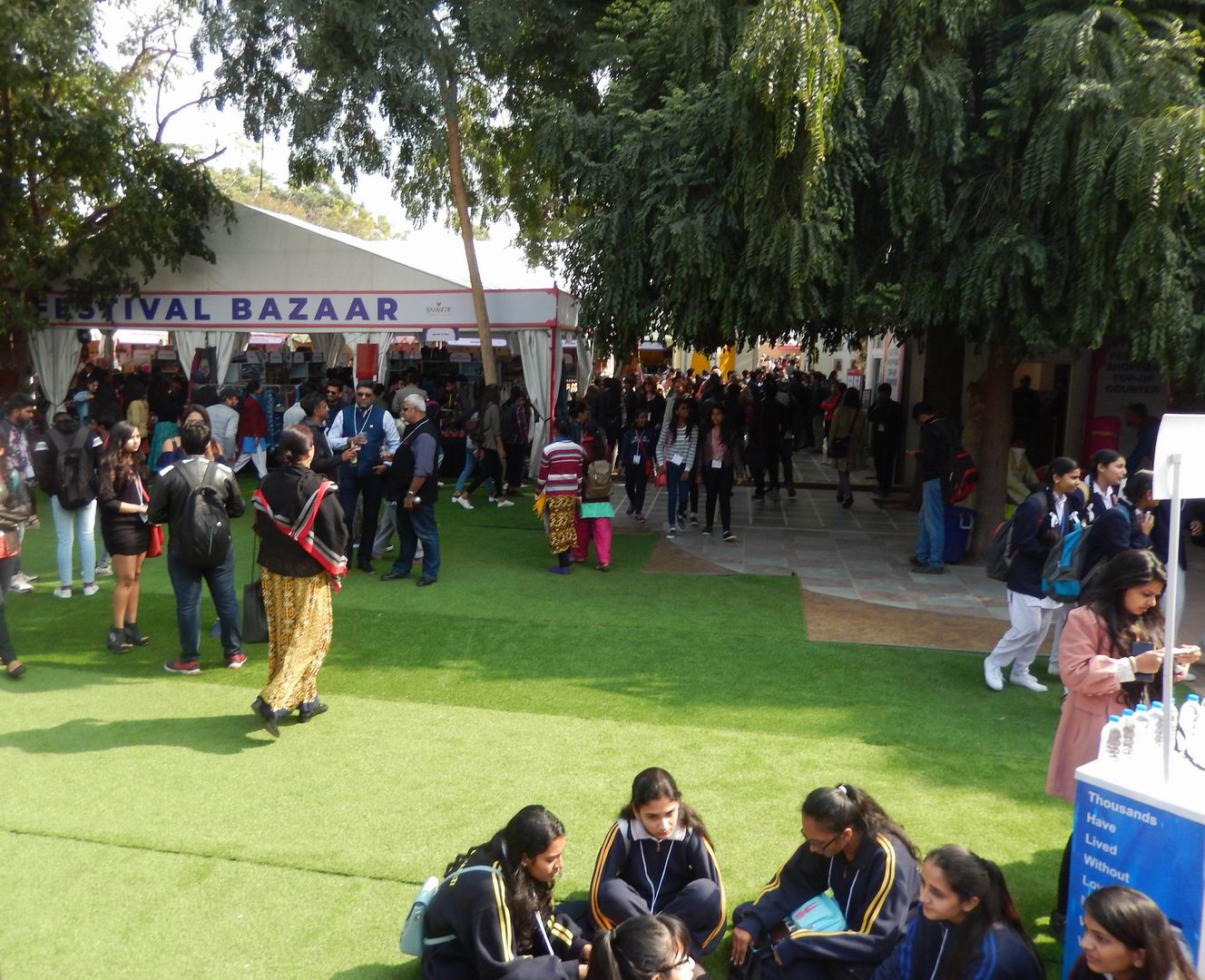 As dawn breaks, the unprepossessing lane leading to the 19th century Diggi Palace Hotel compound bustles to life. Chai-wallahs arrive with the day's heart-starter cardamom cinnamon infused milky brew, served in tiny terracotta shot cups; optimistic turban and trinket sellers set up stalls outside the security gates (higher class crafts are available at the mini-bazaar within the palace grounds), and the book-loving throngs process calmly through unintrusive security screening. Left side for men, right for ladies. They stop for selfies at the turban-adorned meet-and-greet spot, consult the day's program and head to brightly canopied mughal-style tents to hear their literary heroes explore the great, the good, the not-so perfect and other societal challenges.
In 2019 the JLF cast included such literary luminaries as Yann Martel (Life of Pi) André Aciman (Call Me by Your Name), award-winning chart-toppers Ben Okri, Alexander McCall Smith and Pulitzer winner, Colson Whitehead (The Underground Railroad). Other more household names joined the JLF alumni and sundry erudite Indian authors and commentators – notably Jeffrey Archer, Ruby Wax, and a surprise star, the imposing and witty historian Charles Spencer (brother of the late princess) and biographer of his namesake, King Charles II.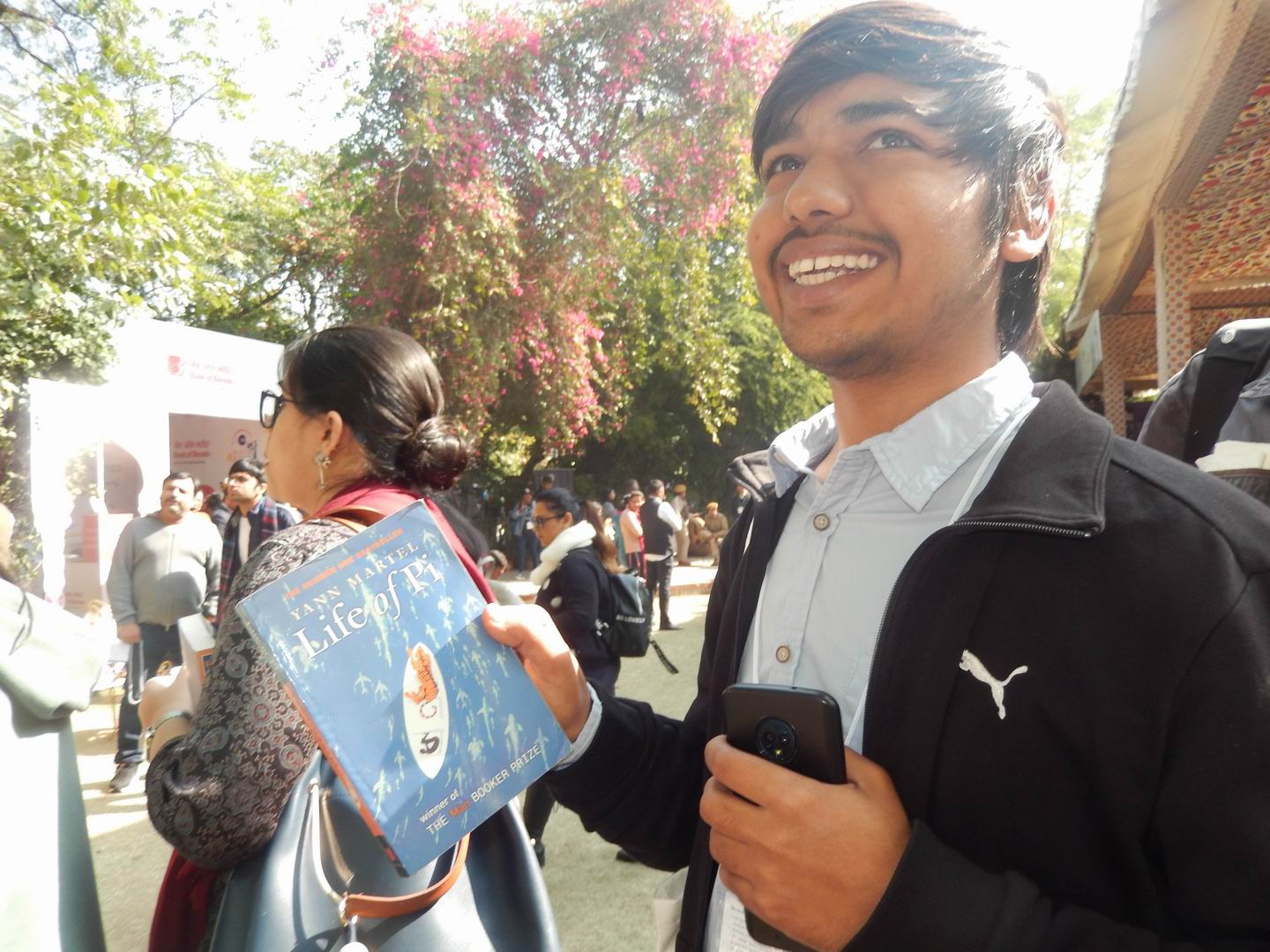 The charm of the five-day JLF literary convocation rests however, not only in the bestselling brand-name authors, but in the relaxed egalitarian accessibility of the occasion. Once on site you are free to roam from mughal tent to tent, pause for freshly made pakoras and cherry-pick sessions that run from a genteel 10am till sixish. And that access widens if you choose to stay on site in Maharajah Diggi's hotel and register as a "JLF Delegate." It may even mean you meet the gracious very straight-backed, softly spoken Maharajah Thakur Ram Pratap Singh Diggi or Jeffrey Archer in the chai queue.
The palace hotel boasts over 70 rooms scattered across its grounds. The more charming are the Palace and Courtyard Suites, offering Raj-inspired furnishings and larger garden view rooms, plus possible visits from the palace peacocks. Choosing the slightly faded charm of Diggi as your home base also delivers a rambling garden and has the added advantage of avoiding traffic-jammed shuttles from other hotels.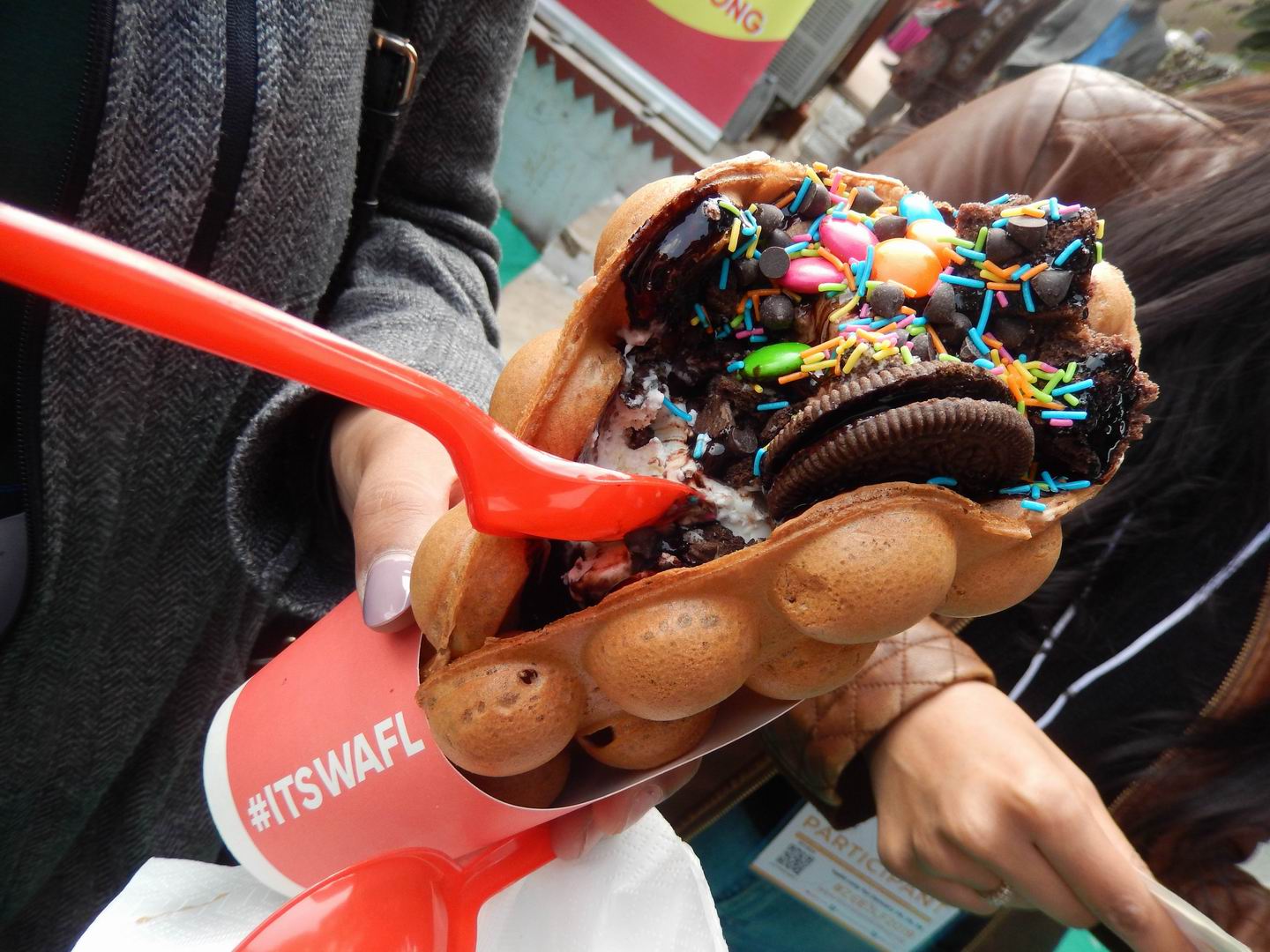 That said, other recommended Jaipur properties include the very elegant, exquisitely ornate heritage Samode Haveli, (with its detour-worthy restaurant), the modern ITC Rajputana and Trident Jaipur with views of the Mansagar Lake and the surrounding Aravalli Range.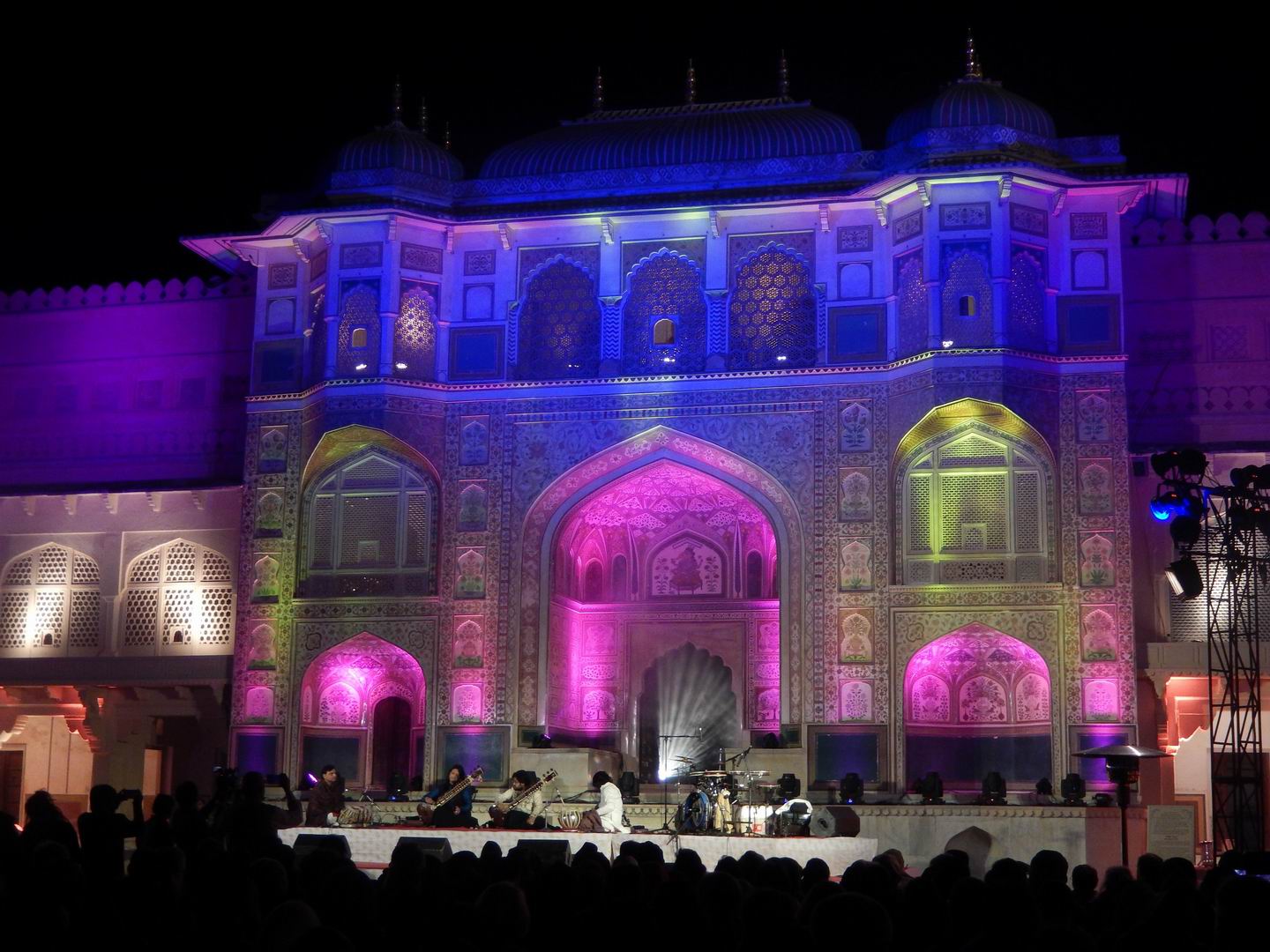 The JLF Delegate Pass (purchased for each or every day) generously serves up the impressive daily lunch buffet boasting such Rajasthani specialties as laal maas (fragrant spicy slow-cooked lamb), moong dal vadas (lentil fritters) and ker sangri, a dry, spicy curry made from the pods of the flowering desert tree, khejari. Chapatis and naan cooked to order, ditto chicken tikka kebabs. Rosewater ice cream in terracotta shot cups cast more happy smiles. Add in a son et lumiere session at the Amber Fort (puffer jackets mandatory) and a cocktail party to rub sari-clad shoulders with the literati and you will begin to understand why Jaipur's annual gathering of the world's best storytellers and commentators delivers indelible musings, memories and dreams of maharajahs. The young girl who challenged icon feminist Germaine Greer simply proved Stephen King's theory on portable magic. The crusty and controversial 80-year-old was challenged on gender by a demure Indian schoolgirl to heart-felt applause. Only in Jaipur.
JAIPUR LITERATURE FESTIVAL 2020 January 23-27, 2020 Be sure to book well in advance for JLF 2020 and look out for satellite JLF events in the UK, USA and Australia

Jane is an award-winning food and travel writer based in Sydney, and chair of the Australian Farmers' Markets Association. Her perambulations of plate and place have appeared for over 20 years in publications including Gourmet Traveller, Cuisine, Qantas magazine and Selector. She has a passion for farmers' markets, local food and old Asian teapots.

Latest posts by Jane Adams