On a high all of her own, in the foothills of the Himalayas, Elina Fuhrman discovers peace despite India's hustle and bustle.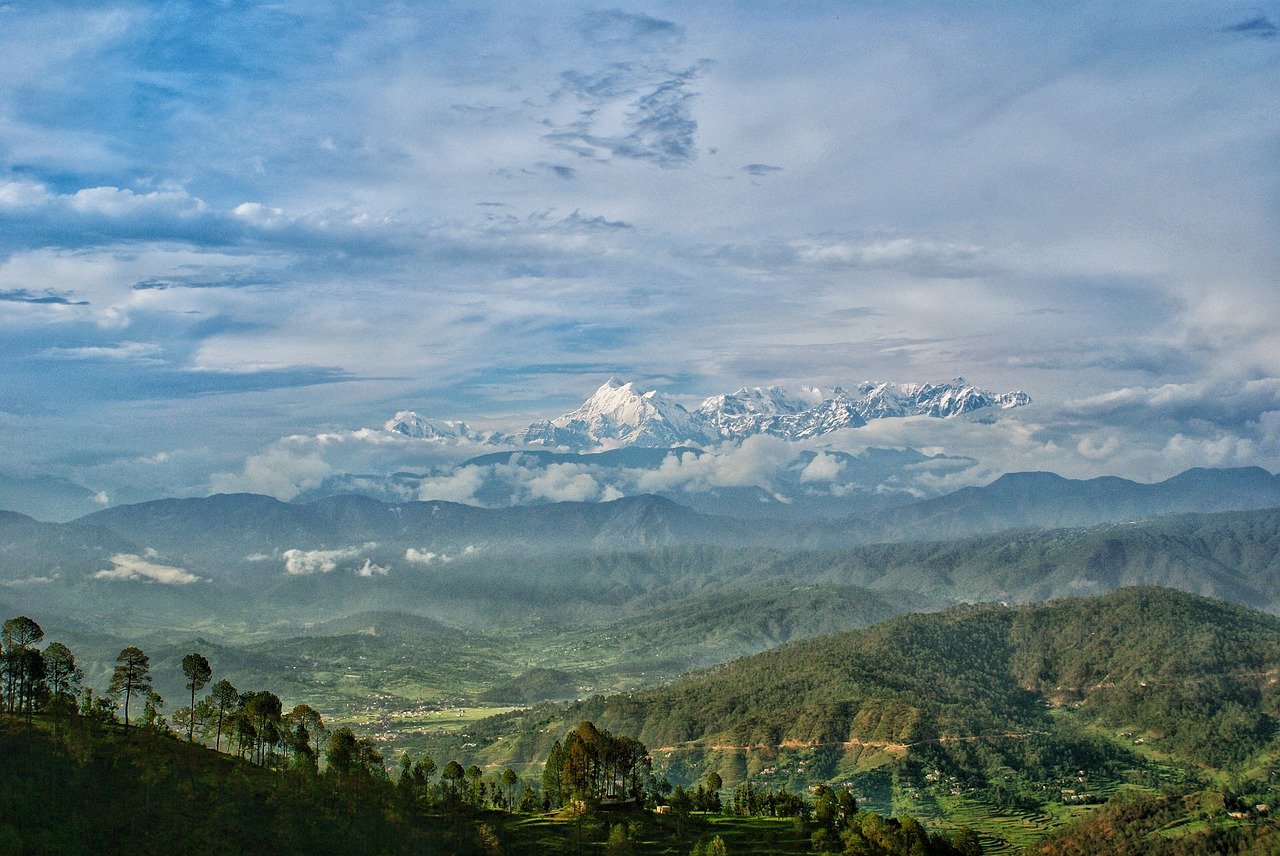 "Close your eyes, we will chant a prayer for you," says Simi, my Ayurvedic therapist as soon as I step inside my treatment room at Ananda, a five-star destination spa, burrowed in the foothills of the Himalayas. She dabs Rasnadi Choornam, a healing herbal powder, to my crown chakra and then along with another therapist starts gently pouring warm herbal oils all over my hair and body. The two therapists simultaneously massage them into my muscles and joints in unison. The sound of Guruvandana, a Sanskrit prayer sang by the young women lulls me and I drift into a drug-free high almost immediately.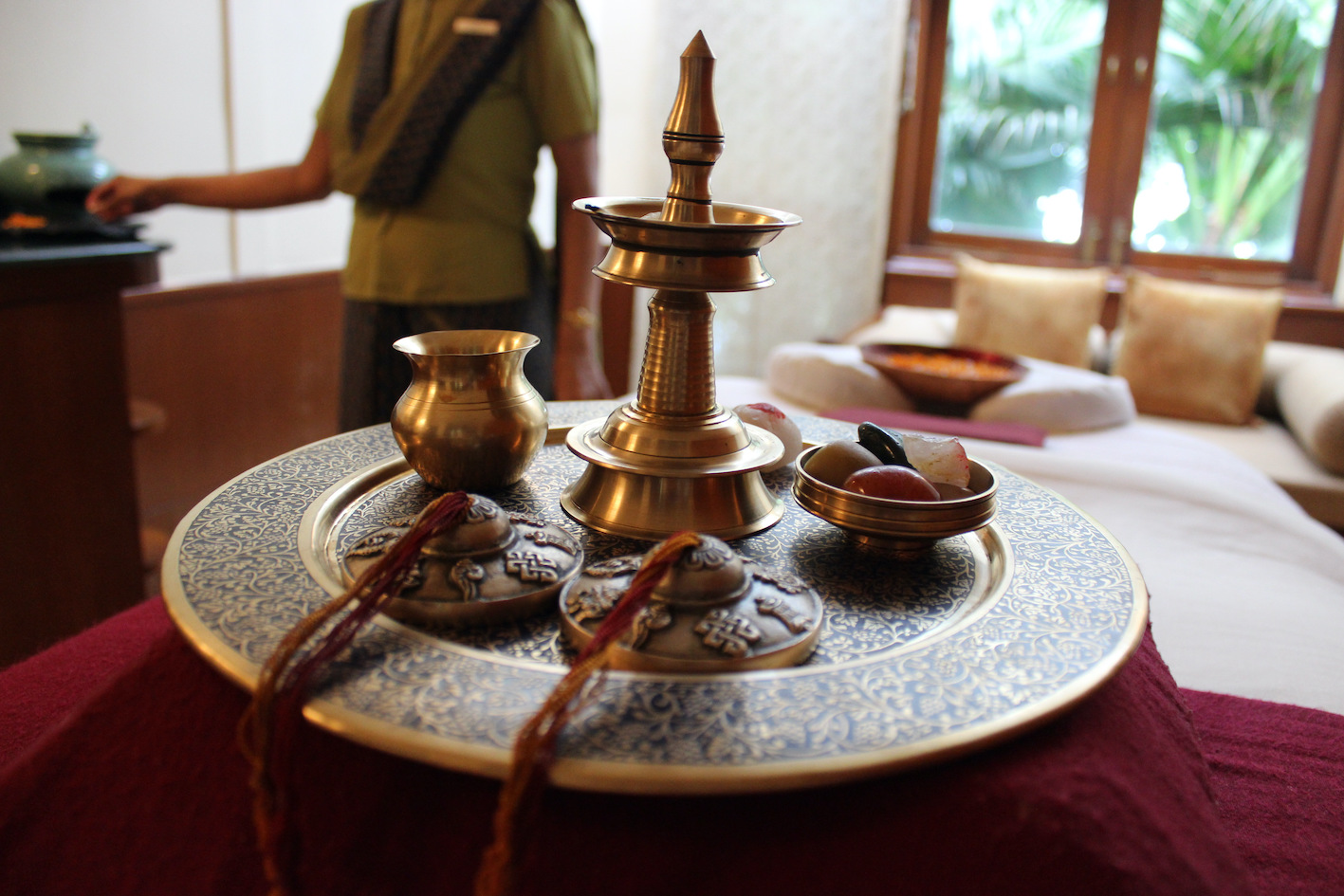 I arrive in India at the same time as the monsoon season: ribbons of mist are hanging on the dark green mountains, the clouds are fat with moisture and puddles ripple on the ground with brief daily rains. According to Ayurveda, there is no season like monsoon to rejuvenate the body and soul, all because the environment, moist and dust free, has a way of opening up pores, making the body more receptive to herbal oils and therapy. 
I came to Ananda on a personal pilgrimage of sorts, wanting to learn as much as I can about Ayurveda and experience Panchakarma, an ancient Indian practice of purifying the body, cleansing any impurities, and finding a balance, with a goal of a more harmonious, well-balanced new me at the end. I just finished writing my first book, my brain over stimulated, my body under-nourished and I am craving calm and clarity. It's an auspicious setting, living on the grounds of the century-old Viceregal Palace, once the residence of Maharaja of Tehri-Garhwal, tucked away in the Himalayas, surrounded by Sal forests and overlooking the Ganges River. But make no mistake: wellness is the key focus here.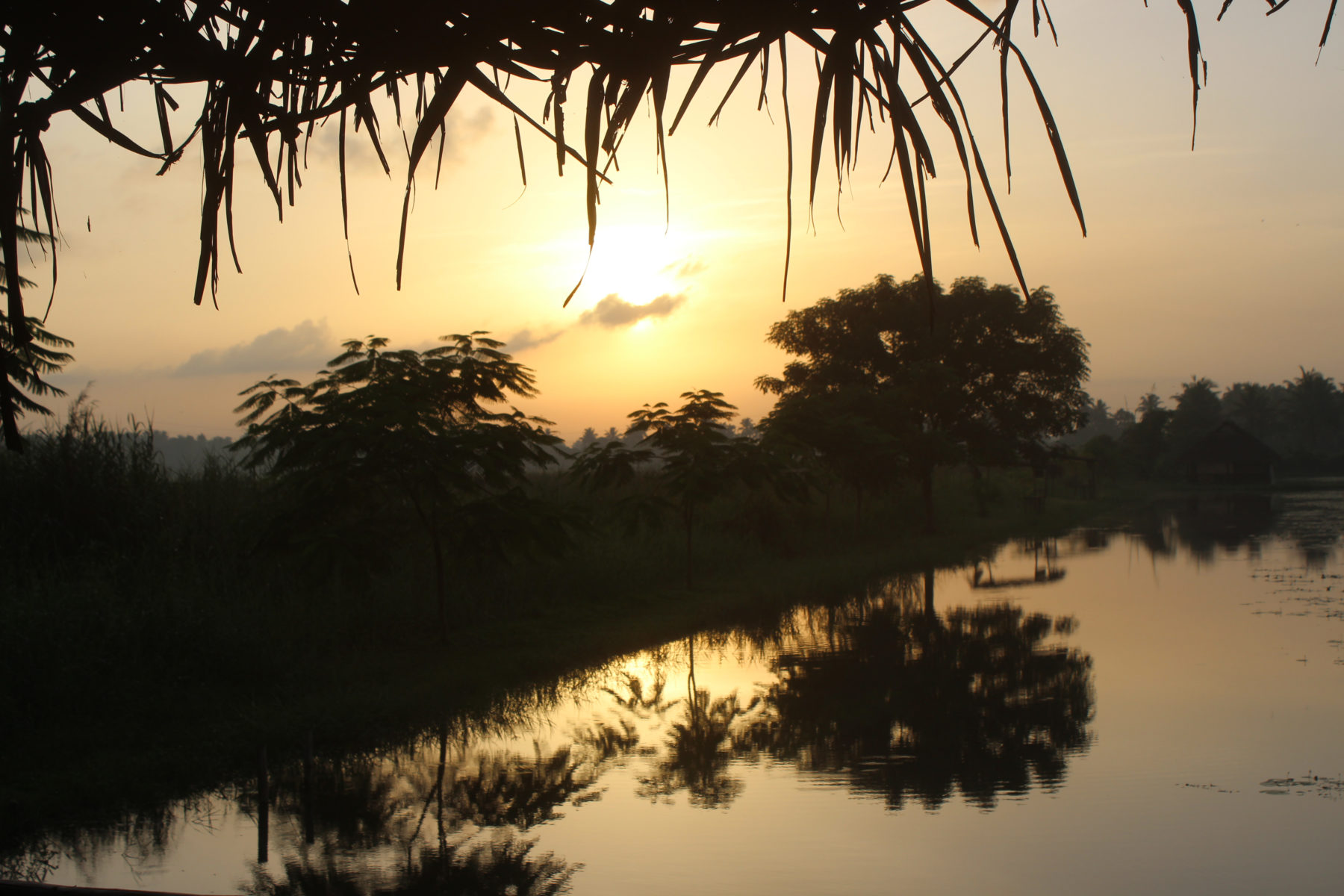 My stay begins with a consultation by Dr. Chandan, the resident Ayurvedic doctor; he looks deeply into my eyes, asks me dozens of questions, some quite personal, before feeling my pulse. I'm Vata with a little side of Pitta, two of the three doshas used in diagnosing a patient in Ayurveda. I'm not completely out of equilibrium, he tells me, but my doshas need balancing and there are things I can work on. On his list of recommendations, Dr. Chandan prescribes ginger lemon tea upon waking, a specialty of the spa, Vata-specific spices mixed in warm water before each meal, absolutely no cold drinks or raw juices and lots of soups, a diet somewhat similar to my normal daily fare at home.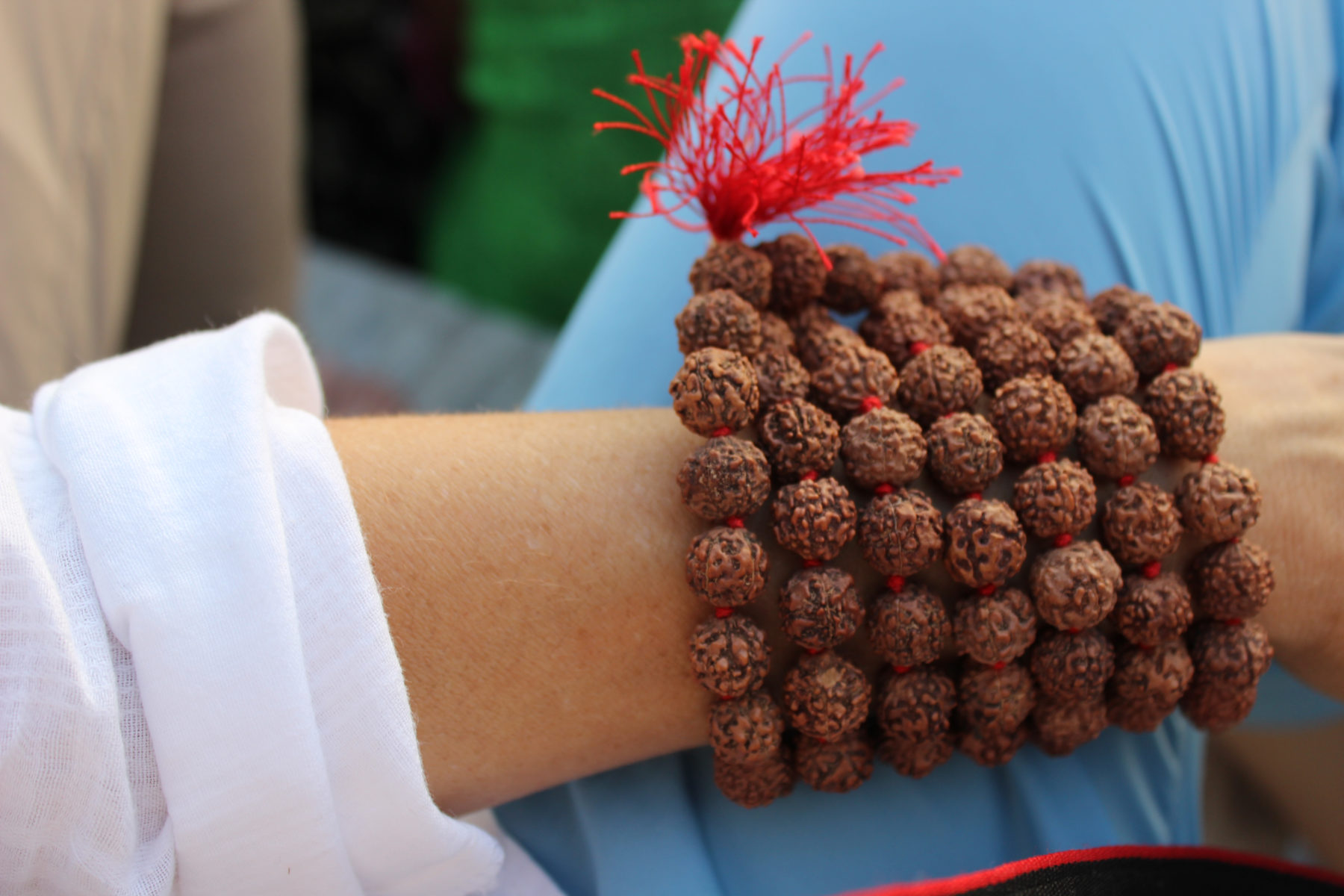 What's different is for the next week, my days are packed with multiple Ayurvedic oil massages and body treatments, personalized yoga and meditation classes, steam, Vedanta talks and lots of sleep. Vedanta literally means the culmination of knowledge and according to the resident scholar, Carlin Pillay, presents eternal principles of life and living and leads to the ultimate goal of self-realization and spiritual enlightenment. I'm so in!
Dr. Chandan sends me off to the spa pavilion for an Abhyanga treatment, the four-hand oil massage "to start getting rid of toxins" in my body. It's on my schedule for an hour, yet after just 25 minutes, I am asked to get off the wooden table I'm laying on covered in oil and go inside a steam room, to allow the oils to absorb into my body. Wait a minute, I say, I want a full hour of this bliss! But I'm told that steam is part of the therapeutic treatment and I plead to allow me to steam after the massage, on my own, so I can get extra oil and extra kneading before I have to get up. Clearly, the doc is right and I have lots of toxins to release before I reach nirvana.
My daily Ayurvedic treatments (who knew you can cram so much wellbeing into one day?) all involve long strokes of herb-infused oils, vigorous rubs with dry herbs or scalding scrubs with poultices stuffed with dosha herbs in cotton cloth. Oil goes everywhere – on my body, in my hair, on my face, back, heart, inside my nose, colon and even on my eyes. The result of all this oiling, buffing and massaging is baby-soft skin, radiant youthful glow and definitely better sleep. In fact, I go to bed early and wake up without an alarm, something I have never been able to master at home. I try and do some work, but all I want is to stare into the horizon, taking photos of the lush greenery surrounding the Ganges and outlines of Rishikesh, the well-known pilgrimage site where the Beatles famously met the maharishi.
My yoga teacher, Kirit, helps me quiet my mind with meditation and yoga. He is very old school: calm, professional and helps me understand that my movements affect my life choices. "Fish pose, alligator pose and bow pose are the best for you," he says and encourages I do them every single day. Pranayama and Yoga Nidra with Kirit allow me to drift in and out of consciousness, my thoughts unraveling into dreams.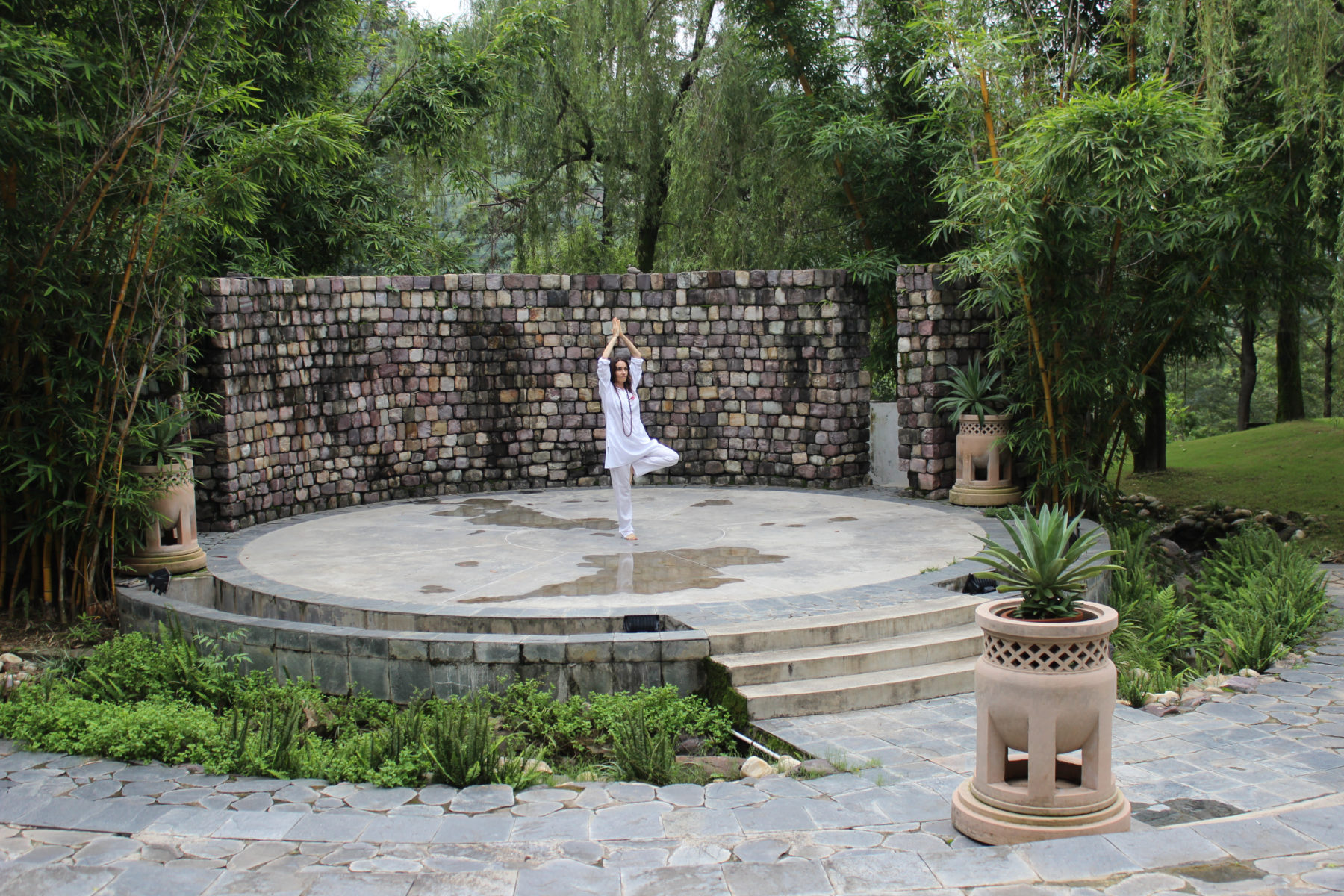 "It is better to conquer yourself than to win a thousand battles," I come across a quote from Gautama Buddha, and somewhere between massages, yoga and meditation, I begin to unravel my mind.
Latest posts by Elina Fuhrman