INTERVIEW: Hotel Design Guru Alexandra Champalimaud
Alexandra Champalimaud, the award-winning interior designer specializing in hospitality design talks to us about her current projects, what makes a great hotel, and which properties should definitely be on your travel shortlist.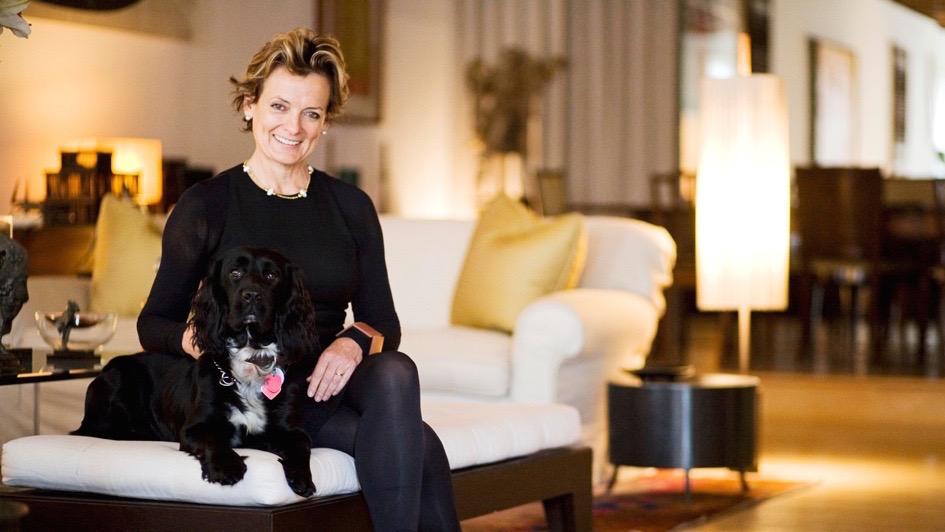 Who does the hospitality industry turn to when they need to give their hotel a new look? If they're seriously stylish and an iconic property, it's most likely Alexandra Champalimaud. The designer has added her signature flair to over 60 hotels in 9 countries (USA, Germany, England, China, Japan, Sweden, Canada, Africa, and South America) and received numerous awards for her unique creativity and vision. Landmark hotels like the Carlyle, Algonquin, and Pierre in New York, and the Dorchester and Berkeley Hotel in London have all benefited from her magic touch.
Born and raised in Portugal, Alexandra was educated in Europe before emigrating to Canada after the famous Carnation Revolution in Portugal in 1974. Soon after, she founded Alexandra Champalimaud & Associates in Montreal, and quickly established a reputation for developing bespoke designs of the highest caliber. Today, the blue-chip designer runs her design empire, Champalimaud Design,  from New York City, developing distinctive design concepts for hotel suites, as well as fabrics for Holland and Sherry, carpets for the Rug Company, and furniture and lighting for leading manufacturers. In 2009, she was named Designer of the Year at the Gold Key Awards for hospitality design.
As an avid traveler, Alexandra spends about half the year on the road traveling for both business and pleasure, and draws much inspiration from her global peregrinations. A memorable trip to Bhutan in 2007 moved her to create Charym–a holistic spa and wellness retreat in Litchfield, CT, born of Alexandra's personal quest for an integral approach to health and vibrant living in the presence of beauty. In a life of intense pressure and constant travel, Alexandra has made time to explore the great traditions of healing wisdom and intuitive preventive medicine throughout Asia.  She now infuses her work with those principles to create warm and welcoming environments that provide a much needed oasis of calm in a far too busy world.
So what makes a good hotel room?
An organized and spacious room with a clean, fresh, non-fussy design. A great comfortable bed with quality sheets is also important, as well as a good reading light. Copious amounts of natural light and a window that opens is also essential.
How much do your travels influence your designs?
Enormously. I am constantly inspired through my travels. I always see different textures, means and methods of building, and usages of space. I really enjoy experiencing different cultural styles and personalities. Charym is a good example of what can result from one of my trips, and I am very proud of it.
What trends do you see shaping the modern hotel experience?
Intuitively, travelers want to identify with the hotel in which they stay. But lately, people are seeking a specific energy and lifestyle that matches their needs.
What are your three favorite hotel brands and why?
I love The Dorchester Collection for its distinguished 6-star service and approach to a contemporary classic design, yet with a distinct twist and personality for each guest room. Aman Resorts, for their extraordinary luxury hospitality and low-key state-of-the-art design. And André Balazs properties, for his individual urban properties that are youthful with a laid-back contemporary design. His hotels are great for social networking.
What was your last project?
The renovation of a trendy ski-in ski-out resort in Hokkaido, Japan with unobstructed views of Hokkaido's Mt. Yotei. The Green Leaf Niseko is one of the key properties of YTL Hotel Group. It's a very serene though contemporary design, incorporating Alpine traditional elements while intertwining European sophistication and elegance with Japanese vibrancy and authenticity. All the guestrooms feature original artwork by celebrated Japanese artist Soichiro Tomioka (1922 – 1994) and art installations by Hokkaido artist Emi Shiratori.
What are you working on now?
The suites at The Dorchester in London and the complete redesign of the Hotel Bel Air in Los Angeles, which will re-open o in the fall of 2011.
Can you give us an inside scoop on what we can expect to see there?
We are working on a new reception area and boutique, new lobby lounge, guestrooms, suites and bathrooms, 12 new hillside accommodations, the spa and three guest lofts located within the new spa building. We'll be creating a new generation of Bel-Air aesthetic; contemporary, fresh and extremely comfortable while evoking a glamorous lifestyle inspired by the golden age of Hollywood.
What have been your favorite projects?
I've enjoyed working on a range of projects, but three that come to mind are a great family compound I created in Taos, NM; a cool office space in New York City, which I just completed. And I am very excited about the renovations at the Hotel Bel Air in Los Angeles.
What advice would you give to travelers when choosing a hotel to stay at?
The first is to choose a location. Second, identify a hotel brand that offers you the experience you are seeking. Lastly, go on tripadvisor, they will tell you!
If you could stay at any hotel in the world for a week by yourself, which one would you choose?
The Ocean View Club in Harbor Island, Bahamas is one of my favorites because of it's sunny, relaxed atmosphere, bright comfortable rooms, soft pink sand and beautiful turquoise waters I could spend all day in.
If you were going with your husband on a romantic trip?
The Six Senses in Phuket, Thailand for its privacy and Zen-like atmosphere.
If you were going with your family?
Skiing at the Green Leaf Niseko in Hokkaido, Japan. I love soaking in the spa and natural Onsen after a day on the mountain.
If you were going with your girlfriends?
La Mamounia Hotel in Marrakech for its exotic elegance and unique sense of time and place. Laure Verchere just published her book, La Mamounia, after the 2009 renovations, and it is one of my favorites.
What is your favorite city and why?
I love my hometown of Lisbon. It has great charm, history, beauty and the bacalhau (dried and salted codfish) is to die for! I recommend the Bairro Alto Hotel, which overlooks the Tagus with stunning views of the city.
Where haven't you been that you still want to go?
Capri is top of my list.
Do you have any good packing tips you can share with us?
Be selective. I like to use clear zippered storage bags. Pack items per category in each bag, this will help you unpack, repack, and maintain everything in good order.  For extra care, use tissue paper in folding your better pieces.
What are your favorite beauty products you like to travel with?
Charym body oil, Floracopeia essential oil, and my collagen face mask, all at charym.com.
To read more about Charym in Litchfield, CT – click here for our earlier story or watch Alexandra talk about her work in this video:
alexandra champalimaud on her first residential project in new york from designboom on Vimeo.

Kate was one of the first founding members of WanderMelon and is now based in Sydney where she works as a transmedia digital producer and freelance travel writer. Her stories have been published in California Home & Design, Condé Nast Traveller, Eating, New Zealand House & Garden, NZH&G On Holiday, Vogue Entertaining & Travel and Vogue.

Latest posts by Kate Ayrton