The verdant rice fields, temples and spiritual village life of Ubud, Bali offers a back-to-nature family break away from tech driven tantrums.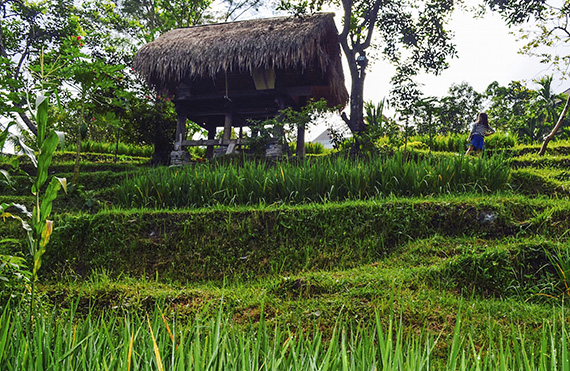 If my kids were left to their own devices during vacation, they would be eternally plugged into some kind of device: Minecraft, Youtube, Angry Birds, iTunes, iMovie… iDunno. I often question whether killer apps are killing kids' appetite for real world adventure.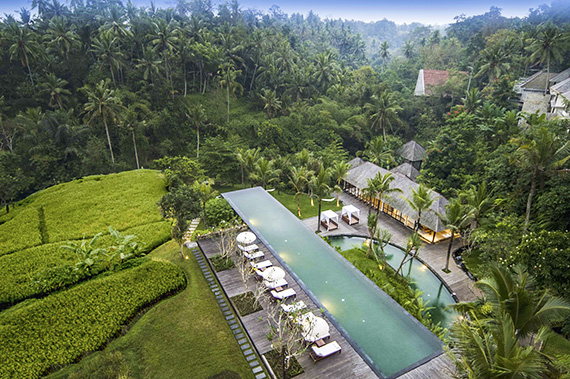 So this summer I dismissed the low battery warnings, unplugged the play station and prescribed a re-humanizing family trip to Ubud. We touched down at dusk and drove up the mountain towards Komaneka Bisma, a luxury resort owned and run by Ubudians. The Neka family, prominent patrons to the Indonesian contemporary art world, originally created the hideaway as an artists' retreat. Today, hotel guests are inspired by cutting-edge Balinese artists showcased on every stylish wall.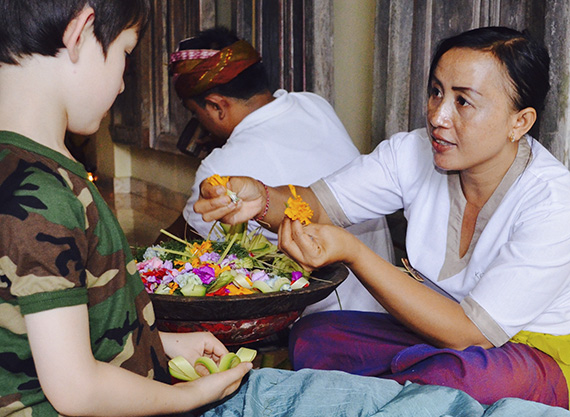 After the late night arrival, my two children rolled out of bed to Komaneka's mid-morning wood carving class. Each whack of the mallet on chisel seemed to coax out their previously comatose creativity. Next, they helped to prepare the daily flower offerings to the spirits for thanks and blessings.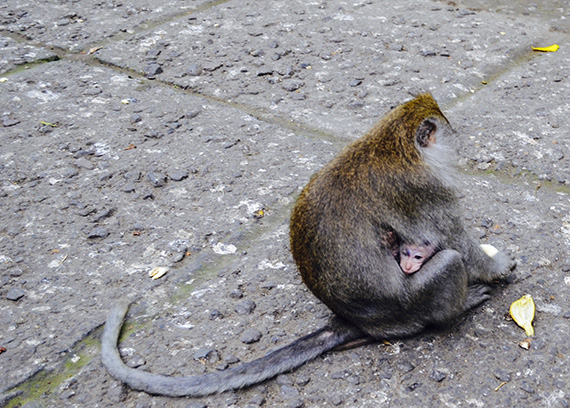 We decided to take the ten-minute stroll from the resort towards Ubud's town center. Passing the serene rice paddies, my daughter spied some local kids clambering up and down the terraced pathways and took off to join them with her little brother scampering behind. A few muddy moments later we were being ushered through a short cut to Monkey Forest by our tiny neighborhood tour guides.
Monkey Forest is a nature reserve with sacred Hindu temples and over 600 monkeys. As we entered, a troop of the cheeky little creatures jumped onto my back and grabbed for my sparkly earrings. The kids wheezed with laughter as I spun around, wildly waving my arms until a park attendant came to my rescue.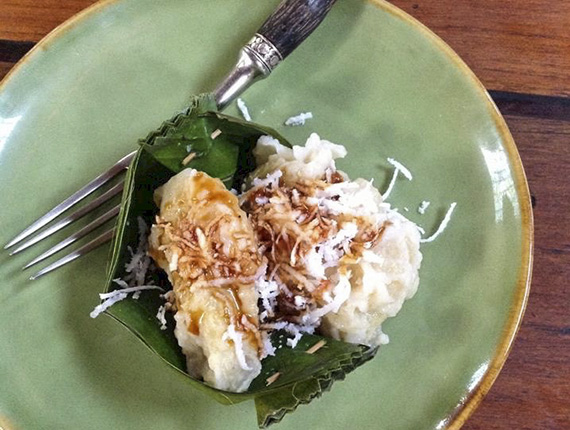 It was time for a cool drink and some homestyle 'makanan' (food). Dapoer at Bambuh Indah prepares regional cuisine with dishes borrowed from the staffs' family recipe books. Their onsite gardeners plant rice, vine-ripened vegetables, herbs and flowers that are harvested daily for the restaurant. After the toothsome meal we ordered a second serving of 'pisang rai' – a new family favorite.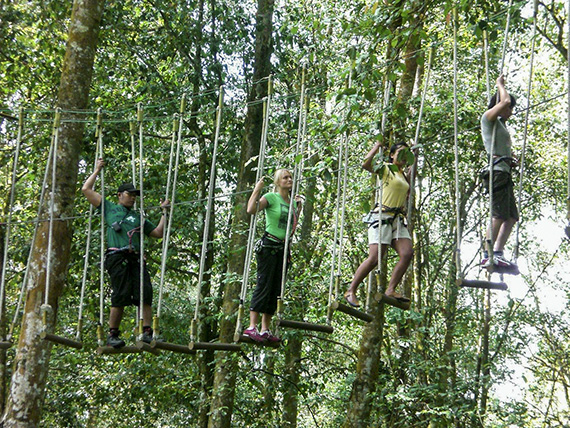 With our energy replenished we journeyed out of the city for the afternoon. Bali Treetop Adventure Park is one hour by bus from Ubud and features a series of rope courses high amongst the tree canopy. With a six-year old Tarzan in tow, we managed to tackle the green circuit and score a bird's eye view of the Bedugul botanical garden.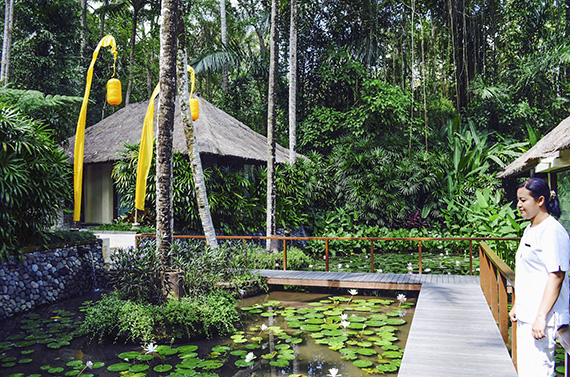 That night we lay our weary bodies above the palms at the sumptuous Four Seasons Resort Sayan, the only hotel in Ubud with a kids club and a world-class spa (staying the night was a smart mom's splurge). The following day, while the kids learned beginners Bahasa and folk dancing, I indulged in a Muladhara chakra ceremony. Kemenyan incense was set alight inside a cylindrical stool and I was instructed to sit on top of the smoking barrel. Singing bowls hummed as I was massaged with Balinese ginger, cinnamon and jatamansi oils.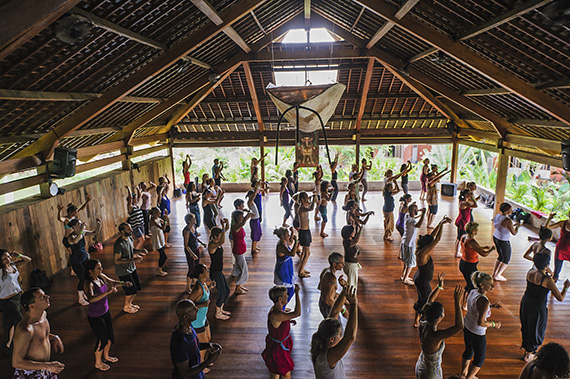 Feeling balanced I headed with the kids to the Yoga Barn. On Sundays they run a family 'ecstatic dance' session, a boogie-down day club. At first we were all a little intimidated but we loosened up together and merged into the pumping tribal dance party.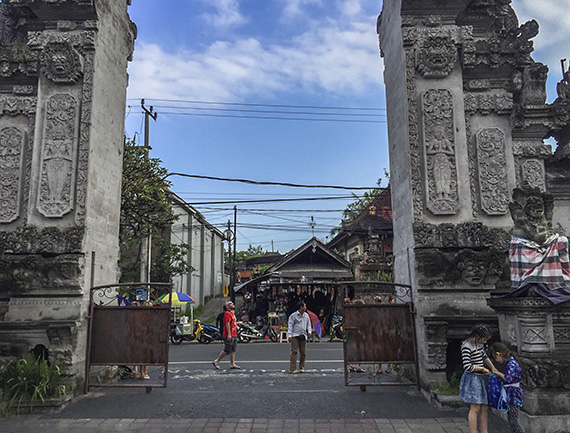 We wandered back to our hotel passing one of many enchanting temples. My son dashed inside and began a frenzied run around the corridors and paths. I stared on quizzically with my daughter until she broke out in laughter, deciphering his strange antics. "Mom, he's doing temple run! Like the video game, but the real thing." I smiled contently; we were having live adventures that were far better than any hand-held game.

Born in Sydney and seasoned in Asia, Kristina Foster has lived and worked as a travel writer for over a decade in Australia, Thailand, Singapore and the US. She specializes in seeking out luxe hideaways and urban havens that welcome little and big guests alike.

Latest posts by Kristina Foster