SALENTO: Italy's Cool Heel
Puglia in southern Italy is big on bucket lists – but it's the sub-region Salento, the tip of Italy's heel that is quietly strutting its charms. Jane Adams heads down to where the Adriatic meets the Ionian Sea.
Waking to an Adriatic dawn atop the rocky corniche south of Tricase, the mirror calm sea glowing gold as it has for millennia, where ancient gnarled olive trees, ancient oaks and prickly pear stud the stone-walled fields and limestone outcrops, and poppies bloom, you wonder why it took you so long to drive beyond Brindisi.
Salento is essentially Italy's heel, the peninsula that runs from Brindisi past Lecce to the southernmost town on the very tip, Santa Maria di Leuca, and west to the beach resort Gallipoli and the Ionian coast. It also encompasses the wine region around Manduria, hub of such southern Italian indigenous grape varieties as Primitivo (aka Zinfandel) and Negro Amaro.
The expansive sun-kissed wild remote and unspoiled coastline really hits its stride south of Otranto, best viewed by driving the dramatic 'Littoranea' to Leuca. Rugged limestone cliffs, natural and carved harbors, solitary bastion lighthouses and defensive towers mark the lands once traversed variously by the Romans, Spaniards, Normans and Greeks.
Their legacies continue powerfully – in breathtaking medieval and baroque architecture, food and language. And provided you time your Salento peninsula trip before July 1st when the summer influx starts, or after August 30th, you will be guaranteed easy access to the region's deserted beaches, sheltered fishing ports and sleepy villages. Expect too memorable no-frills super seafood meals and balmy nights drinking locally grown pomegranate juice based cocktails and wine.
In fact, if you prop at the bar Farmacia Balboa on the magnificent main square of Tricase book-ended by a sandstone 16th century church, Dominican monastery and castle, your sparkling cocktail may feature pomegranate juice from the nearby farm of actress and sometime hostess Helen Mirren. Also on pour are locally grown Castel di Salve wines, contributed by the bar's co-owner, the effusive vigneron Count Francesco Winspeare. Winery tours are available at his Castel di Salve.
Down by Tricase port the action is at the Taverna del Porto a bustling seafood trattoria where the long buffet table is pescatorial proof that the Adriatic hasn't been fished out. Similar displays are on offer at the seafront ristorante strip at S. Maria de Leuca, which also boasts a row of eclectic Moorish Arabic style pastel-painted villas. At Lo Scalo in the minuscule fishing port of Marina di Noviglia the lure is the rugged coastal view, fresh sea urchins and the skillfully yet simply prepared daily catch.
History tells that the Salentese diet wasn't always as scrumptious as today. Cast as cucina povera aka simple seasonal, poor or peasant cooking, it was food of necessity. Now of course, that is mostly the way we choose to eat. So take a big appetite on your travels. And look for myriad marine treats – raw, grilled and marinated molluscs, crustacea, octopi and fish. Add to the Salentese market or farm shop list, pungent extra virgin oils, traditional pasta like orecchiette (little ears) and the most sublime buffalo mozzarella and burrata, and spicy salami. Chickpeas and fava beans feature in dishes like 'ncapriata – fava beans mashed with chicory, pimentos, tomatoes and slurps of EVOO.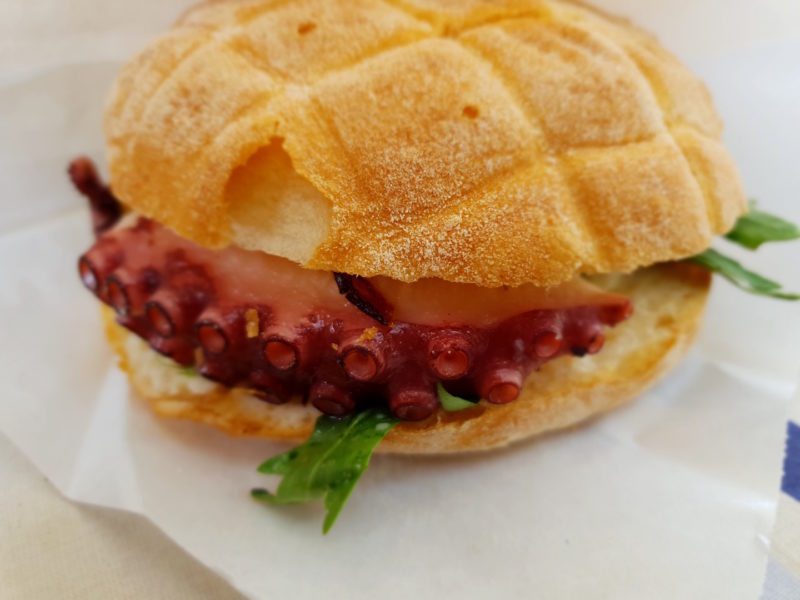 Then add the sun-ripened veggies – eggplant, capsicum, bitter lettuces, fragrant wild herbs, capers, aromatic jams, preserved mostardo fruits and mustazzoli spice biscuits. Delizioso.
Traveling west around Capo di Leuca's southernmost tip, the steep indented cliffs give way to azure waters and a phalanx of white sandy swimming beaches, fringed by fashionable bars and gelato parlors that only pulse with summer crowds. Pre-season the serried deck chairs at Gallipoli and Porto Selvaggio are still stacked in anticipation but the Ionian waters are warm, beach access free and parking easy.
Away from the coast a must-do day trip (or longer) is to Lecce, the golden sandstone 17th century Baroque centerpiece of Apulia that dates back to the Trojan wars, where the main activity is to wander the narrow streets with their ornately carved sandstone facades, arched doorways, Juliet balconies decked with cascading lipstick-colored flowers. Then stop for a bowl of artisan Puglian orecchiette and glass of chilled Fiano.
Don't expect to find any trulli, the traditional circular dry-stone houses with conical stone tiled roofs this far south in Puglia. For these you need to head north to Alberobello (UNESCO heritage-listed) boasting a remarkable fantasyland cluster of over 1000 ancient trulli. More are found in the countryside surrounding the nearby whitewash hilltop towns of Ostuni, Locorotondo and Cisternino, many of which have been converted into holiday homes and guesthouses. And so to alloggio…
Without doubt the best way to enjoy Salento is to stay in a masseria, a fortified 16th to 18th century farm complex, or new luxury villas modeled on the traditional farm design. Some operate as B&B's, others are offered as house rentals. The region's enterprising farming families have preserved many of these buildings and there is abundant choice. Masseria B&B accommodation can also be found by exploring agriturismos – working farms. More rustic they often provide farm produce and meals. If you are attracted by the trulli concept seek accommodation in the evocative movie-set landscape of Valle d'Itria near Alberobello.
Recommended accommodation and booking sites include:
www.thethinkingtraveller.com/Puglia
www.agriturismo.it/en/farmhouse/salento

Jane is an award-winning food and travel writer based in Sydney, and chair of the Australian Farmers' Markets Association. Her perambulations of plate and place have appeared for over 20 years in publications including Gourmet Traveller, Cuisine, Qantas magazine and Selector. She has a passion for farmers' markets, local food and old Asian teapots.

Latest posts by Jane Adams